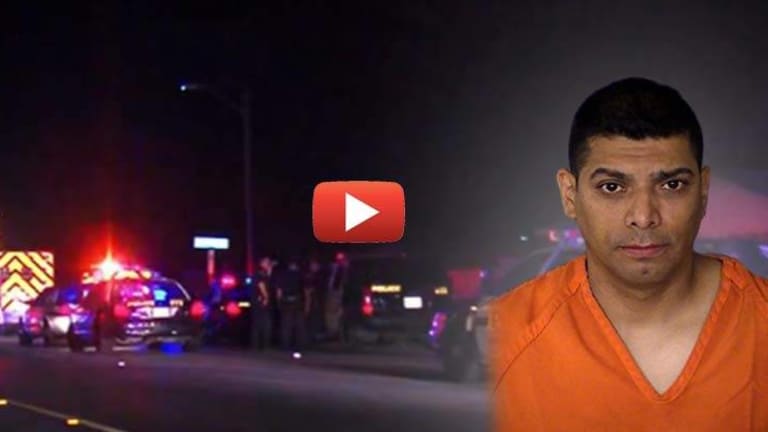 Cop Who Held Wife & Children at Gunpoint in Hostage Standoff With Police, Gets to Stay a Cop
In a sickening display of injustice, a San Antonio cop who held his own wife and kids hostage in a standoff with police, gets to stay a cop.
San Antonio, TX -- A San Antonio police officer, who held his wife and children hostage with a gun will keep his peace officer's license.
After being on paid vacation for the last year and a half, Daniel Lopez, 44, just got some great news. A plea deal he reached with the District Attorney's office states that Lopez' original charges of first-degree felony aggravated assault with a deadly weapon and two counts of deadly conduct, will be reduced and he'll get to remain a cop.
Family members, most likely scared of retaliation from this maniac, changed their stories at the last minute allowing for Bexar County First Assistant District Attorney Woodrow Halstead to reduce the charges to one count of disorderly conduct.
The original charges brought against Lopez were for an incident that happened in July of 2013. Lopez was arrested following a dispute inside his home in which he held his wife and children hostage in a standoff with police.
If a regular citizen would have been involved in an armed standoff with police and made it out alive, what their family said or didn't say, would be irrelevant. They would be placed under the jail.
Police at the time said Lopez had struck his wife in the head with a gun, then pointed it at two children inside the home. Lopez eventually surrendered without incident after what was described as a 20-minute standoff with police.
Prior to beating his wife and holding her and his children hostage, Lopez was placed on administrative leave in June of 2013. He was stripped of his service weapon and put on paid vacation after firing his gun inside his house. It is unclear whether or not the round was intended for one of his family members.
The ridiculous and insanely unjust plea deal given to Lopez struck out any reference to the wife beating and hostage situation. He was merely fined $100 after pleading "no contest" to "making an obscene gesture."
Despite the District Attorney's decision to reduce the charges, Halstead was quoted saying, "Based on the evidence I've seen in the offense reports, I would have definite concerns about him remaining on the police force." Halstead said it's up to SAPD to make that decision.
In what world is it okay for a man to hold his family hostage in a standoff with police, beat his wife and escape without punishment? In cop world, that's where.
San Antonio Interim Police Chief Anthony Trevino is well practiced at claiming one bad apple doesn't spoil the bunch. Last month, when another "completely isolated criminal incident" within the SAPD occurred, Trevino stressed the idea that the rest of the 2000+ officers on the force are nothing short of angels.
"Anytime something like this happens, it reflects poorly on the individual officer and, more importantly, on our organization," said San Antonio Police Chief Anthony Trevino. "But we need to bear in mind that it doesn't reflect us as a whole. We have more than 2,000 officers that go to work day and night doing a great job serving our community." 
However, the problem of corruption and negligence within the SAPD is anything but isolated. Three of those 2,000 SAPD officers severely brutalized an innocent man as he tried to photograph his wife's new location for her medical practice.
When KENS 5 news interviewed then SAPD police chief William McManus, he stated that "Clearly it was a case of mistaken identity. From the report that I've read, from the photo that I saw and from your description, I've not seen anything at this point that would indicate to me that anything out of order happened."
Last month the Free Thought Project brought you the story of SAPD officer Serena Botello whose GPS was also used to show her negligence, exposing the fact that she had refused to do her job, not once, not 5 times, not 15 times, but 23 times in just a two-month period.
One of these 23 incidents was even caught on Botello's dash cam as well. She was seen driving away from a shooting in which she could have possibly saved the victim's life.
Also last month, a former SAPD officer was sentenced to 18 months in jail for gruesomely stabbing and shooting his family's dog.
In July of last year, it was the SAPD who brutally beat a 16-year-old boy because they smelled marijuana.
Also in 2014, it was 2 SAPD officers who brutally beat a 70-year-old man because they thought he was drunk. He was having a diabetic attack.
But sure, these and the many others, are probably all just isolated incidents.