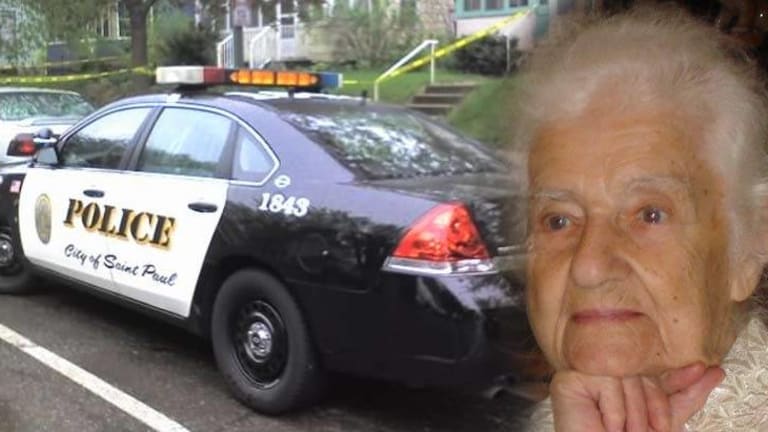 Cop With History of Careless Driving Won't Face Charges After Backing Over 101-year-old Woman
Apparently looking in the rearview mirror prior to backing out, wasn't an option for this cop who then backed over a 101-year-old woman, killing her.
St. Paul, MN -- The family of a 101-year-old woman is left with disappointment and sadness after their beloved family member was run over by a police car while she was crossing the street.
Roza Sakhina, a Russian immigrant, was struck by officer Lori Lin Goulet on Aug. 16, 2013, and died five days later. Not only was Goulet not charged or even disciplined in this matter, but the report named Sakhina as the party at fault.
In January, the family of Sakhina filed a wrongful death suit against Goulet and the city, alleging that Goulet acted in a "negligent manner so as to collide with Roza Sakhina, a pedestrian."
The city subsequently denied any wrongdoing or negligence on behalf of its officer.
"...Plaintiff's alleged injuries or damages were caused solely by reason of Roza Sakhina's own wrongdoing and/or misconduct, and not by reason of any alleged unlawful acts or omissions of these answering Defendants," the city's answer said. "...all actions taken by these answering Defendants were legal, reasonable, proper and necessary under the circumstances and authorized by the laws of the United States and the State of Minnesota."
Sakhina was hit by Goulet while she was responding a juvenile disturbance. According to the Star Tribune, a witness said that Goulet was parked at an angle to the sidewalk while four other squads were parked parallel to the sidewalk.
Sakhina was crossing the street with the aid of her walker when Goulet, apparently not looking behind her as she backed up, backed over the 101-year-old.
According to witnesses, Sakhina was not in a crosswalk. However, Goulet was moving at low speed and simply backing out onto the street; she should have seen her.
The county attorney's office declined to file any charges. "Ultimately, we do not believe a crime was committed," county attorney spokesman Dennis Gerhardstein has said.
The problem with Goulet is that she has a history of horrible driving. Killing this elderly woman was just another entry on her already long list of irresponsible and downright dangerous driving.
According to the Star Tribune, Goulet was involved in squad accidents in 1994, 1997, 1998 and 2007, according to personnel records. The first three were sideswiping accidents; two were deemed preventable. The 1997 accident was the result of inattention, the police department's Accident Review Board found. The 2007 accident, in which Goulet backed into another vehicle while clearing a call, was also due to inattention, the board found.
Hopefully, the family can show the court that Goulet has a history of inattentive driving, and it was because of this inattention that an elderly woman is dead.
The family of Sakhina is seeking monetary damages in excess of $50,000.
Cops running over people on the road is far too common. In June of last year, a Tacoma a patrol vehicle, traveling 10 mph ran over a person lying on the roadway. The incident was captured on a private home security camera.
Last month an officer responding to a pedestrian being struck by a vehicle, showed up on the scene and ran over the victim, killing him.
In December, a 10-year-old boy was run over by a police officer on his way to a sleepover.