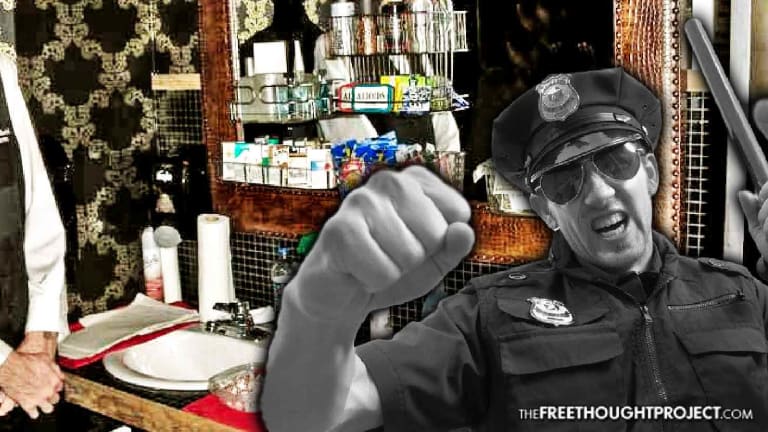 Cop Charged for Punching Elderly Bathroom Attendant Because "The Water Was Too Cold"
A Rhode Island police officer hits a 73-year-old bathroom attendant and wants leniency from the courts — and it looks like he's going to get it.
Pawtucket, RI — You know those bathroom attendants, the men and women working in posh restaurants who hand you your paper towel after you've washed your hands, offer you mints, aftershave, mouthwash, and other services. They work mainly for tips as men and women file in and out of the sanitary services of high-end restaurants and clubs. Well, one Pawtucket Rhode Island police officer allegedly punched an elderly bathroom attendant because his water was too cold.
According to the Providence Journal, Michael Tousignant, 36, was charged by Mashantucket Pequot Tribal Police with assaulting an elderly person, a class A misdemeanor. Tribal Police Chief William Dittman said the assault seemed to be unprovoked.
The 73-year-old victim was working at the Foxwoods Resort Casino on April 1 when he was allegedly attacked by the officer who took umbrage with the water's temperature.
"He said the water was too cold, and then he turned around and smacked the guy," Dittman told reporters.
Apparently, Tousignant and his buddies attempted to make a quick exit from the scene but witnesses had other plans and called police after noticing the man had a bloody nose and suffered facial injuries.
Tousignant, who's a veteran police officer with 10 years of duty, and a previous career as a military police officer in the Army, told responding police officers that he, too, was a fellow boy in blue. Thankfully, the thin blue line of silence didn't protect the officer and he was arrested. He was officially arraigned for the misdemeanor assault April 10.
On Tuesday, Tousignant applied for a court program that would allow him to avoid a criminal conviction, according to the Providence Journal. Currently, he's facing a Class A misdemeanor in Connecticut with a one-year prison sentence that cannot be reduced or suspended.
If he's accepted into the court's alternative program, he can avoid a conviction altogether. According to the Providence Journal, the way the program works is, "the alleged victim is contacted and, if the court grants the application, the defendant is released on supervision for up to two years. If the defendant successfully completes the program, the charges are dismissed."
As it stands, Tousignant is on paid administrative duty. Yes. That's right. He allegedly hit a 73-year-old senior citizen and he still has his salary as a public servant.
As The Free Thought Project has reported time and time again, officers such as the one mentioned in the story are often granted paid administrative leave which amounts to a paid vacation. The salary can last years as the officer obtains representation through his police officer's union, attends court hearings, and waits as appeals processes and hearings take place.
We think the actions taken by Chief Dittman and his department are commendable in prosecuting a man who hit someone who's old enough to be his own father.