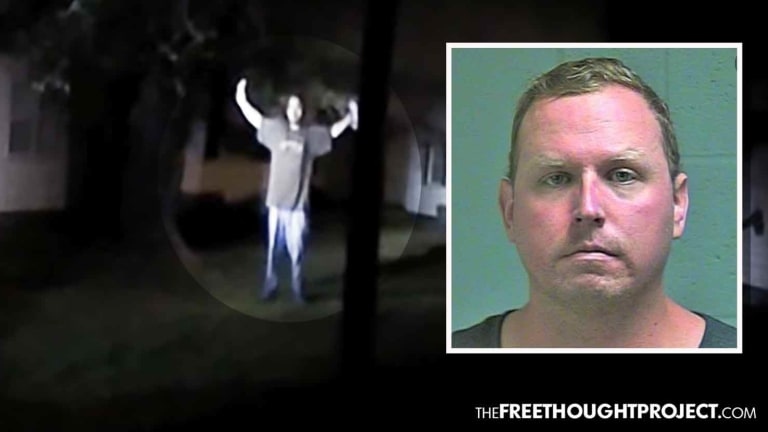 Cop Who Murdered Man with Hands Up, Given an iPad in Jail to Access Child Porn Behind Bars
A disgraced killer cop's blue privilege allowed him to have an iPad behind bars where he allegedly accessed and shared child pornography.
Oklahoma City, OK — Another homicide of an unarmed mentally-ill civilian took place again in 2017 at the hands of law enforcement. And while most police officers enjoy special protections under the law, called "qualified immunity" in this particular instance, an Oklahoma City police officer was charged with second-degree murder and sentenced to 10 years.
In November 2019, a jury convicted former officer Keith Sweeney of second-degree murder and recommended he spend 10 years in prison for it. He has been in prison ever since. While folks thought they were safe from this danger to society, it appears he found a way to victimize society's most vulnerable while behind bars.
This disgraced former cop is now facing 12 charges of child pornography after allegedly using an iPad and the Marshall County Detention Center's Wi-Fi to prey on children. According to authorities, an Internet Crimes Against Children (ICAC) tip led them to to this murdering child predator behind bars, which is unusual, according to police.
"ICAC investigations don't usually point us to an individual that's behind bars," said Sarah Jensen with the Norman Police Department. Jensen explained that the person who tipped off ICAC had ties to the city of Norman, though they were not immediately made clear.
"We were able to determine through IP addresses, and a number of other things, that it was occurring while inside the jail facility," said Jensen.
While internet devices and iPads are normally considered contraband in many jails, apparently, Sweeney's blue privilege extended behind bars and he was given an iPad and the password to the jail's Wi-Fi. Now, the jail is playing dumb, claiming they had no idea how Sweeney was given an iPad.
The Marshall County Sheriff's Office said Sheriff Donald Yow did not know Sweeney was given the iPad to use behind bars. Since then, the sheriff said he has changed all the passwords and confiscated all equipment, according to KFOR.
Apparently, Sweeney was able to access old files he had stored on the web, meaning before he murdered Dustin Pigeon, he was likely preying on children. According to KFOR, the Marshall County Sheriff's office said a former jail administrator allowed Sweeney to have an iPad while behind bars which, "allowed prisoner Sweeney to have access to the detention center along with the password." This allowed the former officer to "remotely access his old files and share them."
"He was utilizing a specific application on that device that he was utilizing inside the jail that allowed him to gain the access," said Jensen.
Naturally, his union-appointed attorney, Gary James, is still standing up for the cop, noting "the Keith Sweeney I know, and I know him well, is not that kind of guy."
James says he has a "gut-feeling" that the accusations against Sweeney are untrue — despite the proof — and says there must be an error.
"You usually can get a gut instinct or a feeling about your client. But this kind of thing? No," said James, adding that anyone could have been using the iPad.
"I'm incarcerated with other people that have access to my iPad," he said, while imitating what may be going through the accused's head. "And if you've got access to my iPad, what might you do?"
"I do not believe the allegations of child pornography. It's just not in his makeup," said the attorney.
But this attorney also defended Sweeney in court after he murdered an unarmed mentally ill man with his hands up.
As TFTP previously reported, the incident unfolded about 2:30 a.m. Nov. 15, 2017, after the victim called 911 threatening suicide.
Police were called to the 1400 Block of SW 20, to assist with Pigeon. Upon arrival, OKC officers encountered Pigeon in his yard. The disturbed young man had doused himself with lighter fluid, yet was compliant with some of the commands the officers were giving him, just not the one to put the lighter fluid down.
Body camera video showed that officers were attempting to de-escalate the situation before Sweeney showed up and devolved it into a bloody nightmare.
As Sweeney approached Pigeon with his gun drawn, he began yelling, "Drop it!" As he continues to yell at the unarmed man, Sweeney threatens to kill him, saying "I will (expletive) shoot you! Get on the ground!"
When one officer fires a beanbag round, Sweeney followed suit but with real 9mm bullets. He dumped 5 rounds in the direction of Pigeon, hitting him 3 times, including once in the heart.
Pigeon was killed instantly.