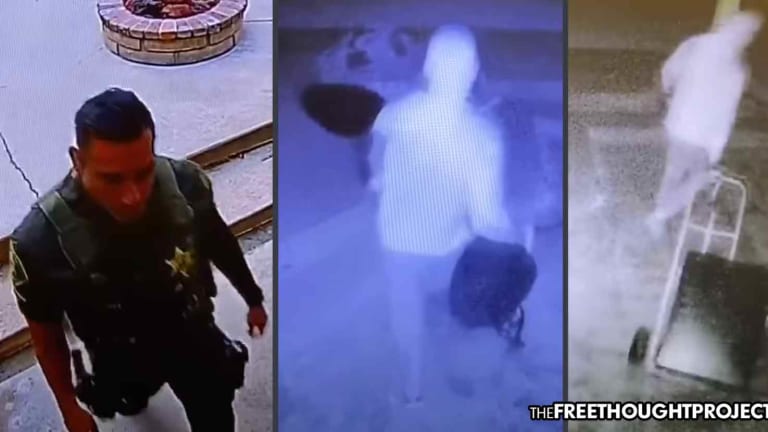 Cop Indicted After Video Caught Him Breaking Into Dead Man's Home, Stealing His Guns
A disgraced deputy was indicted this week after breaking into the home of a deceased man and stealing 15 guns and a ceiling fan.
Santa Ana, CA — A veteran cop was arrested on multiple felony charges including "suspicion of burglary" after he was captured on home surveillance footage repeatedly returning to the home of a dead 70-year-old man and stealing from him. Amazingly enough, despite the video, the officer was not immediately fired and instead placed on paid administrative leave.
This week, however, a grand jury indicted the disgraced Orange County sheriff's deputy on burglary and gun theft charges months after he allegedly broke into the deceased man's home several times, prosecutors said Tuesday, according to KTLA.
"This act in and of itself has done so much damage to the public perception of law enforcement and the timing could not be more detrimental," DA Todd Spitzer said in a written statement Tuesday.
Deputy Steve Hortz, a 12-year veteran of the Orange County Sheriff's department reportedly responded to a home in Yorba Linda after family called in a welfare check on a 70-year-old man. When Hortz arrived, he found that the man had died of natural causes.
On Tuesday, Hortz was indicted on three felony counts of second-degree burglary and two felony counts of grand theft of a firearm.
As TFTP reported, on September 9, the family of the deceased called the department to tell them that multiple items were missing from the home.
An attorney for the family provided the department with surveillance footage from the home which showed this thieving deputy returning to the property on multiple occasions and leaving with stolen items. In the video we see the deputy brazenly entering the home with a dolly and hauling off stolen items.
As CBS Los Angeles reports:
In the first incident, Hortz returned to the home July 27 and allegedly broke into the unoccupied residence through the rear and left a short time later. It was unclear if Hortz, who was in uniform at the time, left with any property from the home.

Hortz then returned to the home on the mornings of Aug. 10 and 16 in civilian clothes and allegedly removed items including weapon safes, ceiling fans and cases containing unknown items.

OCSD immediately launched an investigation into the burglaries as soon as they were reported. Hortz was arrested the morning of Sept. 10 and was booked into the Santa Ana Jail on suspicion of burglary. He was also placed on administrative leave, and the department said it was investigating prior calls Hortz handled to see if similar instances had occurred.
Despite the video of the deputy's crimes, he was not immediately fired, even after the sheriff blasted him in a statement.
"The suspected criminal actions of this deputy are a violation of public trust," OC Sheriff Don Barnes said in a statement. "This deputy will be held accountable through a swift and thorough process including a full criminal and internal administrative investigation."
"I will do everything we can to make sure he does not return to a uniform in this organization or anywhere else for that matter," Barnes said during a news conference at the time.
However, that bad cop was allowed to stay on for weeks after being arrested, and was never fired. Instead, Hortz resigned to avoid departmental discipline.
Barnes did say that he is now investigating other incidents in which Hortz was involved in order to see if there are other potential thefts.
This cop stole 15 firearms from a dead man. He also stole the man's ceiling fans and multiple weapons safes — which he can be seen brazenly leaving the home with on a dolly.
"He's embarrassed this profession, he's embarrassed this organization, and he's embarrassed the almost 4,000 members who do good work everyday," Barnes said.
But not all 4,000 of those cops are angels. In fact, the day before Hortz was arrested, another Orange County deputy, Angelina Cortez was charged with a felony for stealing a credit card from a suspect and using it.