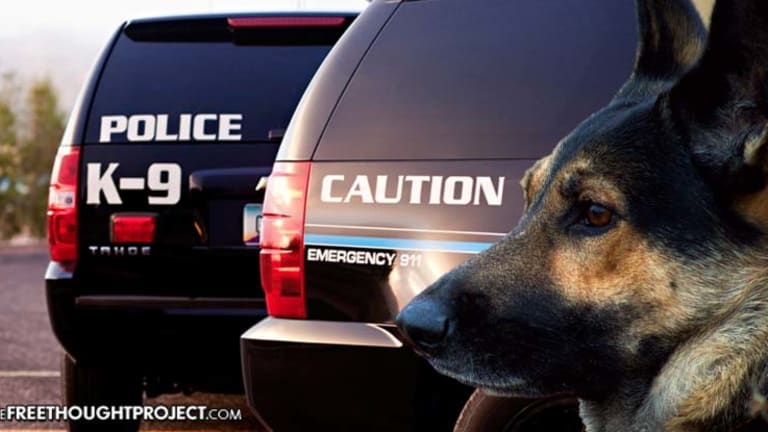 Cop Left K9 in Hot Car for Days, Didn't Know He Died Until He Smelled It
An Oklahoma cop has been fired and charged after leaving his K9 partner in a hot car for two days, but will blue privilege prevent punishment?
Stephens County, OK -- An Oklahoma sheriff's deputy has been fired and charged with animal cruelty after his K9 partner succumbed to crushing heat while confined in the deputy's patrol car for 38 hours.
Now-former Stephens County Sheriff's Deputy Matthew Peck left K9 Deputy Bak, his partner of four years, in the sweltering vehicle for over a day and a half, killing the animal.
According to the arrest affidavit, cited by local station KOCO, Bak died sometime between Wednesday night, August 3, and Friday morning, as outside temperatures climbed to 99 degrees. Court documents estimated this meant the patrol car's interior temperature could have exceeded 120 degrees — more than sufficient to kill the helpless animal, which had not been provided water or food.
A local veterinarian contacted by authorities and cited in court documents said that while the otherwise healthy eight-year-old Bak could have "easily survived through the night," once Thursday's temperatures began to rise, heating the interior to above 105 degrees, the dog would have no chance for survival. The vet surmised Bak had suffered heat stroke.
Court records say Peck had been called to a vehicle stop on Wednesday night and Bak assisted by performing a search — but when Peck returned home, he simply left the police dog in his patrol vehicle outside.
Unnamed sources cited by local NBC affiliate WCMH said Peck made a practice of leaving his K9 partner in the cruiser on his days off work, and that the deputy only realized what had happened after smelling the dead animal as he left home for a court date.
"We were shocked, and we're saddened," Stephens County Sheriff Wayne McKinney remarked of Bak's cruel killing. "This is a loss of one of our deputies or K9 deputies."
Bak will be included on a memorial for fallen officers in place outside the Stephens County Courthouse.
"The handler has the utmost responsibility to make sure that that dog is well taken care of," McKinney toldKFOR. "A tremendous amount of work goes into the dogs and not only with their dogs but with their handlers. Those two become partners. We will replace Bak and remember him, but we'll continue."
Under Oklahoma law, should Peck be found guilty of felony animal cruelty, the former deputy could face fines of up to $5,000 and up to a year in a county jail, or up to five years' imprisonment in a state penitentiary. However, this potential penalty stands in marked contrast to another death of a K9 police officer in Ohio.
Kelontre Barefield — who shot and killed Canton K9 Officer Jethro in January during an attempted burglary — will spend the next 45 years behind bars, 34 of which concern the death of the dog.
While each killing of a K9 officer is an indisputably horrific act of violence, the inconsistent sentencing in those cases gives remarkable insight into the legendary impunity officers are granted for employing violence against humans and animals alike.
If the message in sentencing is to punish the guilty without regard for details such as an individual's occupation, Peck would face decades in prison — or Barefield would not.
Granting Peck, if found guilty, the exponentially lesser punishment only reiterates to the public their crimes are considered arbitrarily worse offenses than those committed by officers of the apparently not-at-all blind law.
"It's been a sad day around here for all of us," McKinney told the Duncan Banner previously. "We all like our animals. I've got several personally of my own, but these dogs that work day-to-day with some of our deputies are their partners … I know there was some departmental policies violated, but we have concerns in other areas. We're looking at that, but I just want to assure the people it will be dealt with if there is a problem."
Although that problem will now indeed be dealt with via the court system, it's clear justice has abandoned its blindfold.