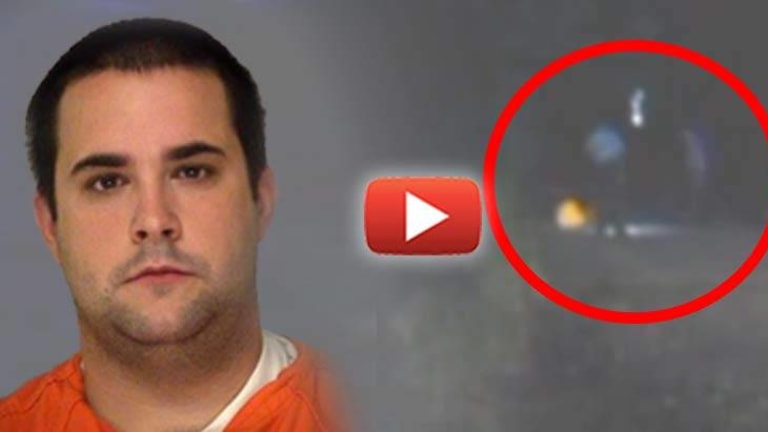 Cop Kicks Handcuffed Man in the Chest While Fellow Cops Do Nothing to Stop Him
A truly "good cop" would've stopped such a severe deprivation of rights, or, at the very least, they would've reported it.
Bibb County, GA -- Thanks to a citizen filming a police interaction, a corrupt and abusive cop has been fired and arrested for violating the rights of a non-violent and restrained man.
In August of last year, Bibb County Sheriff's Deputy Nathaniel Woodard, along with his fellow deputies, responded to a domestic call involving 38-year-old Devasco Holly.
During the call out, Holly was taken in without incident. He was arrested and placed in cuffs and thrown to the ground. The video shows Holly attempting to get up on his knees rather than lay on his face in the road. As he attempts to get to his knees, Woodard can be heard threatening Holly with a kick to the chest.
As Holly comes up in an effort to stabilize himself, he is on his knees and cuffed behind his back when Woodard kicks him in the chest, sending him flying several feet.
For nearly an entire year, none of the officers who witnessed the assault came forward, and Woodard continued in his position as a deputy. His abuse would have gone entirely unpunished had a good Samaritan not sought out a means of exposing the video they took.
On Friday, Woodard was arrested and booked into the county jail and was being held on a $2,840 bond, according to jail records. He was also fired from his job.
"Deputies are expected to enforce the law, not break it. I will not tolerate this blatant disregard for the oath we all took to uphold," Bibb County Sheriff David Davis said in a news release.
Bibb County Superior Court records show Holly was indicted on an obstruction charge stemming from an Aug. 10 incident involving another deputy. On July 10 of this year, a Bibb County prosecutor filed a motion to dismiss the case against Holly, citing that it was "in the interest of justice" as the reason, according to court records.
The video below is far more than just a 3-minute clip of police brutality. It is a means of exoneration. It is a way for the citizen to uphold justice and protect their fellow citizen. The video below represents the power which we the people have to hold those in positions of authority accountable.