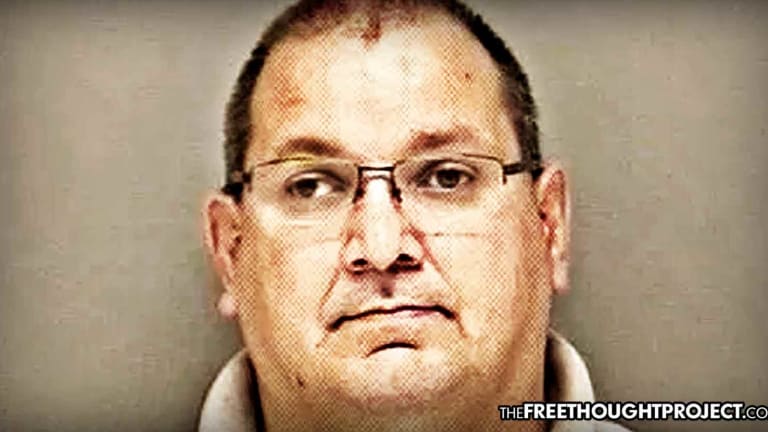 Cop Kidnaps Mentally Unstable Woman from Hospital, Cuffs Her, Rapes Her on Hood of His Car—Only Gets 90 Days
A police officer abused his power, kidnapped a mentally diminished woman from a hospital, handcuffed her, raped her on the hood of his car, and he is only doing 90 days.
In August of 2017, Curtis Lee Arganbright, a Westminster police officer, was asked to take an unruly woman home from the hospital. She was allegedly attempting to steal items belonging to the Emergency Room after checking herself in for alcoholism. But instead of getting the woman safely home, Arganbright took her down a dark road and raped her on the front of his car while she was still in handcuffs.
Instead of felony charges for sex assault by force, sex assault by a person in a position of authority and false imprisonment, the officer reached a plea deal with prosecutors to plead guilty to lesser misdemeanors of unlawful sexual contact and official misconduct. As a result of the sweetheart deal, some have alleged, Arganbright now only has to serve 90 days in jail followed by four years probation, and has to register as a sex offender.
Criminal defense attorney Dan Recht told Denver's Channel 7 news the prosecution likely believed they did not have enough evidence in court to get a felony conviction. Recht described the difficult scenario.
They have a victim that was intoxicated. An officer saying that she was sexually aggressive and he foolishly and unlawfully reacted and was sexual, but that it was consensual...At the end of the day. It's clearly he said, she said. Except that he's a police officer and it's an abuse of power.
We at TFTP consulted a former Emergency Room Nurse who said she would never have discharged a patient to the care of a police officer to get a personal ride home. "No, never! You call a cab, or a family member, but you don't turn someone over to the police. I've never discharged a patient to the police. That's a personal favor, not a fiduciary responsibility. Police are not there to give people rides home."
This also may mean the hospital is liable for discharging someone to another person who ultimately raped her. The former ER nurse continued by describing the process of how ER personnel follow the principal of "MTF" meaning Metabolize to Freedom. In other words, hospitals can place patients in chemical or physical restraints if they're a danger to themselves or others—so, she could conceivably been placed in restraints. "Patient safety is preached so often in the hospital that I just don't even know what to say about how this happened to the woman," she said.
According to News 7:
The victim wasn't physically able to attend the sentencing hearing, but the district attorney's office said her mother told the judge her daughter was brutally raped and suffers from extreme PTSD because of what Arganbright did.
Nevertheless, once again, a police officer who was responsible to protect and serve the public used his position of authority to engage in sexual activity with a suspect. As TFTP has reported, several states allow police officers to engage in sex with people they make official police contact with, without recourse, so long as the sex is consensual.
Another such allegation which TFTP is monitoring closely is the case of Anna Chambers, a teenager who said she was raped by two NYPD detectives, Eddie Martins and Richard Hall, in the back of a police van, while she too was handcuffed, in custody, for possessing drugs. Chambers vehemently denies the sex was consensual although the two detectives claim it was.
In Chambers' case, lawyers for the two disgraced NYPD officers (who have since resigned) are now engaged in the practice of victim shaming, according to Chambers' lawyer, Michael David. David says the officers' lawyers have brought up Chambers' past drug use, how her story changed several times under deposition, and how she cannot remember what clothes she was wearing the night she alleges she was raped. David contends, however, such a focus ultimately results in victim shaming and victimizing the alleged victim over and over again. David told NY Daily News:
She's just like almost any other teenager today...Teens experiment with drugs. It's irrelevant...They are trying to blow up everything to confuse things...They brutally raped her. This is probably the worst crime in the history of the NYPD.
It's time to end the practice of allowing police officers to have sex while on duty with members of the public and even each other. Such actions force a he said/she said scenario where the lines of justice are blurred. Below is a video created by Aljazeera English about Chambers' quest for justice.