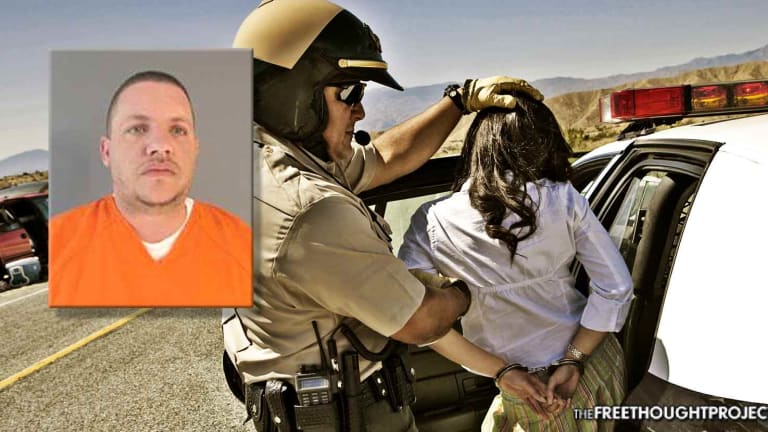 Cop Kidnaps Woman, Leaving 5yo Child In Car Alone, Just To Grope Her Breasts
An on-duty cop attempts to trick a woman into showing him her breasts and letting him touch them, but when she refused, he kidnapped her.
NEBRASKA - Former Dundy County Sheriff's Deputy Charles Thibedeau remains behind bars today after his April 5th arraignment on felony kidnapping charges. The judge denied a reduction in the bond at the hearing and stated the former law enforcement officer is facing a minimum of 1 year in prison and a maximum 50 years in prison for the crimes he committed against a young woman.
According to Nebraska State Patrol Investigator Jeff Van Stelton's affidavit of probable cause filed in Dundy County Court on March 23, Thibedeau waived his Miranda rights and admitted verbally and in a written confession to falsely arresting and detaining a woman while he was on duty and insisting on seeing and touching her breasts.
The 26-year-old woman remains unidentified as is customary for all alleged sex crime victims. Prosecutors say Thibedeau concocted a story about a police drug raid which he told her was going to take place at her home. He met the woman, with the promise of telling her all he knew about the raid.
Thibedeau allegedly said he'd tell her about the raid if she'd show him her breasts. She refused. But instead of letting her go, the officer detained her, and placed her in handcuffs, put her in the back of his patrol car, and then drove away. All the while the woman was protesting, saying he shouldn't drive away and leave her boyfriend's 5-year-old young son in the back of her own vehicle.
But the former officer, who was fired over the incident, drove away with her in the car with him. When he stopped the car, he reportedly removed her clothes and proceeded to molest her breasts before eventually releasing her to go on her way.
Judge Edward Steenburg told Thibedeau, "You did abduct another person and continue to restrain her, with the intent to hold her for ransom or reward or to terrorize her. Kidnapping is a class II felony," he said as he read the charges to Thibedeau before denying a reduction in the $250,000 bond set in the case. His next court appearance is scheduled for May 3rd.
Actions such as Thibideau's are no surprise to The Free Thought Project. What is surprising, though, and a bit encouraging for victims of sex crimes, is how seriously the police department and the prosecutor's office are taking the allegations, even charging the officer with the crime and proceeding to trial.
All too often, we report stories where women's claims against police officers fall on deaf ears. As we recently reported, one California woman had to resort to uploading videos of her ex-boyfriend neglecting his duties as a police officer before they would take action against him for her allegations he'd been abusing her physically. In that case, the officer was only charged after the videos came to light.
Other officers have been abusing women for years, cowardly hiding behind their badges, and getting away with their crimes. A Georgia woman had been terrorized by her ex-husband, a police officer, who eventually arrested her for complaining about his lack of help with the children in a message on Facebook.
In court documents, the woman alleges her ex promised her he'd drop the charges if she'd have sex with him. After she was arrested a second time, along with her Facebook friend, for the same charge (talking about her ex on Facebook), her ex-husband had her booked into the county jail. But it turns out, there is no crime for "criminal defamation of character" in the State of Georgia, and the woman is now suing her ex-husband in court.