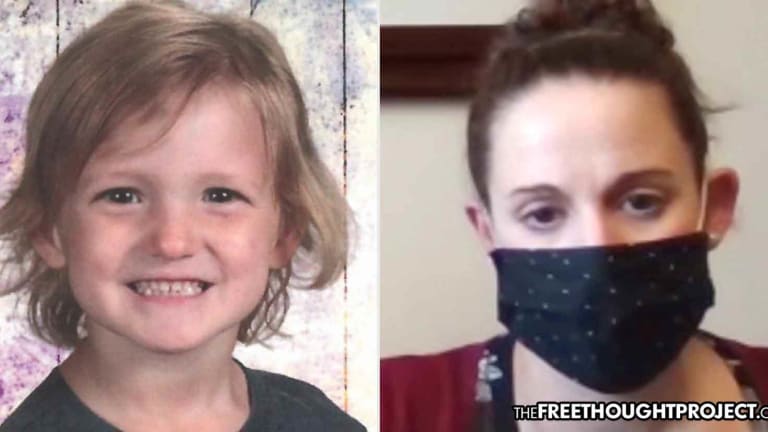 Cop Found Guilty of Driving Cruiser On To Sidewalk, Killing 4yo Girl—NOT Fired
Despite pleading guilty to killing a 4-year-old girl with a police cruiser, a Missouri cop has not been fired and remains on the payroll.
Columbia, MO — A tragedy unfolded in 2019 in front of a school in which a Columbia police officer, Andria L. Heese, 29, clearly distracted, drove her police SUV up onto a sidewalk and killed 4-year-old Gabriella Curry. It took over a year for Heese to be indicted and another year for her to be found guilty.
Last year, Heese was charged with involuntary manslaughter after striking and killing a 4-year-old child with her cruiser on a school sidewalk. The indictment claimed she acted recklessly by driving into a pedestrian area at a speed and angle that prevented her from seeing the child.
On Tuesday, Heese pleaded guilty to a lesser charge as part of a plea deal. Heese pleaded guilty to a reduced charge of careless and imprudent driving, a misdemeanor which will likely keep her out of jail and allow her to keep her police officer's license.
She remains employed with the Columbia police department.
The state will ask for a sentence of 180 days in jail and two years' probation, Heese's attorney Donald Weaver told KOMU. However, they will likely not get it.
Prosecutors would not object to Heese being released from probation after one year if all terms and conditions are met, her lawyer told KOMU. She is scheduled to be sentenced on Jul. 9 and remains free.
Highlighting the blue privilege in this matter is the fact that according to the Columbia Tribune, after she ran over Gabriella, before investigators could speak with her, officer Heese was transported from the scene by her fellow officers, provided a police union attorney and taken to headquarters where she refused to answer questions about the child's death.
The tragedy unfolded on Jan 4th, 2019, as Heese arrived at Battle High School to observe students departing school in an apparent attempt to "protect them." As she arrived at the school, she drove her police SUV onto the sidewalk where little Gabriella was walking.
″...the defendant recklessly caused the death of G.C. by running over G.C. with a vehicle after entering an area typically used by pedestrians at a speed and coming from an angle which prevented her from seeing G.C.," Camden County Prosecuting Attorney Heather Miller wrote in the original complaint.
"I think that's what hurts too, because she explained one day to all my kids that if they need help to call them and they will be there," Gabrielle's mother, Cheyenne Hayes said after Heese was charged last year. "My kids don't see that now. How do you explain to children that have been through this that they (police) still aren't bad people, but make mistakes?"
As we reported at the time, Heese was driving in a roundabout near the parking lot at Battle High School in Columbia when her car "exited the left side of the roadway," the crash report states.
The SUV then struck Gabriella and she would not survive the trauma.
Columbia city spokesman Steve Sapp said that emergency workers responded and rushed Gabriella to the hospital but she was too badly injured and did not survive.
Had a civilian driven their vehicle onto the sidewalk in a school zone and struck and killed a child, rest assured that they would've likely been arrested on the spot. Instead, Heese was placed on paid administrative leave for a year. What's more, after this tragedy, the local media took to praising this officer, reporting on a four-year-old video in which she "shows passion for her career."
No one here is claiming that she doesn't feel horrible for what she's done. But it is an undeniable fact that because of her actions and negligence, an innocent child is dead.
Heese may not deserve to be lambasted by the media, however, she most assuredly should not have received praise. But this is exactly what happened in the story mentioned above and it illustrates a serious problem.
Two years ago, we predicted that Heese would not face any jail time for killing Gabriella. It appears that we were most likely correct.
"(Gabriella) was a bubble of sunshine loved everyone and gave the greatest high fives or biggest hugs when u saw her at work," bus monitor Tammy Crabtree posted to Facebook. "Gabbie will be missed fly high angel girl and watch over your mom and dad and brother and sisters and rest of the family..."