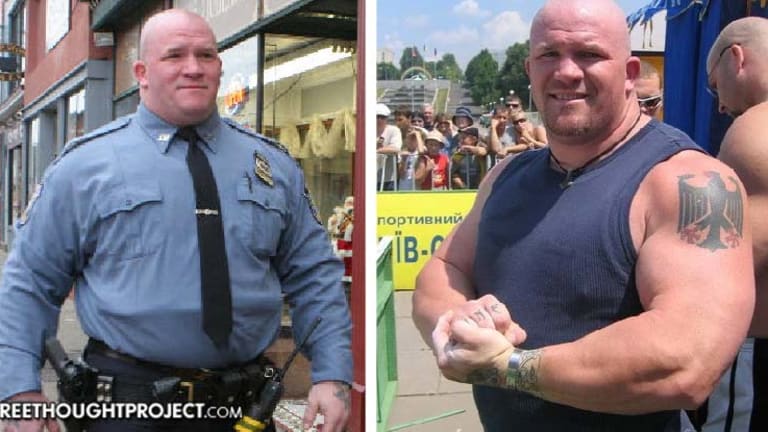 Cop Involved in Quadruple Murder and Cocaine Conspiracy Kills Himself as Feds Try to Arrest Him
A Former NYPD cop, Gerard Benderoth shot himself in the head Wednesday as the FBI attempted to arrest him in murder & cocaine conspiracy.
New York, NY — Disgraced NYPD police officer Gerard Benderoth, 48 — nicknamed "White Rhino" from his days as a strongman competitor -- was being arrested by the FBI Wednesday when he pulled out a pistol and put a bullet in his head.
Benderoth was under arrest for his role in a quadruple homicide and massive cocaine conspiracy, of which he was alleged to be a part of and involved at least one other New York cop.
According to the New York Post:
Officers had tried earlier Wednesday to grab Benderoth at his ranch home in Stony Point in Rockland County, where he lived with his wife, Amy, and their four children.

Not finding him there, agents caught up with him one town south and some 15 minutes away, on windy Rosman Road.

Seeing flashing lights behind him, Benderoth called his former colleagues at the Haverstraw Police Department.

"Why are you pulling me over?" he asked, according to sources.

But Haverstraw cops told him it wasn't them.
Realizing that he couldn't rely on his fellow cops to let him off, Benderoth apparently went into panic mode. He then stopped his SUV in front of a church near a school, grabbed his pistol, and shot himself in the head before the FBI could make it to his car.
Benderoth's entire role in this conspiracy is unknown. However, as a source told the Post, the fact that he killed himself likely means he was in fairly deep.
"If this guy put a bullet in his head rather than go and talk to them, he must have been in deep," a police source told the Post.
"While conducting a law enforcement vehicle stop this morning, FBI agents and task force officers approached a man who was the only occupant of a stopped vehicle," the FBI said in a written statement.
"During the approach, the man drew a handgun and shot himself. He died of the self-inflicted wound."
Benderoth was alleged to have been involved in a conspiracy with another New York cop, Nick Tartaglione, of Otisville, who the Free Thought Project helped to expose last year.
In December, Tartaglione was arrested after authorities discovered the bodies of four missing men buried on his property. Tartaglione was arrested on murder charges and for his role in a massive cocaine trade, U.S. Attorney for the Southern District of New York Preet Bharara said in a press release in December. And now, it seems, Benderoth was also deeply involved.
"While all murders tear at the fabric of our communities, when the alleged perpetrator of a gangland-style, quadruple homicide is a former police officer, that strikes at the heart of civilized society," Bharara said. "As alleged, Nicholas Tartaglione, a former Briarcliff Manor police officer, participated in the senseless murder of four people in a bar in Chester, New York.
"These four men had not been seen or heard from since the day of their alleged murder. We hope that today's arrest brings some measure of comfort to the victims' families and loved ones," Bharara said.
The murder, which took place back in April, involved four men. According to authorities, two of the murdered men were involved in the cocaine deal that went south while the other two men happened to be in the wrong place at the wrong time.
While his exact involvement in the conspiracy remains a mystery, Benderoth, survived by his four children and wife, must have had something weighing very heavy on him to pull the trigger. Perhaps Tartaglione was rolling over on all those involved in exchange for a lighter sentence and, perhaps, Benderoth knew this.
[author title="" image="https://tftpstagingstg.wpengine.com/wp-content/uploads/2016/03/magorist-e1456948757204.jpg"]Matt Agorist is an honorably discharged veteran of the USMC and former intelligence operator directly tasked by the NSA. This prior experience gives him unique insight into the world of government corruption and the American police state. Agorist has been an independent journalist for over a decade and has been featured on mainstream networks around the world. Agorist is also the Editor at Large at the Free Thought Project. Follow @MattAgorist on Twitter, Steemit, and now on Facebook.[/author]