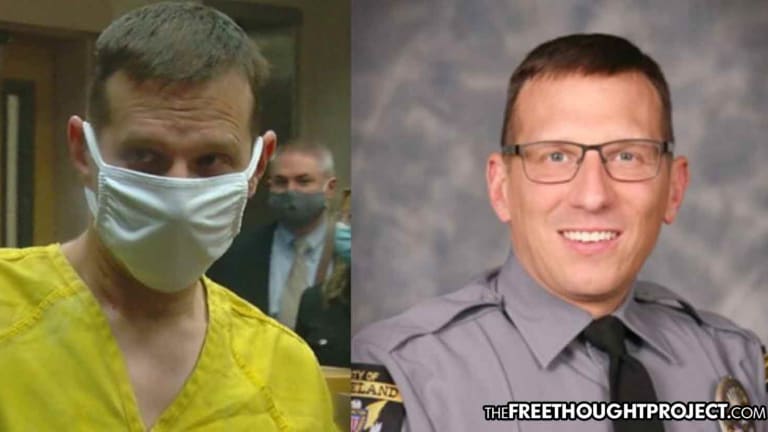 Cop Knew He Had HIV When He Drugged and Raped Man 8 Times in One Night
Videos of the officer raping multiple unconscious men were found on the cop's cellphone and he knew he had HIV the entire time.
Hamilton County, OH — As TFTP reported, Hamilton County Prosecutor Joe Deters announced in a news release last month that a grand jury indicted Anthony Pecord, 48, on eight counts of rape and eight counts of sexual battery.
The evidence against Pecord was so strong that he was immediately convicted and sentenced after he was indicted. Now, a month later and more charges are surfacing because this sadistic monster knew he was HIV-positive when he repeatedly raped his victim.
Pecord was sentenced to just four years for the repeated rape of his victim last month, and now he faces an additional 8 years for felonious assault — for knowingly raping another man, with the intention of infecting him with HIV.
What's more, when they examined his phone, they found other victims as well.
"Set aside the fact he's a police officer. He was friends with his victim, rendered them unconscious, and it's, we know definitely, there was more than one person he did this with. There were numerous pictures on his phone and I'm just, frankly, upset that there are people out there that don't know that they may be HIV positive," Deters said.
Pecord was accused of drugging his victim and raping him eight times in a single night. He was a sworn officer with the Loveland Police Department, while "administering an intoxicant to (the victim) surreptitiously" before repeatedly raping him on eight separate instances in a night.
According to a Hamilton County Sheriff's Office incident report, a sexual assault kit was completed at a hospital that same night, meaning the victim must have recovered from the drugs and realized what happened.
"The victim's been tested, but sometimes the symptoms and they don't show up for sometimes months at a time. So I'm keeping my fingers crossed that everything comes back OK for him. To go through this, go through this type of a rape changes you forever. Add to it that you may now be HIV positive, it's a sickening thing," Deters said.
According to a report from WCPO:
WCPO examined Pecord's personnel file after the initial charges were filed and found that the city of Loveland began investigating him the day following the alleged assault. In a Jan. 25 memo to Pecord, police Chief Dennis Rahe put him on paid administrative leave and instructed him to remain available for questioning.

Pecord resigned a month later and turned himself in to authorities less than a week after that, on March 5. A judge held Pecord in the Hamilton County Justice Center on a $1 million bond,.
The rapes took place on Jan 24 and after learning the details of the offense, prosecutors indicated their concern "that more victims may be out there."
At the time, Pecord's attorney, Stew Mathews, said he would, "be extremely surprised if there are other alleged victims."
He must have not looked at Pecord's phone which, according to prosecutors, contained other images of passed out men being raped by this sicko cop.
"It's very similar to the rape statute. I mean, it's a very serious crime. He's literally facing years in the penitentiary for this. The reason we, not only indicted him, but went public with this was to see if there's other people out there that need to come forward. For their safety and the safety of their loved ones," Deters said.
WCPO has been changing their policy recently to cut down on the release of mugshots, however they released the officer's mugshot just in case it helps other victims identify their rapist.
Prosecutors asked anyone with information about other potential victims to contact Hamilton County Sheriff's Detective Jack Losekamp at 513-595-7484.
According to Cincinnati.com, Pecord has been with the department for nearly a decade and he has several questionable entries in his record.
According to Pecord's personnel file, he did not complete training on working with victims of sexual assault and has been reprimanded more than once for using inappropriate language in the office and with the public.

Multiple performance evaluations dating back to 2013 mention Pecord's use of inappropriate language. A 2014 performance evaluation states Pecord received coaching sessions and an official reprimand for inappropriate communications.

A citizen complaint investigation conducted in March 2014 found Pecord exhibited a "lack of professionalism" when dealing with a resident's call for a trespassing incident. The complainant told police Pecord was "pissed off from the beginning" and "nasty" towards her, leaving her feeling "humiliated."
As TFTP reports on a regular basis, police sexual misconduct is one of America's dirty little secrets. Barely a day goes by without news of a law enforcement officer's arrest for raping adults and children alike. There are so many instances of officers arrested for sexual misconduct that the Free Thought Project cannot report on all of them.
It is a sad day when police officers — the ones who claim to protect us — are caught preying on society. However, there are a lot of sad days as this situation plays out like a broken record, over and over again. Luckily, this alleged monster was caught and is off the streets for now.