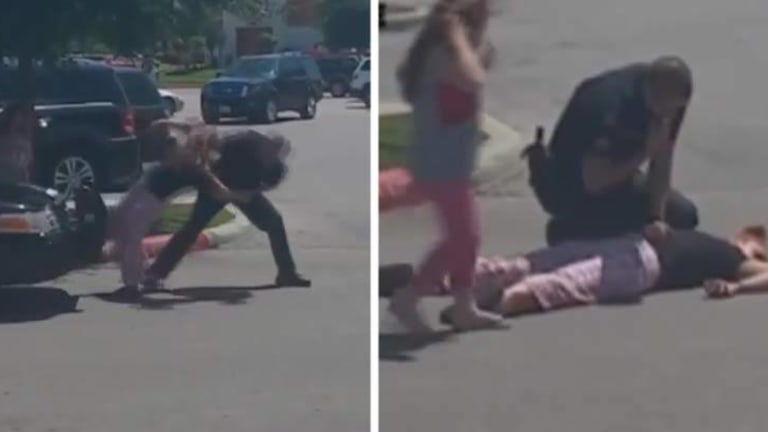 GRAPHIC VIDEO: Cop Knocks Woman Unconscious as 6-Year-Old Daughter Watches in Horror
A Texas police officer is seen on video slamming a woman onto the ground, knocking her unconscious in front of her 6-year old child.
Round Rock, TX -- Video captured by a man in front of a Wing Stop in Round Rock Tuesday afternoon shows Officer Ben Johnson slamming Viviana Keith into the ground, knocking her unconscious.
Johnson was attempting to arrest Keith after responding to multiple calls about an intoxicated woman causing a disturbance. Rebecca Tomlinson, who was present in the same nail salon as Keith, described her as "a little loud, and disruptive. She said she was very tired, really tired and they said, 'Maybe you should go home and get some sleep,' and then she turned around and stumbled out."
In the video, you can see the two talking when Johnson attempts to push the woman onto the hood of the police car. When she allegedly resists, Johnson violently rips the woman backward and slams her body and head on the concrete like a rag doll, immediately rendering her unconscious. Her 6-year-old daughter was watching the entire thing.
At this point, the officer flips her onto her back to check her pulse while the 6-year old walks over to check on her unresponsive mother.
A witness, Viviana Garcia, then went to check on the woman's daughter, who was calling out for her mom. "It looked like she was dead," Garcia said. "The little girl was screaming, 'Mommy, mommy.'" According to Garcia, the little girl told her she was hungry, and that her mother had been drinking all day.
The man who took the footage wishes to remain unidentified out of fear of retaliation according to local ABC affiliate KVUE, but did speak with a reporter off-camera.
"When I look back at the tape, I can see her head bounce off the concrete because when he threw her down, she wasn't able to brace herself. There were a couple of other gentleman in the store with me and we were saying 'is she breathing?' Because at first we weren't seeing her stomach rise and fall."
Round Rock Police Chief Allen Banks was shown the cell phone footage of the interaction and maintains his officer did the right thing, and that the level of force used was, in fact, necessary. He stated:
"The officer was very professional, was talking to her calm, he wasn't excited, he wasn't angry. It's unfortunate, the fact that this lady did what appears to hit her head and was knocked unconscious, but I'll tell you, the officer did what he was supposed to do in a situation like that."
Vivian Keith was charged with DWI with a child younger than 15 and interfering with pubic duties. Although she has not yet been released, she has spoken with her mother, Diane Durvasula, who reports that Keith doesn't remember what happened, or how she was injured.
The 6-year old's grandmother was distraught when shown the video of the incident. "It hurts. I knew something had happened but I didn't know it was that bad. She's out for a while obviously, and her daughter, my granddaughter saw all that. That's just too much. That's not acceptable."
Officer Ben Johnson has been with Round Rock Police Department for four years, and will continue to work while this incident is being investigated.