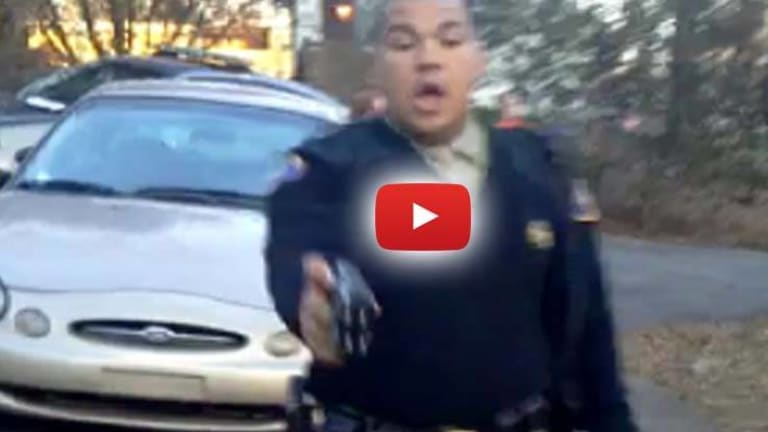 VIDEO: Georgia Cop Loses It as Innocent Man Films Him, Snatches His Phone Then Tasers Him
The victim was charged with obstructing an officer even though he had retreated to his porch as the officer ordered him to do.
Jones County, GA – A Georgia cop was caught on film using excessive force after becoming completely irrational during a dog dispute between neighbors.
The victim, Luis Marmolejo, was shot with a Taser on his front porch while filming Deputy Wesley Ransom advancing toward him in a threatening manner.
Neighbors had called animal control because Marmolejo's dog had reportedly attacked their cat. When authorities showed up, Marmolejo was upset at first, but calmed down and got his cell phone to video record the situation.
He walked to the animal control vehicle to record the car tag, but the animal control officer told him to get away from the vehicle. So he backed away, saying, "I'm not doing anything."
Deputy Ransom wrote in his report that Marmolejo, upon initial contact, "immediately became highly agitated" and yelled obscenities.
In the video, Ransom is seen ordering Marmolejo to go back inside his house. He then reaches for his Taser, and Marjolejo begins backing toward his house while filming Ransom.
Ransom, perturbed that this citizen is not cowering in fear, changes his tune and orders Marmolejo to put his hands behind his back while he advances with Taser ready to fire.
"Put your hands behind your back or you will be tased!" yells Ransom.
"For what reason?" says Marmolejo.
As Ransom comes within arm's reach, he puts the Taser away and reaches for Marmolejo's cell phone, but decides to use the Taser anyway.
According to Marmolejo, when he turned around on his front porch, Ransom fired the Taser. He can be heard screaming in the video as the Taser delivers its electric shock.
Ransom said, "I didn't want to do this to you, Lu." But the video shows that there was, in fact, no compelling reason to use the Taser. Marmolejo was doing nothing wrong in exercising his constitutional right to film the police, and was not threatening anyone. He had even retreated to his house as Ransom first ordered him to do.
Since Ransom had used his Taser and hauled Marmolejo to jail, the cops had to come up with some excuse for this action, so they charged him with "obstructing an officer." However, the video proves that no such obstruction actually occurred.
Marmolejo faces a court hearing on June 2 and is seeking legal counsel. If the video is used by the defense, it should demonstrate to the court that Ransom acted irrationally, and the police department has no cause to pursue its baseless charge.