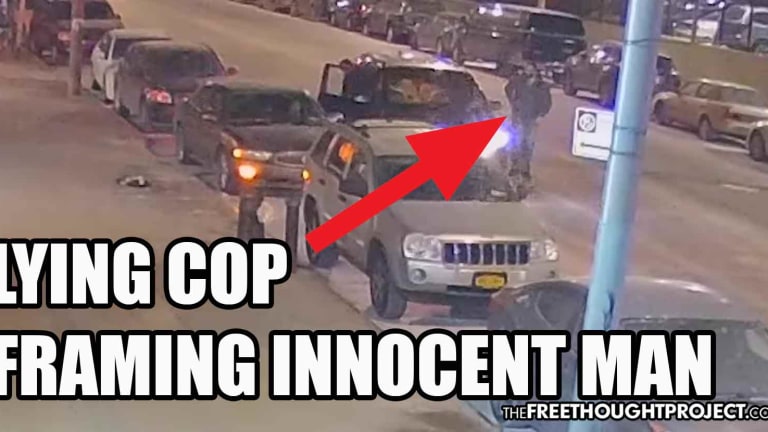 Innocent Man Jailed for 6 Months Until This Video Proved the Cop is a Lying Criminal
A lying NYPD cop is now facing prison time for sending an innocent man to jail on assault charges, thankfully a video proved his words were a lie.
New York, NY — One NYPD police officer was fired, faces up to one year in jail, and another cop was investigated for lying about a traffic stop with a motorist. Officer Michael Bergman lied on his police report and to a grand jury saying victim Pedro Barbosa attempted to run him over with his car. However, video proved that this boy in blue was a criminal liar. Bergman now faces a much deserved legal battle all of his own making.
In the early morning hours of February 1st, 2019, Barbosa parallel parked at an address in Brooklyn hoping to visit a friend. Just after parking, two NYPD officers in an unmarked SUV pulled alongside and behind him at a 45 degree angle.
Bergman and an unnamed officer hopped out of their police vehicle and approached Barbosa, who quickly put his car in drive and attempted to make a getaway. He was later apprehended. He told investigators he did, indeed, recognize the two officers as ones who continually harassed him pulling him over every chance they got, promising to eventually pin charges on him.
It seemed like every time, 24/7, no matter what, if I'm anywhere, they were there...They would follow me wherever I went. If they found anything in my car, even a screwdriver, they'd arrest me for possessing burglary tools...They'd tell me, 'We're going to get you off the streets'.
Bergman's police report stated he was actually standing in front of Barbosa's car and that the man attempted to run him over. Claiming he was standing between the two front headlights Bergman said if he hadn't jumped out of the way he would likely have been killed. He told a grand jury:
The defendant locked eyes with me, turned the car into reverse, floored the vehicle into reverse approximately seven feet...As I'm still yelling, the defendant put it in drive, turned the vehicle towards me to the point where I was in between his headlights, and if I didn't jump out of the way, I would have been under his vehicle.
Bergman went one step further, saying Barbosa actually put the car in reverse and backed up toward both officers. He told a prosecutor:
A high rate of speed..to the point where it left skid marks on the ground.
According to the Washington Post, Bergman was not done spinning his web of deceit.
He then told the grand jury that he had to jump out of the way of Barbosa's vehicle, which caused him to fall to the ground, leaving an abrasion on his elbow.
As a result of the apparent railroading, Barbosa was charged with a number of felonies which included assault on a police officer. He spent six months in jail awaiting trial, only to be released after prosecutors dropped all charges against him. It turns out the entire incident was captured on security camera footage, proving Barbosa not only didn't try and run over the officer but proved without a doubt Bergman was lying through his teeth.
Fortunately, Bergman was fired for perjury and now faces a one-year prison sentence of his own. However, the damage to Barbosa is done. He lost his freedom, something which cannot be undone, and had to fight for his innocence. The Washington Post writes:
As for Barbosa, after the video emerged, the attempted assault charges were dropped, and he pleaded guilty to misdemeanor petty larceny for stealing the quarters. Partly because of the parole violation that resulted from the assault allegation, he was in jail from Feb. 7 until July 3. His car is still impounded.
Few would likely disagree Bergman should spend at least the same amount of time in jail as Barbosa did. But as TFTP has consistently reported, few officers ever spend a day in jail for their crimes.
The public needs to be reminded police officers will routinely lie during a traffic stop in order to make citizens believe they're on their side and confess to some sort of crime. Sometimes those lies carry over into the actual police report.
Few citizens win in court when officers lie about criminal activity. But when cops lie on police reports or to grand juries the action constitutes a felony. Fortunately, one bad cop is now off the streets, and one innocent man has regained his freedom. Unfortunately, however, the event could have been prevented had the other cop on the scene that morning immediately turned in his fellow officer for framing an innocent man. Said officer's name is still unknown and it's unclear if he received any sort of punishment.
Police Caught Lying About Violent 'Assault'

Security footage proves that this cop lied about a violent 'assault' and sent an innocent man to jail

Posted by NowThis Politics on Friday, November 22, 2019