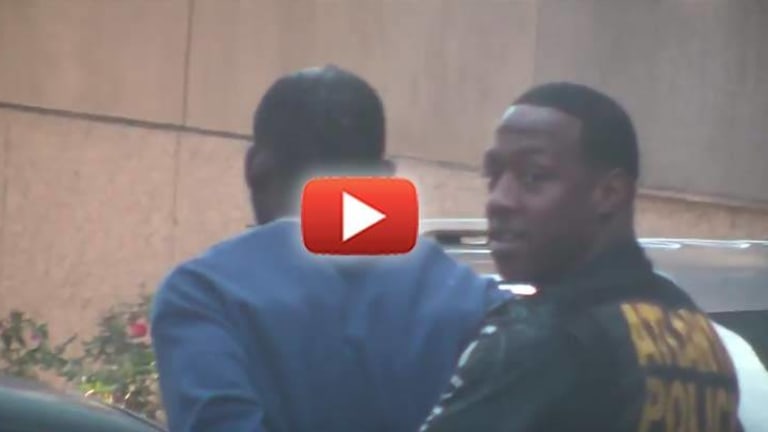 Cop Making False Arrest is Forced to Let His Victim Go After Noticing a Citizen Filming
A powerful video shows an officer release a man, who he was allegedly arresting under false pretense after he realizes he is being filmed.
Atlanta, GA -- A video posted to YouTube this week illustrates the power of holding police accountable with video.
In the last few years, smartphones have become cheaper and more plentiful. According to recent statistics, the number of cellphones in the hands of Americans has been rising steadily every year. It is estimated that 182.6 million Americans will own a smartphone in 2015, an increase from 163.9 million in the previous year.
182 million smartphones means that nearly every adult in the country has a camera in their pocket.
Since the increase in smartphones, there has also been an increase in police brutality videos. This increase in videos led to the question of whether brutality is on the rise or merely that the frequency of filming the instances has risen.
While the answer to this question is up for debate, one thing is certain — the number of police brutality allegations being substantiated by video has increased.
New York's Civilian Complaint Review Board is an independent agency that is empowered to receive, investigate, mediate, hear, make findings, and recommend action on complaints against New York City police officers. According to the CCRB, nearly half (45%) of all claims of brutality and excessive force of NYPD cops have been substantiated by video in the first six months of 2015.
The camera is power as it is a means of exposing unacceptable behavior -- and police are beginning to understand its power.
In the video below, Cameron Ford begins filming what he refers to as an unauthorized arrest. It appears that during the incident, the officer looks back at the man filming, realizes that he is being held accountable, and then ceases his false arrest.
According to Ford:
This video right here proves why you should ALWAYS FILM THE POLICE. This is the same very officer who trumped up charges on me stemming from an arrest days earlier on Wednesday, October 14th 2015.

I saw the same officer arresting someone else for absolutely nothing. Several people got my attention saying that same cop is arresting a black male for NO REASON, I pulled out my camera and started documenting the arrest by filming from a distance. The Police Sgt,. on the bike (Sgt. Hall) advised the arresting officer, that I was filming, you see the officer look back at me with a sneaky mischievous grin and then you see him unhandcuff the male and release him back into the wild.

In a second clip, you will see the officer Stare me down, like I am going to get payback on you. Again days earlier he trumped up 3 felony charges on me, in a great attempt to have me sitting and rotting in jail for crimes I never committed.
Below is the second clip, which shows the officer staring down the man filming. He seems less than pleased.
As the Free Thought Project's Andrew Emmet reported this week,
While speaking at the University of Chicago Law School on Friday, FBI Director James Comey claimed that public outrage over recent police brutality videos might have caused an increase in violent crime. Shortly after making his speech, Comey acknowledged that he has no data to back up his claims. But according to the FBI's own crime statistics, violent crime has declined across the country.

The FBI Director believes that cops have become timid and less aggressive due to the rapid proliferation of viral videos depicting police abuse online. In an interview with The New York Times, Comey stated that police officers are no longer confronting suspicious-looking people because they are afraid of being recorded on cellphone videos. Comey asserted, "I've been told by a senior police leader who urged his force to remember that their political leadership has no tolerance for a viral video."

But if the officer does not break any laws nor violate the suspect's civil rights, then the cell-phone video would actually provide beneficial evidence in the cop's defense. Instead of standing up for police accountability, Comey appears to subscribe to the old system of cops protecting cops.
Only cops who have something to hide dislike being filmed. Unfortunately, it seems that most cops dislike being filmed.