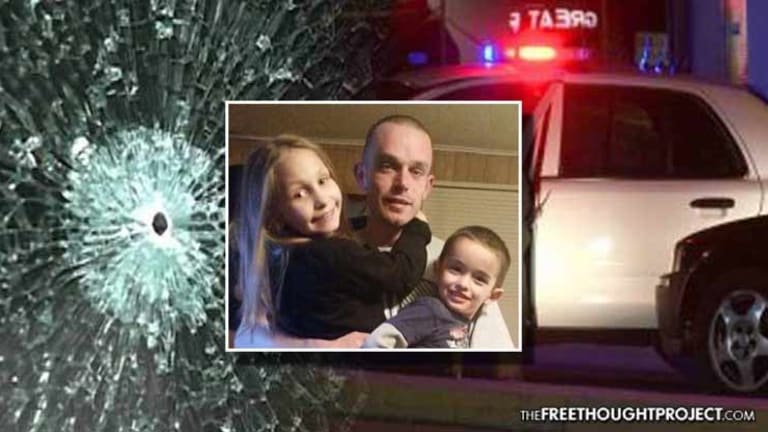 Cop Who Killed Unarmed Man for 'Walking with Purpose' Hired By Police Academy to Teach Recruits
A cop who shot an unarmed man through the patrol car window because he 'walked with a purpose' was hired by a police academy to teach aspiring officers how to be cops.
Des Moines, IA – A former police officer who resigned last year after fatally shooting an unarmed man and blatantly lying about the incident, was hired by the Iowa Law Enforcement Academy to work as an instructor, teaching aspiring officers how to shoot.
Vanessa Miller first made headlines in June 2015 when she shot and killed an unarmed man. She claimed that she opened fire on Keith Bolinger, 28, from the rolled-up window of her patrol car because he was "charging" towards the car.
Miller said the encounter began when Bolinger pulled his car up right next to another officer's patrol car during a traffic stop, and then got out and began acting "erratically." When he returned to his car, Miller and the second officer followed him in a slow chase that was around 35 mph, until he parked and got out of his car again. This time, Miller claimed that Bolinger began walking towards the driver's side of her patrol car, and she warned him to "Get back."
While Miller said she "100 percent believed" Bolinger intended to harm her, she admitted that she was not 100 percent sure if he was armed. "I don't know if it was because he was coming at me so quickly or—they were just down so I couldn't—I couldn't see his hands," she said.
Perhaps, if she had taken the time to roll down her window, she could've seen that Bolinger was unarmed.
However, video and audio recordings determined that Miller lied about the encounter, and she made no attempt to warn Bolinger before opening fire out of her rolled-up window and fatally shooting him in the torso. Miller claimed she had to shoot because Bolinger was "walking with a purpose" toward her.
Despite the fact that evidence proved, and the city of Des Moines acknowledged Miller lied about her conduct during the incident, a Des Moines Police Department review committee cleared Miller of any policy violations.
Miller resigned from the Des Moines Police Department in July 2016, but that did not stop her from pursuing another job in law enforcement. The Des Moines Register reported that Miller then went to work as "a general law enforcement instructor at the Iowa Law Enforcement Academy, which provides training for Iowa's police officers and is headed by Judy Bradshaw, Des Moines' former chief of police."
The same police officer who exhibited poor judgment, shot and killed an unarmed man, lied about the encounter, and was then cleared of any wrongdoing, is now free to do the exact same thing again. However, instead of continuing to work as an officer, she chose to go on to work as an instructor where she has the ability to teach aspiring officers how to conduct themselves.
You cannot make this up. The cop who did everything possibly wrong in a situation—leading to the death of an unarmed man—will now be teaching other people how to be cops.
Unfortunately, Miller's case is not uncommon, and it is just another example of a "Gypsy Cop" who faces no consequences for their actions, but then moves on to another department after their actions generate a certain level media attention and public distrust.
Other cases include a police officer in Texas who was responsible for three officer-involved shootings in two different departments, all in one year; a police officer in Ohio who got his job back after he participated in the execution of an unarmed couple over a traffic violation; and a police officer in Florida who killed a pedestrian with his squad car, punched a child, and spat on a mentally ill man—all in a 3-month time period.
Watch the moments leading up to the fatal shooting in which Vanessa Miller killed Keith Bolinger: