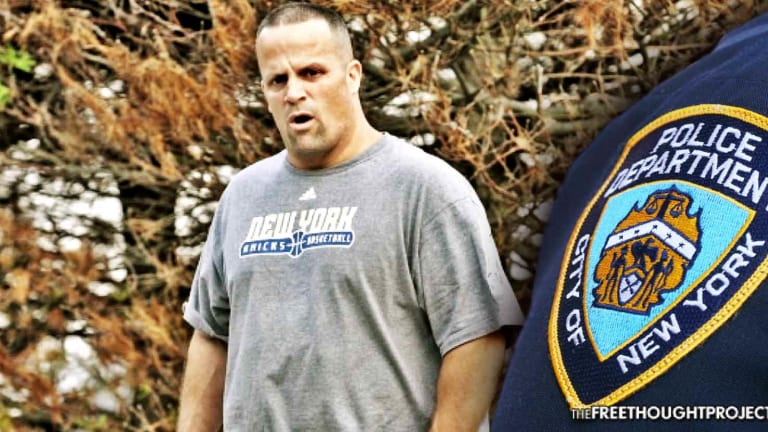 A Single Cop Sued 23 Times for Rights Violations, Costing Taxpayers Dearly—STILL On The Job
One police officer has been accused in numerous lawsuits of illegal home searches, false arrests, and theft, and instead of firing him, the department has spent more than $280,000 covering up his misconduct.
New York – It is no secret that police officers can commit several crimes in multiple departments and never face criminal charges. But it is not often that a single officer is named as the defendant in 23 lawsuits, costing the city more than $280,000, and he is still on the job.
David Grieco is that officer and in the 12 years he has spent as a detective for the 75th precinct of the New York Police Department, he has earned the nickname "Bullet Head," stemming from his reputation as a hot-headed officer who breaks into houses without a warrant, makes false arrests, and has been accused of theft on multiple occasions.
In 2013, Grieco was the subject of at least five Internal Affairs Bureau investigations after he was accused of using his badge to conduct "illegal apartment searches and the theft of jewelry and thousands of dollars in cash."
At the time, Reginald Sykes told the New York Daily News that Grieco led the charge when a team of officers broke into his apartment without a warrant. They manipulated evidence to make it look as though the drugs they found in a back room were in plain sight from the front window—in an attempt to justify the raid—and Grieco told two of the men that if they produced a gun by midnight, he would make the drug charges "disappear."
"These cops are corrupt. They should be off the streets," Sykes said. "They use illegal methods to make arrests. Who's to say they wouldn't do that to a completely innocent person?"
In another case, Grieco led an early morning raid at a home without a warrant in 2017, and homeowner Luis Vargas, 54, claimed that Grieco immediately began yelling, "Where's the guns? Where's the drugs?"
The officers, who were all dressed in plainclothes, began tearing up the apartment and they didn't stop until they found two bottles of sedatives belonging to Lillian Vargas, 53. They refused to listen to her when she claimed she had a prescription for the medication, and instead, they arrested her and forced her out into the cold weather in her robe.
Both Luis and Lillian Vargas were charged with drug possession, and Lillian was sent to Rikers Island until her family was able to come up with the money to bail her out. However, when the pair appeared in court, their charges were mysteriously dropped.
They filed a lawsuit against Grieco and the officers who accompanied him because while their charges were dropped, they never received compensation from the department for the damage that was done to their home, and the officers were never disciplined for entering the residence without a warrant.
There were at least nine complaints filed against Grieco up to 2013 alleging that he broke into homes without a warrant, and the worst punishment he faced in each incident was losing up to 10 days of vacation time. In addition to letting him keep his job, the NYPD also covered for Grieco in many cases and refused to release information about his conduct.
In 2018, it is clear that the only thing losing vacation time has taught Grieco is that he has the ability to work the system over and over and over again. In fact, he earned more than $190,000 in 2017, and $73,000 of it was from overtime, according to a report from the New York Daily News.
The additional time on the streets has come at a hefty price, and Grieco has now been named as a defendant in 23 lawsuits that have cost New York taxpayers more than $280,000 in settlements. In 19 of those cases, all of the criminal charges were dropped against the individuals Grieco arrested.