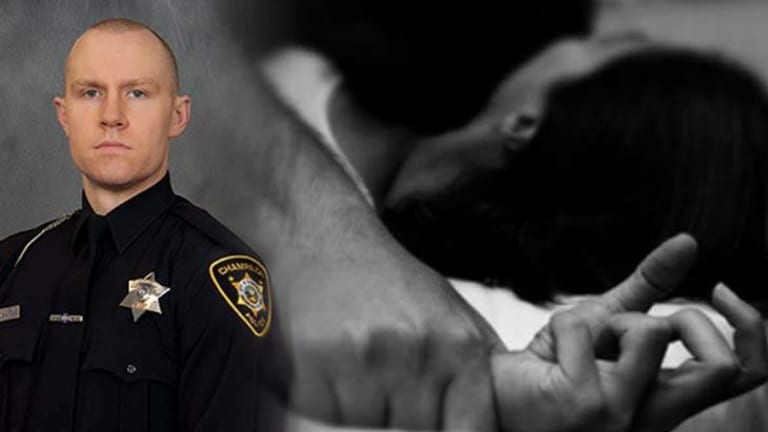 Cop Named Officer of the Year, Months Later He's Arrested for Strangling and Raping Two Women
Despite accusations of rape several years prior, this man was hired on as a police officer and given the department's highest honor, only to be arrested months later on rape and battery charges.
Piatt County, IL -- Despite being accused of sexual assault back in 2007, Champaign Police Officer Jerad Gale was just given his department's highest honor in March. On March 30, Gale was named Champaign's Officer of the Year.
Just three months later he would be arrested for strangling and raping two more women.
Tuesday Officer Gale was arrested and charged with aggravated criminal sexual assault and domestic battery.
According to Illinois Hompage, prosecutors in Piatt and Champaign counties say two different women were sexually assaulted in separate incidents in 2012 and 2013. In addition, Gale is accused of strangling one of them.
Arrest warrants were issued in the two separate counties and Gale's bond was set at $250,000.
The Piatt County case involves one felony count of criminal sexual assault. It reportedly happened between July 4 - 28, 2012. A conviction is punishable by 5 - 15 years in prison, according the IH.
The Champaign County case involves three counts including criminal sexual assault, aggravated criminal sexual assault and aggravated criminal domestic battery. Gale is accused of choking the victim at one point. The incident reportedly happened November 9, 2013. Punishment for those counts range from 3 - 7 years to 6 - 30 years, reports the IH.
Gale was never charged after the rape accusations in 2007, however, prosecutors are said to be bringing in this third victim to provide evidence of sexual offenses.
The rates of sexual assault and domestic battery within the ranks of police officers are almost double that of the average citizen, according to a study conducted by Bowling Green State University.
Another common occurrence is the fact that cops, who are named Officer of the Year, frequently commit some of the worst crimes. The most recent 'Officer of the Year' to be ousted by the community is Officer Eric Casebolt, who was captured on video brutalizing a teen girl and pulling his gun out on unarmed teens.
Prior to Casebolt, there was Houston police officer Noe Juarez, Officer of the Year, 2009. In April, Juarez was indicted after he was caught running drugs and weapons for the Los Zetas cartel in Mexico.
In February, 38-year-old Edwin Guzman, Officer of the Year 2012, was arrested for molesting a young girl who thought of him as a "father figure."
Also in February, Jonathan Bleiweiss, 34, admitted to forcing 20 male immigrants into having sex with him. This Officer of the Year, 2013, pleaded guilty to an array of charges including 14 counts of armed false imprisonment, 15 counts of battery and four counts of stalking. However, because of his blue privilege, he avoided all of the charges with "sex" in them.