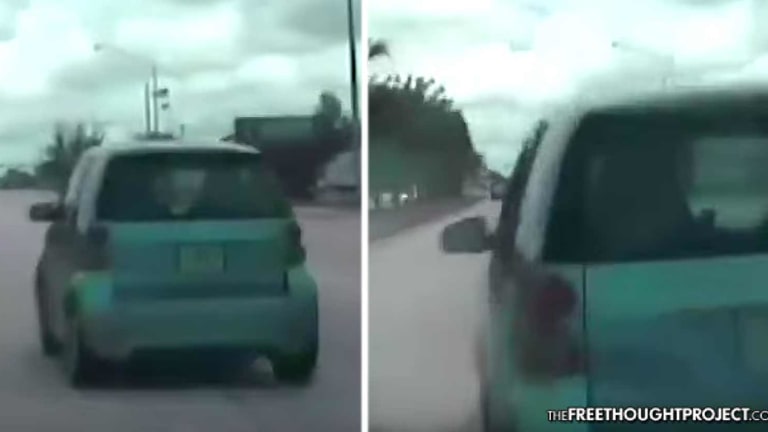 Watch: Cop, Who's Wrecked His Car 6 Times, Smashes into Smart Car at 104 MPH
As a Florida cop prepares to go on trial for reckless driving, dashcam video was released that shows him driving 104 mph and crashing into a Smart car.
Deputy Brandon Hegele goes on trial this month for a single charge of reckless driving for exceeding 100 miles per hour and causing a crash in 2016. Dashcam video of the incident was recently released, detailing just how careless Hegele's driving was, as he weaved in and out of traffic at speeds up to 104 mph.
Hegele's reckless driving resulted in a two-car accident with 60-year-old Harry Deshommes. The elderly man's small car was no match for Hegele's cruiser, which slammed into the rear of his Smart car. Unlike the officer, Deshommes did not walk away unscathed. The elderly man had to have his spleen removed, suffered a skull fracture, a traumatic brain injury, a broken left arm, a broken back, several broken ribs and a broken pelvis.
It was not the first time Hegele had been involved in automobile accidents while serving as a law enforcement officer. According to the Miami Herald:
"Hegele was placed on unpaid leave in September 2016. He had worked as a deputy since 2004, and in that time Hegele was involved in at least six additional crashes in his patrol car. Those had already resulted in tens of thousands of dollars in damages, but he was usually just given a written reprimand."
Hegele was reportedly chasing a suspect vehicle wanted in connection with a felony, despite the fact that he was told three times to break off his pursuit. According to reports, the officer changed lanes nine times, only turning on his lights while going through intersections, and exceeding the speed limits reaching a velocity of 104 mph, before crashing into Deshommes' car.
It would be easy for supporters of law enforcement to simply dismiss Hegele's actions as simply part of his job, but with such emphasis being placed on officer safety as of late, it is important to be cognizant of the facts.
Law enforcement officials are much more likely to be killed in the line of duty while operating their department-issued police cruisers. Vehicle-related accidents account for one-third of cop deaths. Out of the 146 officers killed in the line of duty in 2016, 54 were killed in motor vehicle accidents.
Arguably, if an average citizen had six motor vehicle accidents within a 12-year period of time, the motorist would likely not be able to afford to insure his or her vehicle, let alone be allowed to return to driving with a written reprimand.
Hegele's driving record may serve to illustrate yet another double standard at work for officers who not only break the law while on duty but are given a pass when their actions lead to both the destruction of county property and the destruction of private citizens' property.
Questions remain as to why Hegele was allowed to continue as a law enforcement officer with so many car accidents on his record. Thousands of occupations exist for the general population where people are given company cars. How many of those employers would allow their employees to continue to operate a company-owned vehicle after so many on-the-job car accidents?
Watch the dashcam footage from Deputy Brandon Hegele's reckless driving below: