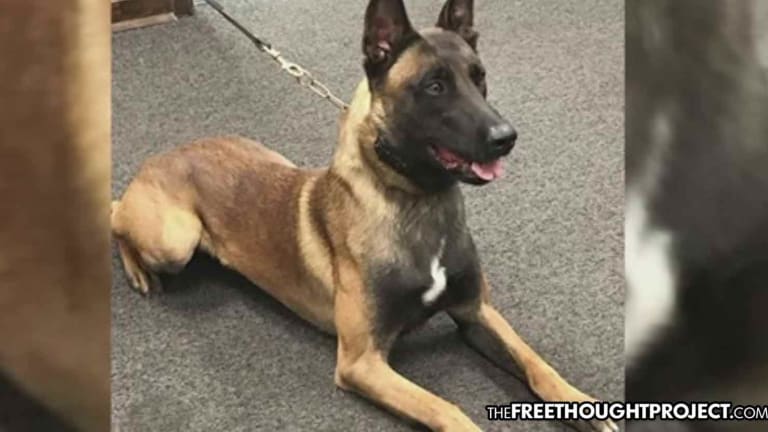 Cop Not Fired or Charged After Leaving K-9 Partner in Hot Car Until It Died
A Georgia cop left his dog in his hot police cruiser until it died. He had turned off the heat alarm and gone to sleep and faced no charges.
Monroe County, GA — In the ostensible land of the free, there are two sets of justice systems: one for all those within and connected to the system, and one for everyone else. A perfect example of this two tiered system is the fact that people are jailed all the time for leaving their dogs in hot cars. But when Monroe County Sheriff's deputy Willie Barkley left his K-9 partner in his hot patrol car all day until it died, he was not charged, jailed or even fired.
Not only was Barkley not fired but Sheriff Brad Freeman has taken to the media recently to defend his deputy, telling everyone that it was an accident.
According to Freeman, Barkley got home that morning after working the night shift and wrapped up reports in his cruiser in the driveway. When he got out to go inside his home, he left his K-9 Khan in the car.
"He thought he had gotten his dog out and put him in the pin. Obviously, he did not," Freeman said, according to WMAZ..
As Barkley slept inside his air conditioned home all day, his K-9 sat in a car as the temperature shot up.
"I believe the high temperature that day was 79 to 80 degrees, somewhere in that neighborhood, which is fine for us when you're just outside but when you put either a human or animal in a car with the windows rolled up. Temperatures go up 20 to 30 degrees. No one can stand that kind of heat inside a car— a human, let alone an animal," Freeman said.
As he had no way of getting out and no one heard him barking, Khan succumbed to the heat and died. When Barkley walked out to his patrol car later that evening, he found his K-9 dead in the back seat.
As TFTP has reported, police K-9 patrol vehicles are equipped with fail safe systems which alert the handler to a hot car and even set off an alarm. However, that fail safe didn't happen.
"When the temperature gets above a certain degree that the system will go off and alert the handler through the horn and maybe the siren that something is amiss in the car," Freeman said.
The reason the fail safe didn't happen is due to the fact that Barkley had unplugged the device since he was going to be off for the next three days.
"You can spend all the money in the world on technology but there's still a human factor," Freeman said, once again going to bat for the officer who killed his K-9 partner.
After Khan died, police launched an internal investigation and determined that it was an 'accident' so Barkley was not charged. Instead, he was given a few days of unpaid vacation.
"I felt like it was an avoidable accident. Therefore, the deputy was disciplined," Freeman said.
But was a few days of unpaid leave really "discipline"? When we look at civilians who have had similar "accidents" the idea of suspension exposes the glaring blue privilege given to cops.
Last July, police arrested 46-year-old Andrew Rodrigues for leaving his dog in a hot car. Unlike Barkley and Khan, Rodrigues' dog was only in the car for 20 minutes and did not die — yet Rodrigues was still arrested and brought to jail.
In September, 18-year-old Anna Perez was arrested and booked into the St. Tammany Parish Jail on one count of aggravated animal cruelty. Her dog did not die and was only in the car for 20 minutes.
Crystal Marie Houk left her dog in her car with the air conditioner running when she went inside Walmart. The air conditioner was confirmed to be in the on position by police but had legitimately stopped working, leading to the death of her beloved pit bull. Despite the fact that the air conditioner was confirmed to have malfunctioned, Houk was charged with one count of animal cruelty, a third-degree felony, and arrested as she screamed hysterically in the parking lot after seeing her dead dog.
This special treatment for cops is not uncommon. As we reported last year, Ozzy, a drug-detection dog with the Long Beach Police Department, was found dead in the K-9 vehicle by his handler officer Chris Thue. Thue and Ozzy were off duty at the time which makes the fact that the dog was in the car, entirely suspect.
After the dog died, veterinarians confirmed that Ozzy indeed died from heat exposure. But instead of facing arrest and felony charges — like all other regular citizens would have faced — Thue, like Barkley, faced nothing.