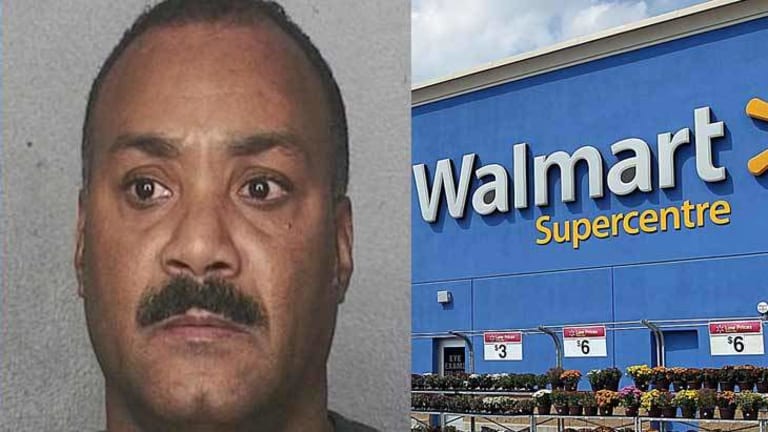 Cop on Paid Vacation After Being Caught Multiple Times Stealing, While in Uniform & Armed
All the thefts — committed on Nov. 16, Dec. 2, Dec. 4, Dec. 6 and Dec. 8 — were captured on surveillance video
Broward County, FL -- Ramen noodles, eggs, bacon, top soil, and a poinsettia were among the items shoplifted by a Broward Sheriff's Office detention deputy who was arrested Tuesday for allegedly stealing from a Coral Springs Walmart.
The BSO's Public Corruption Unit said it arrested Theodore Parrish, 51, and charged hi with misdemeanor petit theft.
NBC Miami reports that BSO said that in each incident, Parrish allegedly went through the store's self-checkout lane to pay for his items. Detectives said Parrish scanned and paid for some items while intentionally placing others in a Walmart bag without scanning them.
Walmart told BSO about the thefts on December 10 and Parrish turned himself in on Tuesday afternoon.
The total monetary value of merchandise stolen by Parrish was more than $175.00.
The information that we have now is that Parrish is currently on paid suspension.
All the thefts — committed on Nov. 16, Dec. 2, Dec. 4, Dec. 6 and Dec. 8 — were captured on surveillance video, according to the police report.
Apparently Parrish's annual salary of $65,627 wasn't enough to keep him from this theft spree; either that or he was drunk on his perceived authority, and did it, simply because he could.
While these thefts were particularly small, the fact that several of them were conducted while Parrish was armed and in his uniform is quite troubling.
This is probably why Walmart theft prevention declined to stop Parrish while he was in the store and instead notified the department. Had they tried to stop him in the store, while uniformed and armed, who knows how far the situation could have escalated.
Instead of the above headline, we could be reading, "Walmart Employee Shot and Killed after Deputy Feared for his Life while Shopping."
Broward County is no stranger to corruption. A quick search in our archives reveals a plethora of misconduct and abuse.