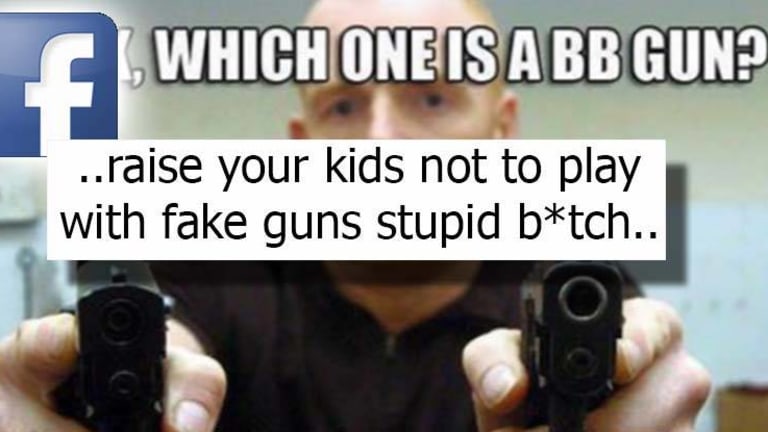 Cop Gets Paid Vacation After Taking to Facebook to Attack Mother of Child Murdered by Police
After going on Facebook and claiming that police officers have an unqualified right to kill anybody, of any age, this cop was not fired, but given paid leave.
Matt Cicero, a "mobile patrol officer" employed in the Cleveland school district where the late Tamir Rice was a student has been placed on paid vacation (officially called "administrative leave") after publishing a Facebook post in which he denigrated the victim of a police killing, insulted his grieving mother, imputed pecuniary motives to the family's decision to pursue a lawsuit -- and, most seriously, expressed a clear intent to kill other children should he find himself in similar circumstances.
Twelve-year-old Tamir Rice, who was playing in a park with a plastic pellet gun resembling an authentic handgun, was killed by Cleveland Police Officer Timothy Loehmann within two seconds of the officer's arrival on the scene. Loehmann and his partner responded to a 911 report of what appeared to be a gun-toting male of indeterminate age, although the caller specified that the apparent weapon was "probably" a toy. Loehmann, whose personnel record unambiguously described someone unqualified to be a police officer, was clearly primed to kill Rice -- and the victim never had time to comply with an order to drop his toy. Nor did the shooter or his partner render medical aid to their victim.
Following the template used in the investigation of Darren Wilson's shooting of Michael Brown in Ferguson, Missouri, Cuyahoga County District Attorney Timothy McGinty referred the Tamir Rice shooting to a grand jury, but rather than seeking an indictment he conducted a mini-trial in which he acted as both prosecutor and defense attorney for Officer Loehmann. Thisrais yielded the entirely predictable -- and, most likely, intended -- result when the grand jury declined to indict Rice's killer.
In the December 29 press conference announcing the grand jury decision, McGinty insisted that "the plus side of this tragic event" is that "there have been lessons learned already in this case.... And it should never happen again."
According to Officer Cicero -- whose views are most likely representative of at least a significant portion of his peers -- the only relevant "lesson" in the Tamir Rice killing is that police officers have an unqualified right to kill anybody, of any age, they perceive as a threat, and when this happens to a child only the victim and his parents are responsible.
"Tamir rices momma just want money," wrote Cicero in sub-literate language that typified the undemanding intellectual standards of his occupation. "Lets make the proper changes … raise your kids not to play with fake guns stupid bitch. All this media bc the are notngetting what they want. Again …..pleeze anyone who does not like what i post…..unfriendly me or block me your not worth my time."
Responding to a comment that a child playing with a toy gun shouldn't "become a solid platform for the death penalty," Cicero wrote: "You pull out a gun you get shot. I dont have time to ask questions and coddle kids that wave guns around. White black purple or green. It comes down to parenting and the lack of it."
To fortify what he considered a compelling argument, Cicero also re-posted a popular law enforcement meme depicting a man pointing two nearly identical pistols at the camera and inviting the viewer to determine "which one is a BB gun? Oops, too late ... you're dead."
In the case of Tamir Rice, the victim was shot before he could react to whatever demands were bellowed at him by the privileged killed. There is also no evidence that Rice was "waving" his plastic toy gun in the direction of the cop who killed him in burst of uninformed panic.
Like many, perhaps most, men who go into law enforcement, Cicero probably played with toy guns as a child. This doesn't represent a parental delinquency, but reflects the ubiquity of firearms in American culture. Furthermore, if Rice had been an adult openly carrying a firearm in Cleveland, his behavior -- whatever one thinks of its wisdom -- would have been in compliance with Ohio law.
A reporter for Cleveland's ABC affiliate confronted Lester Fultz, Chief of Safety and Security for the Cleveland Metropolitan School District, about Officer Cicero's Facebook comments, but was unable to elicit a response. Shortly thereafter Cicero was told to go on his paid vacation.
"The comments posted are particularly insensitive, considering that Officer Cicero works for the school district that served Tamir Rice and his family," said school district CEO Eric Gordon. "Even as we grieve the tragic loss of this child to his family and to our entire school community, we are mindful of the very difficult job of our safety forces in our schools and our communities. Neither our citizens nor those who police our communities should be painted with a broad brush, and I don't believe we will ever find solutions to such complex issues through Facebook posts—especially posts that further divide us."
Given that Cicero's remarks weren't sufficient to justify terminating his employment, no rhetorical "broad brush" is required to support certain conclusions about the attitudes among his colleagues. One significant difference between the "school community" and those, like Cicero, who "police" it is that the latter see themselves as an occupation force whose personal safety is paramount, and who can kill without clear justification or significant consequences.