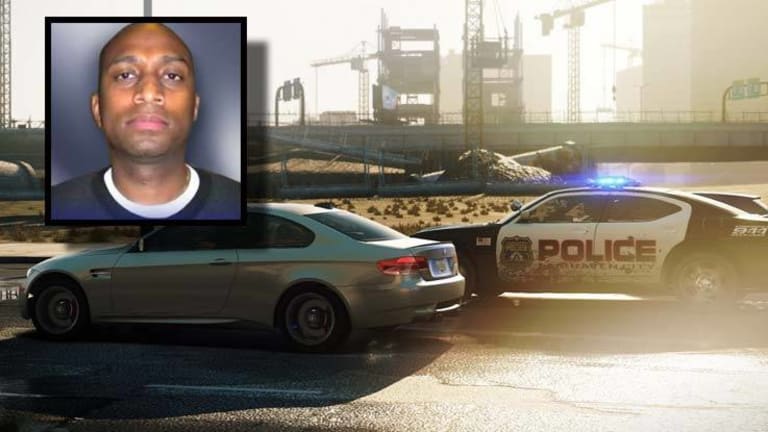 Cop Throws Tantrum for Being Pulled Over by Fellow Cop, Speeds Off, 150 mph Chase Ensues
A Baltimore police sergeant is on paid vacation after he became so angry he didn't get preferential treatment, that he led police on a 150 mph chase.
Baltimore, MD -- Baltimore City police sergeant Francisco Hopkins sent Maryland State Troopers on a high-speed chase early in the morning hours of New Years day. Hopkins was reportedly off duty at the time and was pulled over around 3 a.m for not having a front tag on his vehicle.
Allegedly frustrated by the fact that he was pulled over, Hopkins became belligerent with the officer who stopped him, and demanded special treatment. When it seemed like the trooper may treat him like anyone else and give him a ticket, Hopkins sped off and started a high-speed chase.
According to the trooper's report, Hopkins said "Your (sic) going to give another cop a ticket?"
"He called me an (expletive) then accelerated, aggressively spinning (his) wheels," the unidentified trooper said in the report.
Had this been a civilian, it is likely that he would have been killed, or at the very least shot.
"(The) vehicle had a rear registration plate cover with plastic to obscure the registration plate," the report continued.
During the chase, Hopkin's reached speeds of 149 mph while driving in his 2015 Ford Mustang.
Maryland State Police spokeswoman Elena Russo claimed that Hopkins was not impaired, but it has not been indicated whether or not he was given a field sobriety test or a breathalyzer.
"He was up to a 149 mph in a 50 mph posted zone. What's ironic is this trooper, who was out there patrolling our highways to keep people safe from impaired drivers, came across this instance with somebody who was not impaired, however, was driving at this amount," Russo said.
"So obviously, it was very dangerous. No matter where you are, it's dangerous," Russo added.
It seems that one of the most dangerous people on the road just after New Years Eve was a cop.
Hopkins was given 10 citations, including one for attempting to elude police. After his arrest, Hopkins was released on $10,000 bond and suspended with pay.
The timing of his arrest and the circumstances surrounding his chase are extremely suspicious. Usually, when someone attempts to outrun the police at 3 am on New Years morning it is because they are attempting to avoid a DUI charge. However, there has been no indication so far that Hopkins was even tested for impairment, aside from the police department's claim that he was not impaired. The Maryland State Police have refused to comment on the details of the case.
John Vibes is an author and researcher who organizes a number of large events including the Free Your Mind Conference. He also has a publishing company where he offers a censorship free platform for both fiction and non-fiction writers. You can contact him and stay connected to his work at his Facebook page. You can purchase his books, or get your own book published at his website www.JohnVibes.com.