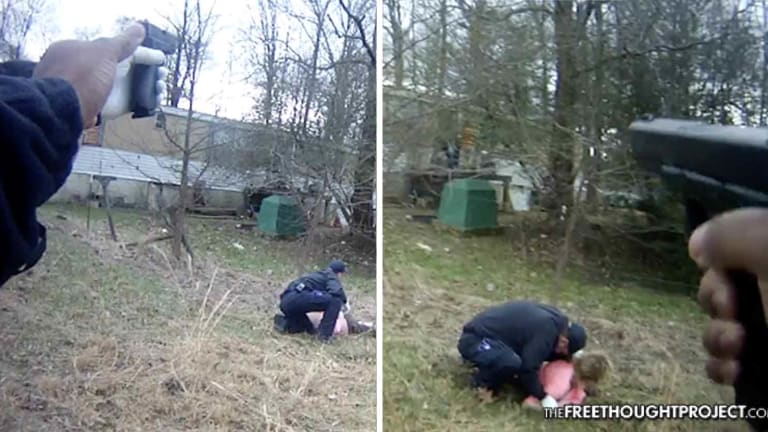 WATCH: Cops Loses His Mind, Opens Fire on Innocent Unarmed Man—Police Charge Victim
A cop lost his mind and opened fire on an innocent man for no reason. Now, the innocent man is charged with assault for causing the panic attack.
Sevier County, TN — Deputy Justin Johnson, with the Sevier County Sheriff's Office, was called to a Sevier mobile home park back in December 2016, where Brian Keith Mullinax, 41, and his girlfriend, Tina Carrie Jo Cody, 37, live. During the call, which was over a family vehicle dispute, Johnson suffered a panic attack, shot at an unarmed Mullinax for no reason, and now, the county is charging the victims, claiming they made the deputy panic.
As Knox News reports, Mullinax is charged with assault in Sevier County Circuit Court for causing Sevier County Sheriff's Office Deputy Justin Johnson to suffer a panic attack four minutes after Johnson opened fire in a neighborhood without warning in December 2016.
Highlighting the sheer tyrannical nature of these charges, Johnson suffered the attack as Mullinax was face-down on the ground, complying with all the orders, several yards away from the deputy.
Assistant Public Defender Aaron Kimsey says these charges are only being brought because Mullinax was suing the county.
To show just how much of a railroad case this is, despite the entire disturbing incident being caught on video, a year after it, and Johnson has yet to even be investigated.
What's more, Mullinax and Cody were both arrested during the incident—in which they did nothing wrong—and were illegally held without a hearing.
According to Knox News:
Mullinax and Cody spent 42 days in jail on felony aggravated assault charges filed against them by SCSO and directly accusing them of causing Johnson's panic attack.

The couple were held without a preliminary hearing for weeks. The law requires such a hearing for jailed suspects within 10 business days of arrest. A judge in March tossed out the felony charges, but sent the case to a Sevier County grand jury to review.
As TFTP reported at the time, upon arrival, Johnson approaches Cody and gives her two conflicting commands, "Walk over here!" and "Don't move!" Apparently not knowing what to do, she took off running. Johnson chased her down, grabbed her by the shirt, and threw her to the ground. His breath can be heard on his body camera. He was breathing heavily and may have been struggling to catch his breath. Cody said her mom told her to run. She later told the officer she just got out of a mental health facility.
As officer Johnson was attempting to get Cody in handcuffs, he must have believed he saw Mullinax with a gun—he was unarmed. He wheeled around, with his Glock drawn, pointed it at the man and opened fire in a volley of seven shots.
Thankfully, no innocent children or adults were hit with the deputy's dangerously fired rounds into a populated mobile home park.
That may have been the start of his panic attack. He ran downhill to the far end of the field away from the mobile home, abandoning his suspects, the paramedics, and the citizens he fired upon.
His breathing became more rapid. He radioed dispatch:
Get me help, shots fired, get me help!
He radioed in again:
I've got a guy with a gun. I need some help. Shots fired!
Johnson's voice seemed to be tightening and increasing in pitch and intensity. As he waited for back up, all the while he was yelling profanity-laced orders for everyone not to move and to "shut the fuck up."
While paramedic Blake Gregg continued to attend to Cody, who may have been going through her own psychiatric episode, that's when it happened. At around the 5:30 minute mark in the nearly 10:00 minute recording, Johnson lost it completely. He had a full-blown panic attack, sounding as if he was crying, he remained frozen in place, gun drawn, arms extended.
It's almost certain the paramedics knew something was going wrong with the whole scene. Not only did they not run away when Johnson opened fire, one brave paramedic, Michael O'Connor, moved in to disarm the officer who was noticeably and audibly out of control.
Keep it together man! Pull it together man. Give me your gun sir give me your gun I'm with the ambulance service sir give me your gun....easy buddy I've got it. It's under control. Easy buddy. Calm Down. You've got this...easy buddy it's okay. it's a stressful situation.
The calm, cool, and collected paramedics and their demeanor stood in stark contrast to the officer who could not keep it together. But what happened next some are calling a travesty of justice. Cody was charged with resisting arrest while Mullinax was charged with assault, even though no gun was found, the only shots fired were those from Johnson's gun, and the man never laid a hand on the officer. In essence, as the city even notes, the couple was charged for the officer's own panic attack.
Cody kept telling the officer they had no gun. She even asked the paramedics to get her away from Johnson as he was "crazy." According to the Knoxville News Sentinel:
The video showed Mullinax obeyed Johnson when – after Johnson had fired seven shots and ran away – the deputy ordered him to the ground, and he never moved from that position during or after Johnson's panic attack.
From Johnson's police report, a clearer picture may be emerging describing what was going through the officer's mind when he opened fire. Noticeably (and some might say predictably) absent from Jonhson's police report was any mention of a panic or anxiety attack. He wrote:
I heard a male voice coming from a short distance behind me shout, 'I've got a gun', (expletive)...I turned to notice (a suspect) pacing wildly on the porch of a nearby mobile home and then squat while aiming an object at me that appeared to be a firearm in his hand. I immediately discharged my weapon.
Clearly, as the video shows, this event that Johnson described never took place. Mullinax never threatened anyone and merely announced that he was filming the incident.
SCSO Detective Johnny Bohanan added to the police report and described why he decided to charge Mullinax with aggravated assault. He wrote:
Because of the assault on Johnson and the fact that he was taken to the hospital with injuries and may have suffered some type of cardiac event as the result of this assault by both the male and female and all the statements and evidence, I charged [mullinax and Cody with aggravated assault].
Mullinax and Cody never touched Johnson.
Attorneys John S. "Stan" Young III and Cameron Bell have since filed a lawsuit on behalf of Cody and Mullinax and it is seeking $750,000 in damages—an amount we think is far too low.
Luckily, a grand jury rejected charges Cody caused Johnson's panic attack, instead, choosing to indict her on charges of resisting arrest. The grand jury indicted Mullinax on a misdemeanor assault charge—for laying face down and doing nothing wrong—as a deputy had a panic attack.
As for Johnson, he's never received so much as a slap on the wrist for senselessly unloading seven rounds into a neighborhood. Citizens of Sevier County be warned—deputy Johnson is still on active duty.