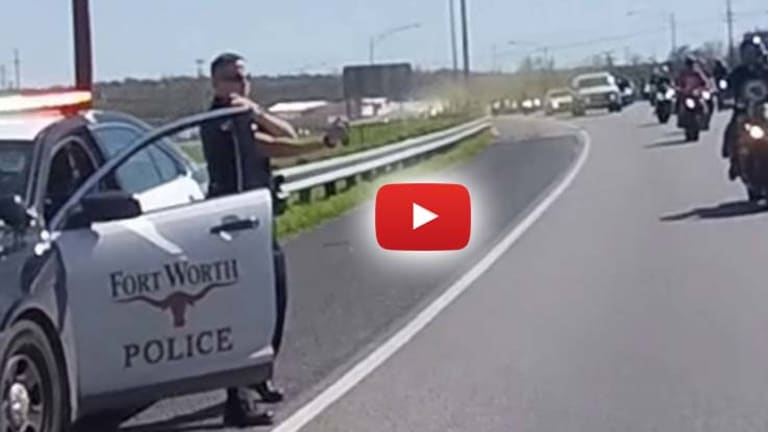 Cop Caught on Video Pepper Spraying Innocent Motorists on the Highway -- Will NOT Be Punsihed
The department quietly noted the officer who deployed pepper spray into the faces of innocent motorists as they drove by -- will not be punished.
Fort Worth, TX -- In March, Fort Worth police confirmed that one of their officers was under investigation after a video was uploaded to Facebook showing him pepper spray innocent people as they drove by on motorcycles. On Friday, the Department quietly released a statement noting that they will not discipline the officer involved.
After Fort Worth police officer William Figueroa was seen shooting out pepper spray into the faces of motorcyclists as they drove by on a busy highway, he was placed on paid vacation pending an internal investigation. The investigation was wrapped up in June. However, investigators left it up to Figueroa's bosses to decide what, if any, punishment he would receive.
Now, nearly two months after the investigation, and Figueroa back on the streets, the department announced that he wouldn't be punished. Instead, the department said that Figueroa will receive "internal sanctions." When asked what "internal sanctions" are, Sgt. Marcus Povero, a police spokesman, said Friday that he could not specify. However, he added that they could include retraining or a "commander's admonishment."
In other words, an officer who nearly caused a deadly pileup, from being unable to control his rage, will not be punished.
The video, uploaded by Facebook user Chase Stone, captured the dangerous and downright insane actions by this public servant. The video was posted with the following description.
During the big ride today we had a law enforcement officer, that looked as if he was pulling over a truck, stepped out of his vehicle with mace in hand and began spraying it towards the riders with intention of causing an accident!!! This is a video EVERYONE NEEDS TO WATCH!! Law enforcement is here to protect and serve, not intentionally try to harm others
Luckily, Stone had his HD helmet cam on and caught this maniac in his despicable act. Otherwise, no one would have believed it.
According to Povero, no witnesses called in to file a complaint against Figueroa.
"Nobody that witnessed or was involved in this situation ever filed a complaint," Povero said. "This was an internal investigation started by our own internal affairs unit."
However, according to the person who filmed it, he did complain, and he's planning legal action.
When asked by internal affairs why he would make such an asinine and dangerous move, Figueroa said, "Multiple motorcycles would not vacate the lane closest to my marked patrol car. I deployed my pepper spray into the lane closest to me, at which point approaching motorcycles began to vacate the lane, allowing me to conduct a traffic stop."
Luckily for the innocent motorists, Figueroa didn't reach for his firearm instead.
The actions of the officer in the video below are beyond unreasonable and, in fact, enter into the realm of criminal behavior. Had one of the motorists wrecked as a result of the pepper spray, the results could have been catastrophic.
His lack of punishment is a kick in the teeth of those who want police to be held accountable and speaks to the reason of why there is so much divide in America today.
No amount police apologist logic will justify the careless deployment of pepper spray into the faces of dozens of bikers traveling down a highway. This officer needs to be fired immediately and arrested.
Fort Worth Police Department complaints on Officers line. -- 817-392-4270
[author title="" image="https://tftpstagingstg.wpengine.com/wp-content/uploads/2016/03/magorist-e1456948757204.jpg"]Matt Agorist is an honorably discharged veteran of the USMC and former intelligence operator directly tasked by the NSA. This prior experience gives him unique insight into the world of government corruption and the American police state. Agorist has been an independent journalist for over a decade and has been featured on mainstream networks around the world. Follow @MattAgorist on Twitter and now on Steemit[/author]