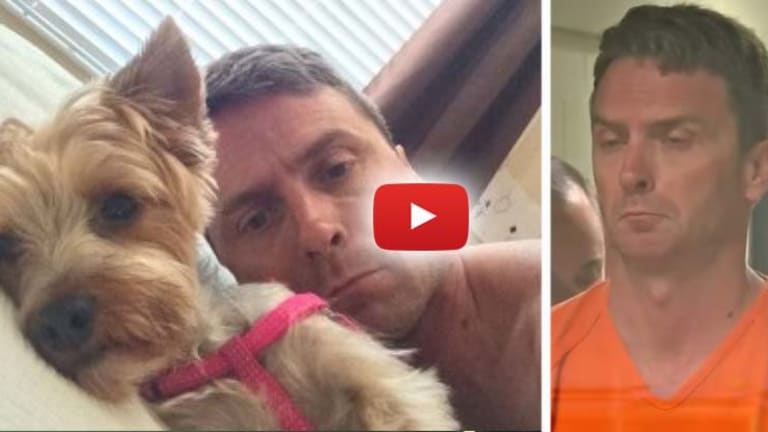 Cop Charged for Stealing 79yo Woman's Dog then Shoving Pills Down Her Throat to Kill Her
After an elderly woman attempted to report a cop for stealing her dog and $65,000, he tried to murder her with pills and carbon monoxide.
Sarasota, FL — An unfortunate reality in the United States is that even the disabled and the elderly are not safe from falling victim to police misconduct. As a recent case in Sarasota County, Florida, illustrates, innocent elderly women are not immune from abuse of power — and even attempted murder — by police.
This case and the following details are close to one of the worst stories The Free Thought Project has ever reported on regarding police.
Frankie Eugene Bybee, 46, is an 18-year veteran of the Sarasota County Sheriff's Office, who has been arrested on multiple charges, including attempted murder, for preying on a 79-year-old woman.
According to Sarasota County Sheriff Tom Knight, allegations of Bybee harassing the elderly woman led to an investigation that uncovered horrendous criminal acts.
What makes this case even more horrifying is the fact that from an outsider's perspective, it appeared that Bybee was going out of his way to help the 79-year-old woman. However, upon closer inspection, the true nature of his plan was exposed.
Bybee's relationship with the elderly woman began after he responded to her call for help. After their first meeting, Bybee would frequently return to her retirement home in what appeared on the surface as genuine concern. Bybee even went so far as to introduce his family to the woman.
However, while things looked normal on the surface, Bybee was allegedly plotting to steal everything he could from this woman he apparently felt was helpless.
The theft started with her dog.
While the 79-year-old was in the hospital, Bybee said he would watch her dog. Instead, the deputy allegedly sold the dog on Craigslist. On Monday, police were able to locate the woman's beloved and expensive Yorkshire terrier.
On December 20, the woman filed a complaint with the department about the theft of her dog. But this was just the tip of the iceberg.
After the complaint was filed, according to the arrest affidavits, investigators found that multiple checks had been written out of the woman's account — directly to Bybee and his children. The checks, which investigators accused Bybee of writing to himself, totaled upwards of $65,000.
After Bybee caught wind of the investigation, however, that's when things took a turn for the worse.
On January 12, the victim told police that Bybee entered her home through an unlocked door. He was dressed in all black and wearing latex gloves.
According to WFLA: 
The victim told officials the suspect "grabbed her face with his gloved hands and pressed hard against her causing her to bleed from her mouth," the affidavit stated.

The victim stated Bybee tried to force a handful of unknown pills into her mouth while placing his knee in her pelvis before trying to "force" the victim to take her own tranquilizer medication that was used to help her sleep, the document stated.

The victim lost consciousness for a period of time before regaining consciousness and noticing her kitchen door ajar to her garage, her car running and the house filling with carbon monoxide.
"It is beyond unacceptable that an individual who works in a position of trust and guardianship to their community, is capable of such heinous crimes. His actions are a disgrace not only to our agency. but to law enforcement professionals everywhere," said Sarasota County Sheriff Tom Knight.
"I hope he gets prosecuted a little bit more exceptionally than a normal criminal because he used the uniform for public trust," said Knight. "His actions are a disgrace not only to this agency, but to the law enforcement profession."
However, as we've seen in the past, even the most heinous of crimes committed by cops receive lighter punishments as defense lawyers use their stellar history as a law enforcement officer as a means of seeking a lighter sentence.
[author title="" image="https://tftpstagingstg.wpengine.com/wp-content/uploads/2016/03/magorist-e1456948757204.jpg"]Matt Agorist is an honorably discharged veteran of the USMC and former intelligence operator directly tasked by the NSA. This prior experience gives him unique insight into the world of government corruption and the American police state. Agorist has been an independent journalist for over a decade and has been featured on mainstream networks around the world. Follow @MattAgorist on Twitter and now on Steemit[/author]