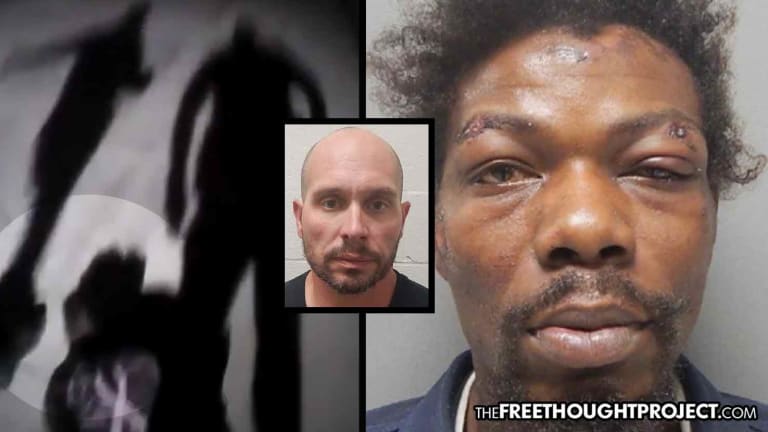 Cop Arrested for Punting Cuffed Man's Head Like a Football on Video, Says He Did Nothing Wrong
A cop facing multiple charges for kicking a handcuffed man in the head and beating him, pleaded not guilty this week.
Monroe, LA — After his violent arrest in April, Timothy Williams, 40, thought he was going to be railroaded by the system that savagely attacked and imprisoned him during a police response to an audible alarm. Williams, who had nothing to do with the alarm going off, was stopped by police and savagely beaten while handcuffed. For months, no one believed him, however, the video has been released and the officer who doled out horrifying violence on a handcuffed man has been charged.
Monroe police officer Jared Desadier was charged with one count of second-degree battery and one count of malfeasance in office by bill of information on Aug. 18. On Tuesday, August 25, despite video evidence of his crimes, Desadier pleaded not guilty, claiming he did nothing wrong when he punted Williams' head like a football.
According to police, they detained Williams that night because they came across him while responding to the alarm going off. He was not suspected of committing a crime. However, when police searched him, they found a toy gun in a holster. This is not a crime.
When police searched his shirt, they claim a glass pipe fell out of his pocket and Williams ran. Williams said that being surrounded by seven cops frightened him, so he took off running.
He did not run far and when he realized the futile nature of his actions, Williams stopped, put his hands up and laid on his stomach to be handcuffed.
"I was just thinking maybe well...when I give up they'll just put the handcuffs on me and I'll just face the charges that they're going to charge me with. I didn't think that I would be put in handcuffs and get beaten and still have to face charges too," Williams said.
Unfortunately, that is exactly what happened. Despite the complete lack of resistance, laying face-first on the ground, and getting handcuffed without incident, Williams was brutally beaten by at least two officers.
Williams pleaded guilty on July 17 to flight from an officer and possession of drug paraphernalia. He was sentenced to time served by the court. After being released, community members urged Williams to find an attorney and follow up with his case, so he did.
Williams said his pastor played a key role in helping him get justice.
"When no one else believed in me, they believed in me. My pastor believed in me when no one else believed in me. This could be anyone else, I could be dead right now. Through the grace of God I'm here," said Timothy Williams, victim.
Now, at least one of the officers who attacked the handcuffed man is facing accountability. Desadier has since resigned from the department.
As TFTP reported, earlier this month, the video was released, showing why Desadier needs to be in jail.
"Well, obviously it was very very disturbing what we saw. If you look closely, you'll see the kick in the face and other parts of the beating," said Donecia Banks-Miley, an attorney for Williams who explained on Tuesday that this cop's blue privilege has already begun.
As the News Star reports, Banks-Miley said Williams had a right to appear at Tuesday's proceedings but discussion was needed for him to be allowed to enter the courtroom for the arraignment. She said Desadier did not use the front door to enter the courthouse and also exited from an alternate entrance, and she is concerned the suspect is already receiving preferential treatment.
Banks-Miley is now pushing for the release of the other body camera footage which shows the kick clearer and wants the other officers to face charges as well. This has yet to happen, however, and they have been on paid vacation since the incident.
In a statement from The City of Monroe, they say, "Transparency regarding the treatment of Mr. Williams has been our over-arching goal since this administration became aware of his encounter with two patrol officers of the Monroe police department. We will keep our process as transparent to the public as possible within the limits of an ongoing criminal and internal affairs investigation."
This transparency is not happening.
"We've only seen a portion of one body cam. We want to clarify that for everyone else. That we only saw a portion of one and then there are at least three to four other bodycams that we are requesting to be released at this time," said Banks-Miley.
According to BRProud.com, Timothy's counsel says this is just the beginning and they will see it to the end. And it won't end until police reform is put into place.
"We need a consistent complaint system that needs to be put in place so that people that are afraid to come forward are not afraid to go to the people that work with the same person that may have used the excessive force against them," said Kristen B. Pleasant, co-counsel.