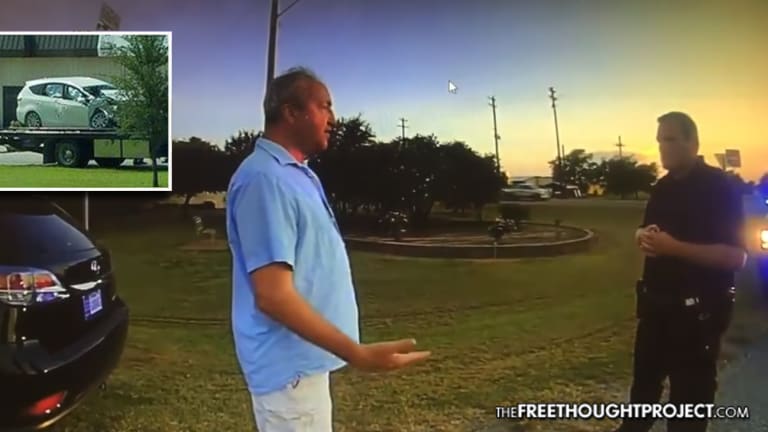 WATCH: Cop Lets Wasted Politician Go on DUI—He Gets Drunk Again, Smashes into Car Head On
After police let a wasted politician off for a DUI, he got drunk again only days later and severely injured an innocent man in a head on collision.
Tom Bean, TX — In America, there are two sets of laws — one for the government class of police, politicians and well-connected elite — and one for everybody else. This corrupt system punishes the citizens for crimes the elite commit with impunity. The recent DUI stop of City Councilman Benjamin Vincent in Tom Bean, Texas, illustrates this corruption and shows how it can be detrimental to the safety and well-being of citizens.
Last Sunday, Vincent was pulled over by Whitewright police officer Andrew LeFevre after he was seen swerving all over the road, driving into oncoming traffic, and sliding through intersections.
When the officer initiated conversation with Vincent, it was obvious from the start that he was highly intoxicated. He thought it was October and couldn't complete a sentence or answer any of the questions without blurting out utter slurred nonsense.
After the city councilman admitted to drinking and was seen breaking numerous laws, the officers decided to let him go.
"My suggestion is that you call a sober licensed family member to come get you," LeFevre said. And just like that, this man who should've been arrested for driving dangerously drunk was let off with no consequences.
"Now Mr. Vincent, I want you to understand how big of a deal I'm cutting you here," LeFevre said in the body camera video taken by Officer Mark Munt. "Between attorney fees, court fees, posting bond, insurance hikes, drivers license surcharges, DWIs can cost north of $20,000. Not to mention the stigma associated with it, the headache and hassle associated with it, having a criminal record. I'm really not trying to jam you up, but what I need you to understand and grasp from all of this is the seriousness of it."
But Vincent did not grasp the 'seriousness of it.'
On Tuesday, Whitewright Police Chief, Beau Heistand made an ominously predictive statement to the press after acknowledging his officer let a dangerous drunk driver back out on the road.
"There are a lot of fatalities that are caused by that and allowing someone to get a slap on the wrist and call someone to come take them home isn't going to get anywhere," said Chief Heistand.
He was right.
Only a few days later, after he'd been let off for putting the public at risk by driving while highly intoxicated, Vincent was right back at it. This time, however, the cops wouldn't find him before he hurt someone.
As the Herald Democrat reports, the two-vehicle wreck involving Vincent and Elmer Stuckey, the driver of a Tom Bean Independent School District vehicle, caused injuries to both drivers, and both were transported to the hospital. In the early afternoon, Vincent was released from the hospital and arrested by a Texas Department of Public Safety trooper. Vincent was booked into the Grayson County Jail for intoxicated assault with a vehicle causing serious bodily injury.
"Today about 10 a.m., officers with our agency and the Tom Bean Fire Department responded to a call of a major accident at the intersection of State Highway 11 and Britton Street," Tom Bean Police Chief Tim Green said. "Upon initial observations, it was determined the accident involved a member of Tom Bean City Council and an employee of the Tom Bean Independent School District."
Because police chose not to arrest a man because he was a city councilman, an innocent man was severely injured. Their corruption led to the suffering of others and it could've been far worse.
For his actions, LeFevre was fired.
As innocent citizens are given DUIs for being completely sober, wasted politicians are granted get out of jail free cards and allowed to hurt other people. While many people will claim these are signs of a broken system, those who pay attention know it was, in fact, intentionally set up this way.
As you watch the video below, put yourself in Vincent's shoes. Do you think cops would've treated you the same way if you did what he did?