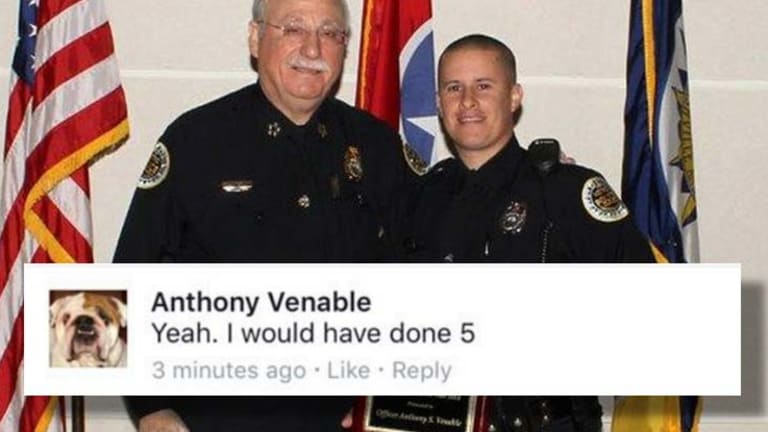 Officer of the Year Takes to Facebook to Glorify the Murder of Philando Castile by Police
A cop has been suspended after a Facebook post noting how he would have conducted himself in the same manner in the murder of Philando Castile.
Nashville, TN -- A Nashville cop, and recipient of the department's "Officer of the Year" award, is now under an investigation for a Facebook comment he made glorifying the murder of Philando Castile.
Officer Anthony Venable has been decommissioned pending the results of the investigation.
In shocking video streamed on Facebook Live, Philando Castile, 32, is seen bleeding to death after a Minnesota police officer shot him through his driver-side car window. His girlfriend, Lavish Reynolds, also known as Diamond Reynolds, captured the horrific scene on her cell phone, narrating the tragic events and streaming them live on Facebook.
According to Reynolds, police pulled them over for a broken tail light and callously shot her Castile to death after he told the officers that he had a firearm and a conceal-and-carry permit. Reynold's 4-year-old daughter was reportedly sitting in the back seat when the officer fired at least four bullets into Castile's arm and chest.
The officer who shot and killed Castile is with the St. Anthony Police Department in Falcon Heights, on Thursday night, Minnesota state officials named Jeronimo Yanez as the officer who shot and killed Castile during the traffic stop near St. Paul. Yanez and his partner have both been placed on Administrative leave.
Reynolds can be heard on the video telling her boyfriend "stay with me," as he bleeds out in the vehicle.
"We got pulled over for a busted tail light in the back and he's covered… They killed my boyfriend. He's licensed to carry. He was trying to get out his ID and his wallet out his pocket and he let the officer know that he had a firearm and he was reaching for his wallet and the officer just shot him in his arm," Reynolds says, narrating the events that had just taken place.
Castile obeyed all commands, was not making sudden movements, was not a criminal, and yet he was killed. Yanez approached the driver's side of the vehicle driven by Castile and during the interaction, "discharged his weapon, striking Castile multiple times," the agency said in a statement.
To claim that he would have also conducted himself in the same cowardly and murderous manner, Venable has shown his true colors. Thinking that it would have been okay to post this confirmation on social media highlights the sentiment with which Venable felt comfortable.
"Yeah. I would have done 5," wrote Venable on Thursday, describing how he would have shot and killed the innocent man in the same manner.
Of course, when Venable was confronted about the post, he says it was sarcasm. But, this was too little too late. Philando Castile was an upstanding member of his community. The city of St. Paul is mourning the loss of this man who'd never had a run-in with the law.
According to WAVE 3, the Office of Professional Accountability is investigating the specific posting and Venable's Facebook conversation.
"The police department is treating this matter very seriously and took immediate action, regardless of what he claims the context to have been," Metro Police Chief Steve Anderson said.
On Thursday, Saint Paul Public Schools released a statement about Philando Castile that stated:
Saint Paul Public Schools and its staff grieve the tragic death of a former student and current employee, Philando Castile.

He graduated from Central High School in 2001 and had worked for Saint Paul Public Schools (SPPS) since he was 19 years old, beginning in 2002, in the Nutrition Services Department.

Mr. Castile was promoted to a supervisory position two years ago and was currently working in one of our schools during the summer term.

Colleagues describe him as a team player who maintained great relationships with staff and students alike. He had a cheerful disposition and his colleagues enjoyed working with him. He was quick to greet former coworkers with a smile and hug.

One coworker said, "Kids loved him. He was smart, over-qualified. He was quiet, respectful, and kind. I knew him as warm and funny; he called me his 'wing man.' He wore a shirt and tie to his supervisor interview and said his goal was to one day 'sit on the other side of this table.'"

Those who worked with him daily said he will be greatly missed.

"I am deeply sorry for his family and for their loss. He's worked in SPPS for many years and he graduated from our district, so he was one of our own," said SPPS Superintendent Valeria Silva.

Grief counselors will be available for staff and students as needed or requested.

The Saint Paul Public Schools family extends its deepest sympathy to Mr. Castile's family and loved ones.
When Americans are asking each other, how in the world people could resent police, they needn't look any further than Nashville's top cop, who took to social media to celebrate the death of an innocent and beloved man -- noting that he would have killed him too.