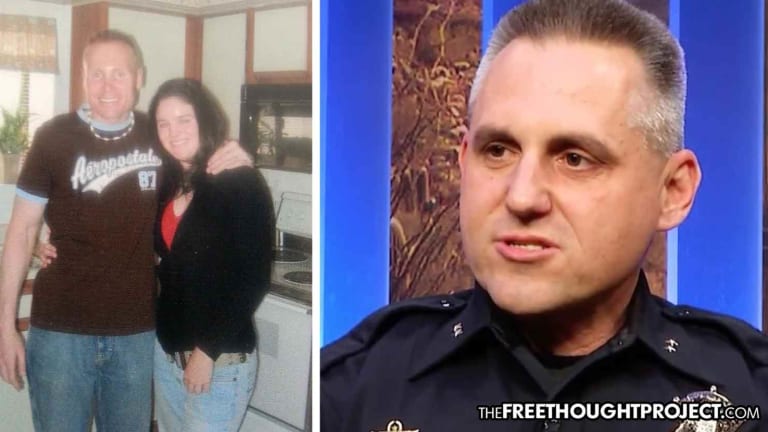 Cop Promoted to Asst. Chief After Shooting Unarmed Man in the Back, Causing Him to Drop His Baby
Two Scottsdale PD officers have been promoted to high levels of leadership, despite costing their cities millions of dollars after shooting a man in the back.
Two Arizona cops, who in 2008 found themselves at the center of a near fatal police contact with a mentally ill man, have found themselves all the way to the top of their career ladders. After shooting a mentally ill man in the back — paralyzing him and causing him to drop his baby and fracture her skull — the two sergeants were not removed from duty, but instead they climbed all the way through the ranks to the top.
This corrupt debacle started back in 2008 when a mentally ill citizen, David Hulstedt, who suffered from schizophrenia, called 911 asking to speak to then governor Janet Napolitano.
The two Scottsdale police sergeants who responded to the call were James Dorer and Rich Slavin. Instead of getting Hulstedt the help he needed, they shot him in the back, instantly paralyzing him and causing him to drop his 2-year-old baby fracturing her skull. Hulstedt's parents sued the city, winning a 10-million-dollar settlement out of court.
Eleven years later, and with little to no press coverage, the two officers involved at the center of the controversy have cashed in on their police department's lack of discipline. Instead of firing two cops who shot an unarmed mentally ill man in the back, both men are now enjoying the fruits of their labor. Slavin is the Assistant Chief at Scottsdale PD, and Dorer is the Chief Security Officer at Scottsdale Unified School District after retiring from Scottsdale PD.
When Dorer and Slavin arrived on scene at the Hulstedt home, they found a man who was in full-blown mania. His parents were ordered out of the home (presumably for their own safety) and Hulstedt was not following police commands. Things quickly escalated when the out of control schizophrenic man picked up his daughter and held her above his head. It was at that time the two officers used the only tool the department apparently gave them to deal with such instances. They opened fire.
Years later, critics, reporters, and advocates alike are rolling over the would of, should of, could of scenarios, but one fact remains. Police officers are not mental health specialists, who often have only a high school education, have been given limited training of less than six months, and are then given a badge and a gun and told to go deal with all the insane situations with which they're confronted.
There are, however, many solutions to such problems. First, mentally ill citizens should not be treated like criminals in the way Hulstedt was treated. Second, they took his family away from him, the only ones with experience in dealing with his health issues. Third, they drew their weapons and pointed them at the man. Fourth, they gave commands to a man who was incapable of controlling his own thoughts much less following commands by men who had weapons trained on his torso.
Likewise, police departments should follow the recommendations for law enforcement issued by the National Alliance on Mental Illness (NAMI). NAMI's objective is to create Crisis Intervention Teams to assist in dealing with mentally ill citizens.
In over 2,700 communities nationwide, CIT programs create connections between law enforcement, mental health providers, hospital emergency services and individuals with mental illness and their families. Through collaborative community partnerships and intensive training, CIT improves communication, identifies mental health resources for those in crisis and ensures officer and community safety.
NAMI has issued several suggestions for departments to deal with the mentally ill. The organization suggests police should work on improving attitudes toward mentally ill individuals. Such retraining has resulted in an 80 percent reduction in officer-involved injuries when a mentally ill person is involved. NAMI also says police departments should focus on crime instead of the mentally ill.
Had Dorer and Slavin not been sent to the Hulstedt home, the man would not have been paralyzed, the baby would not have been dropped from a raised-above-head position and the city would not have paid out millions. There was no crime in calling 911 and asking to speak with an elected government official. Lastly, NAMI says hundreds of thousands if not millions of dollars can be saved by not jailing mentally ill people. NAMI suggests cities create diversion programs which steer the mentally ill away from jail and prison.
Taking the recommendations one step further, officers who shoot unarmed people, whether they are mentally ill or not, should never be promoted to a position where they would be able to encourage subordinates to follow their leadership. The public also must give up its undying loyalty to police as if they can do no wrong. As the Phoenix New Times reported:
Every five days, police in Arizona shoot someone, an investigation by the Arizona Republic found this year. From 2011 to 2018, police shot at 627 people, killing more than half of them. Every single officer was cleared of any criminal wrongdoing — except for Mesa cop Philip Brailsford, who shot Daniel Shaver in a hotel hallway as the 26-year-old cried and begged for his life.
In Arizona, police officers are literally getting away with murder, protected by their Blue Lives Matter laws, and qualified immunity. Let the above statistics sink in for a minute. Nearly seven hundred people were shot at in AZ over a seven-year period and not one police officer was ever convicted of any criminal wrongdoing, not even one who murdered an unarmed father who was on his hands and knees begging for his life — that cop was allowed to retire and keep his pension.