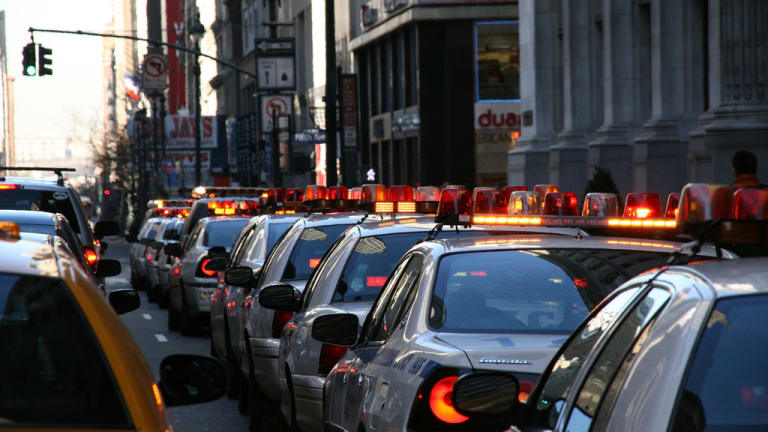 Cop Pulls Gun in a Fit of Road Rage, Not Booked into Jail, Faces Little Punishment
"I'm going to f***ing kill you!"
April 26, 2014

When Evan Rees was rear-ended in his car, he naturally looked backwards to see what had just smashed the glass out of his rear window. What he saw next was a man jumping from a pick-up truck who started rushing at his car.
Rees, who had family in his car, got out to greet the man. At this point, a shouting match began, the man then grabbed him and the two men went to the ground.
The man that began the assault happened to be a 55 year old, Hillsborough County Sheriff's Office homicide detective, Thomas Pettis.
Jeff Krumm and family happened to be driving to Disney World that same day, and drove by this scene right before the men went to the ground so he stopped to help.
As he approached, Krumm said in a statement to police, one of the men — later identified as Pettis — grabbed Rees by the collar. The pair locked up and went to the ground. Krumm and another bystander managed to yank them apart.
Krumm said he was standing next to Pettis when the deputy pulled a handgun from an ankle holster.
In his statement to investigators, Krumm said he heard Pettis tell Rees, "I'll shoot your ass" or "something to that effect," according to Sheriff's Office records. Krumm's girlfriend, Alissa Mitchell, told investigators that she heard Pettis say, "I'm going to kill you!"
Krumm, thinking of his children waiting in the car, began to carefully back away from Pettis. He was surprised when Pettis flashed his badge. "He never acted like a police officer, in my view of what a police officer should have done," Krumm said in an interview with the Times.
No charges were filed against Rees and Pettis was criminally charged and resigned.
However, Pettis' brandishing of a handgun could meet the statutory definition of aggravated assault with a firearm, a felony punishable by a prison sentence of at least three years and up to five. Yet he was only prosecuted for misdemeanor battery, a charge that qualifies him for pre-trial intervention programs and the avoidance of criminal penalties.
Also Pettis was the only subject in this specific felony investigation, and was never booked into jail, his mugshot was never taken, and he did not have to face the embarrassment that 'commoners' must undergo for a simple DUI of having their face published on the internet.
Unfortunately the justice system is setup in a manner to allow for special treatment of those who work inside of it. Until the justice system is held accountable for their actions, we can expect to see these same scenarios playing out across the county.
It is the duty of free human beings to expose these abuses of power.