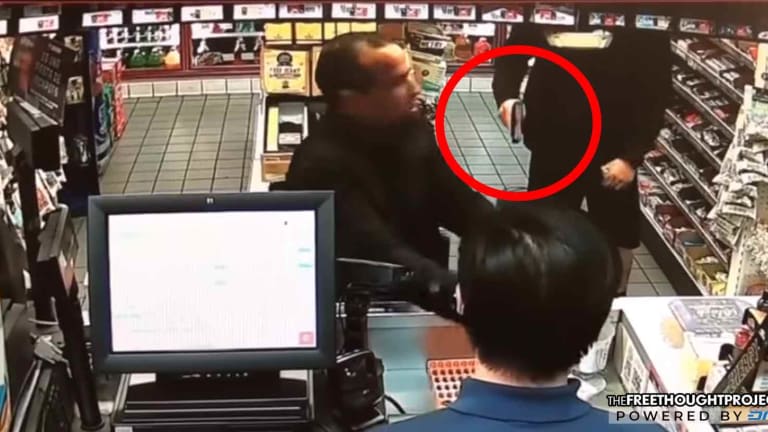 WATCH: Raging Cop Nearly Shoots Innocent Man, Falsely Accusing Him of Stealing Candy
An off-duty police officer was caught on camera pulling his gun on an innocent citizen who he suspected was shoplifting a pack of Mentos.
Disturbing security camera footage has been released that shows an off-duty police officer pulling out his gun and threatening a man at a convenience store because he suspected the man was attempting to steal a small pack of candy.
For years, The Free Thought Project has highlighted the reality that police officers are allowed to pull their guns on citizens, point them at their heads, and get away with it—something the average citizen cannot do. They are allowed to do so under legal "qualified immunity" statutes, which keep government officials from prosecution for acting in their duties as officers of the peace, even when they are off-duty.
Jose Arreola, a 49-year-old printer from Bellflower, California, likely was not thinking about qualified immunity when he attempted to buy a pack of Mentos candy at his local convenience store. He simply approached the cashier, placed the item on the counter, and then paid for it with a $20 bill.
After paying for the candy, Arreola reached across the counter and put the candy in his pocket. That last part is probably the only thing the off-duty officer from the Buena Park Police Department saw—Arreola reaching across the counter when the clerk's head was turned away, looking at the register's screen.
The unidentified officer, who appears to be of Asian descent, reached into his pocket, removed what appears to be a Glock handgun, slid a bullet into the chamber of the weapon by racking the slide, and then pointed the loaded and ready-to-fire gun at the man.
"Hey, give that back. I'm a police officer...put it back! ...Police officer...put it back!" the officer yelled.
Arreola immediately defends his actions by saying in a startled voice, "Oh! I paid for it... I just paid for this!"
The officer then turned his attention to the clerk as he put his gun away and said to the store's attendant, "He tried stealing that from you...Get your cash and leave...Did he pay for this? He paid for it? Are you sure?"
It was at that point the officer knew he screwed up and immediately apologized. The clerk confirmed Arreola, who was dressed in a business jacket, had indeed paid for all of his items. "Uh-huh," the clerk responded when asked if he paid.
"My apologies sir, my apologies," The officer said.
However, Arreola does not accept the officer's apologies. He told the Orange County Register:
"It made me mad. At the same time, it scared me because I thought he could shoot me...It's been a month and I still can't shake it...It was traumatic, the whole incident. (And) I grew up in Santa Ana. I've been shot at before."
Predictably, the Buena Park Police Department is not commenting as Arreola is certainly suing. The BPPD released a statement regarding the incident:
"There is an internal investigation being conducted into the incident. Because of this investigation, and the possibility of legal action, we will not be commenting on the incident or the investigation at this time."
Had Arreola been carrying a weapon, something which is allowed under California State's concealed carry gun laws, the entire situation could have transpired very differently, especially if Arreola believed the man behind him was going to rob the store.
But it is not the first time a police officer has pulled a gun on an unsuspecting citizen. As TFTP has documented on several occasions, when an officer "feels threatened," he or she will often pull out their weapon and point it at people. That is something that, when done by the average citizen, is called "brandishing a weapon."
How and why police officers are allowed to do it is anyone's guess and has left countless critics shaking their heads in disbelief. When officers are allowed to do things average citizens are not allowed to do, many people, like Arreola, feel an injustice has taken place. Arreola's civil rights were definitively violated, but now it is up to the court to decide whether or not he should receive any money for having his Fourth Amendment rights violated.