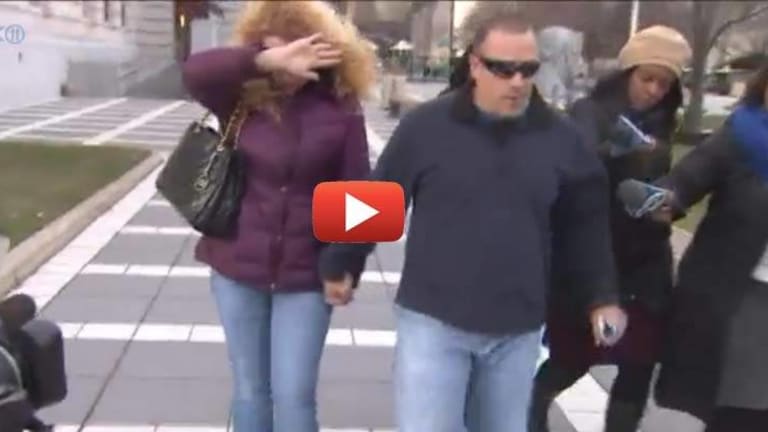 Cop Raided and Arrested for Pepper Spraying Children, Disfiguring Handcuffed Man with Flashlight
Bayonne, NJ-- Officer Domenico Lillo of the Bayonne Police Department in New Jersey was actually raided by FBI agents and arrested on Friday morning in connection with a 2013 case of police brutality.
The raid took place after a federal grand jury in Newark returned an indictment charging him with deprivation of civil rights under color of law and falsification of records.
After having been armed and active on the force for over a year since the incident, Lillo was finally suspended without pay after the arrest.
On December 27, 2013, around 4:50pm, Lillo along with two other officers from the Bayonne Police Department went to an individuals home to execute an outstanding arrest warrant. Count one in the indictment states that while acting under the color of the law, Lillo struck the handcuffed victim, who was not resisting arrest, with a flashlight resulting in bodily injury. According to a lawsuit filed by the victim, the other officers stood by and did nothing to stop the attack.
The officer's also allegedly pepper-sprayed both the victim and his mother, causing her grandchildren and other relatives to get sick.
Count two in the indictment states that Lillo, "acting with the intent to impede, obstruct, and influence the investigation and proper administration of a matter within the jurisdiction of the Federal Bureau of Investigation, knowingly concealed, covered up, falsified, and made false entries on a Bayonne Police Department Use of Force Report about the individual, to wit, by not checking the box marked 'Strike/Use of Baton or other object.'"
"This was something that you knew sooner or later was coming. And when you're going to do something like that, this is what gives all police officers a black eye," Bayonne's mayor, Jimmy Davis, a former police officer, told NJ.com.
This lawsuit is not the first excessive force lawsuit involving Lillo. Apparently the officer's previous offense had enough evidence behind it to warrant a $100,000 settlement for the victims, but not enough evidence to fire him.
Are there any other jobs on the planet where you can cost your boss (in this case, the tax payers) $100,000 and keep your position without even being demoted?
In 2007 the city of Bayonne paid a $100,000 settlement in a lawsuit that was filed by two men who reported that they were brutally assaulted by police while leaving a bar. The lawsuit claimed excessive force, malicious prosecution, wrongful arrest, failure to intervene, deliberate indifference, deprivation of property, deprivation of due process and conspiracy, NJ.com reported.
The suit alleged that an officer "maliciously assaulted" one of the men, beating, kicking and throwing him to the ground while cursing at him as Lillo tackled the other man and punched him repeatedly in the face and head. The sister of the man Lillo was assaulting was pleading for the officer to stop the beating and when she tried to intervene, Lillo reportedly kicked her.
Lillo was arraigned on Friday and released on a $100,000 unsecured bond.
If convicted, the use of excessive force count carries a maximum penalty of 10 years in prison, and the second charge of falsifying records carries a maximum penalty of 20 years.