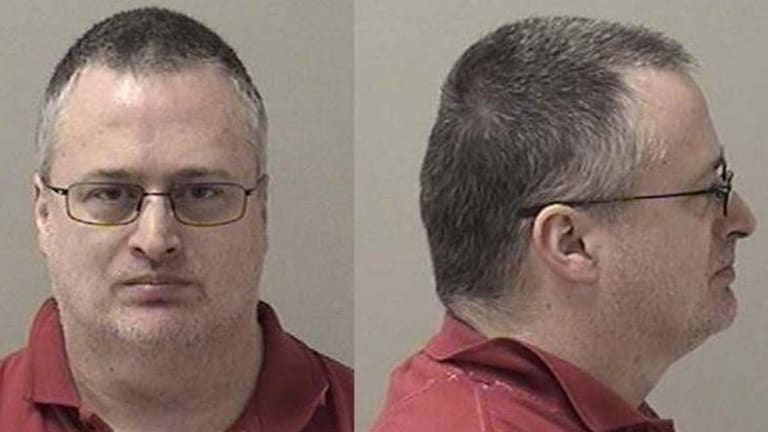 Cop Who Raped 7yo Girl Forces Her to Testify Just to Make Her Suffer Before Pleading Guilty
This monster made his child victim testify and relive the nightmare in an apparent attempt to force her to suffer more before he pleaded guilty.
Elburn, IL - An Elburn Police Officer's paid vacation has come to an end after he pleaded guilty to repeatedly raping a child from the time she was seven until she was 17. However, before this monster admitted to these unspeakable crimes, he forced his victim to take the stand and testify.
Nearly 20 minutes into the poor child's testimony, David Wright, 54, pleaded guilty.
Last year, the Free Thought Project reported on Wright's arrest, noting that in spite of being arrested, he was still being paid. In 2015, Wright was charged with 33 felonies that carried a minimum prison sentence of 143 years and a maximum of 648 years.
"Quite frankly, I think 500 years sounds reasonable," Kane County Circuit Judge D.J. Tegeler told Wright. However, thanks to the fact that Wright was an upstanding member of the police department for 24 years, he was given a sweet plea deal and will be out of jail in less than 20 years.
According to the Daily Herald, during opening statements Monday, prosecutors recalled the first time Wright raped the girl -- when she was 7 and in a bathroom at a birthday party -- he warned her by saying, "This is gonna hurt."
Instead of having the girl's parents testify as to what their daughter went through, which is standard in incidents such as this one, Wright forced his victim to recall what he did to her.
During her horrific recount of Wright's repeated attacks, after this monster made her relive the nightmare in an apparent attempt to force her to suffer more, Wright changed his plea.
"He wishes to stop the proceedings and enter into (plea) negotiations with the state," Assistant Public Defender Ron Dolak told the judge.
As part of Wright's plea, he cannot appeal the case. The judge said this was implemented so this monster could not force this girl to once again have to testify.
"You have not done anything but ruin her," Tegeler told Wright. "For you to make her take the witness stand at all, I find reprehensible."
Throughout her childhood, the 17-year-old has been in treatment for clinical depression and her parents nor her doctor knew why as she kept these assaults a secret. When she finally came forward, she said she never told anyone because she feared Wright could lose his job.
She protected her attacker because he was a police officer.
According to the Herald, Wright must serve 85 percent or about 19.5 years in prison. He also gets credit for 478 days served at the Kane County jail. He also must register as a sex offender for the rest of his life. Under an order of protection, Wright is banned from having any contact with the victim for the next 28 years.
As the Free Thought Project reported last November, an investigation by the AP revealed around 1,000 policemen across the US had their licenses revoked and lost their jobs over the last six years on account of numerous sexual offenses that included rape and possession of child pornography.
The probe revealed that 550 officers were decertified for various sexual assaults, including rape. Some were dismissed for sodomy or sexual shakedowns, where victims were forced to perform sexual acts to avoid arrest.
A further 440 officers lost their jobs for other sex-related offenses, such as possessing child pornography, being a peeping Tom, sending sexually charged messages to underage teens or having sex while on duty.
About one-third of the officers lost their jobs for committing sexual offenses with juveniles.
The real number of sexual offenses could, however, be much higher, as AP only looked into registered cases where an officer lost their badge because of an offense. Lawyers and police chiefs acknowledged that some departments let the sexual assaults slide to limit their liability, allowing their staff to quietly resign or transfer to other duty stations or departments.
Furthermore, the probe notes that not all decertified officers faced criminal charges as some policemen surrendered their badges voluntarily to avoid a potential scandal.
[author title="" image="https://tftpstagingstg.wpengine.com/wp-content/uploads/2016/03/magorist-e1456948757204.jpg"]Matt Agorist is an honorably discharged veteran of the USMC and former intelligence operator directly tasked by the NSA. This prior experience gives him unique insight into the world of government corruption and the American police state. Agorist has been an independent journalist for over a decade and has been featured on mainstream networks around the world. Follow @MattAgorist on Twitter and now on Steemit[/author]