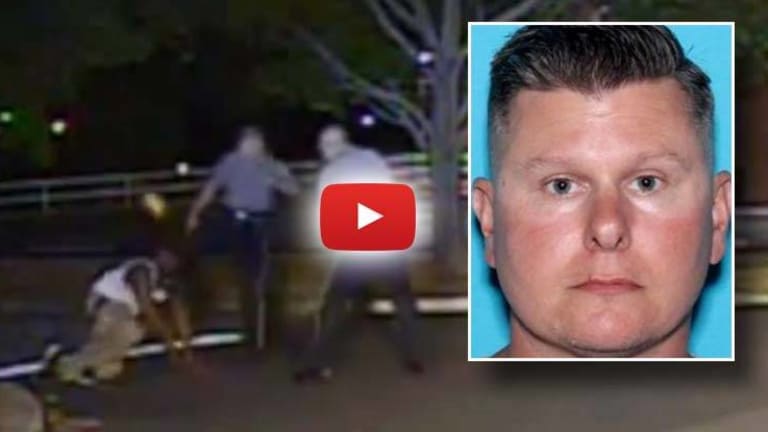 Cop Awarded $230K After Punting an Innocent Man's Head Like a Football on Video
Caught on camera breaking a compliant man's jaw and knocking him unconscious, a cop was given $230K.
Dover, DE – Caught on dash cam video kicking a compliant man in the face and breaking his jaw, a police corporal announced his resignation from the department after the city agreed to pay him $230,000 over the next six years. Although the ex-cop is prohibited from returning to work at the Dover Police Department, the agreement does not prevent him from seeking employment with other law enforcement agencies.
In August 2013, Cpl. Thomas Webster of the Dover Police Department was captured on police dash cam video appearing behind Lateef Dickerson and kicking the back of his legs. Ordered to get on the ground, Dickerson began complying with the officers' orders when Cpl. Webster suddenly kicked him in the head without provocation, fracturing his jaw and knocking him unconscious. Initially charged with resisting arrest, the charges against Dickerson were later dropped after reviewing the dash cam footage.

Charged with felony and misdemeanor assault, Webster was found not guilty in December after testifying that he had intended to kick Dickerson in the body, not his face. On Tuesday, the Dover Police Department accepted Webster's resignation following weeks of secret negotiations.
In a statement released on Tuesday, the Dover Police Department announced, "Following his acquittal, the City and then Cpl. Webster entered into discussions concerning the continued employment of Cpl. Webster. Those discussions resulted in an amicable end to Cpl. Webster's employment relationship with the City, and he submitted his voluntary resignation to the Dover Police Department. While the resignation was immediately accepted such that former officer Webster is no longer a Dover Police Officer, his official date of separation from service will be June 30, 2016."
According to the terms of Webster's separation agreement, which was released on Wednesday, the former police corporal is barred from seeking employment with the Dover Police Department or any other job with the Dover city government. But the agreement does not prohibit Webster from getting hired at another police department or law enforcement agency.
Besides contributing to Webster's pension, salary, and benefits through June 30, 2016, the city also agreed to pay him $230,000 delivered in six payments between 2017 and 2022. Although Webster and the city refuse to discuss how they reached the terms of their agreement, one of the stipulations does release both parties of "all claims, demands, and liabilities."
"I do have a concern because of the fact that he's voluntarily resigning, whether or not he'll be able to serve in other municipalities. I'm hoping he will not. I was really hoping he would be terminated," the Rev. Rita Page, pastor at Star Hill AME Church, recently told The News Journal. "We're not settling for injustices. We're going to keep the pressure on until justice is served."
Despite the fact that the police corporal was caught on video using excessive force to subdue a compliant person, Webster was not only acquitted of the assault charges but also received $230,000 to prevent him from suing the city. Although he can no longer work for the Dover Police Department, Webster is still eligible for a job at any other police department across the nation. Instead of discouraging cops from using unnecessary force, Webster has become a prime example of the two-tiered justice system operating within this country.
Andrew Emett is a Los Angeles-based reporter exposing political and corporate corruption. His interests include national security, corporate abuse, and holding government officials accountable. Andrew's work has appeared on Raw Story, Alternet, Activist Post, and many other sites. You can follow him on Twitter @AndrewEmett and on Facebook at Andrew Emett.