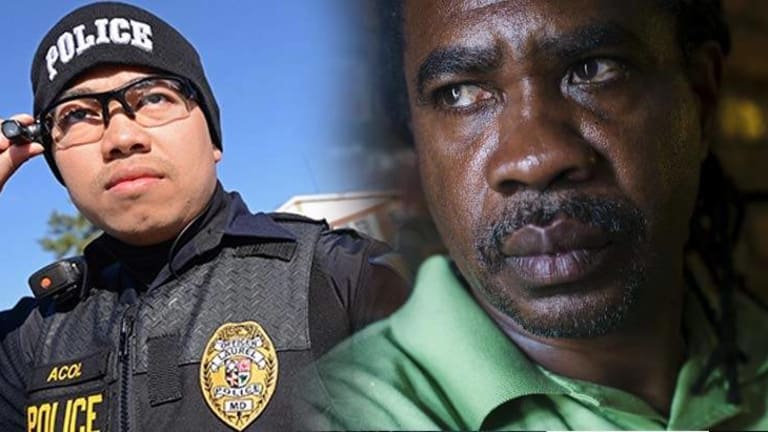 Cop Receives Meritorious Service Award After Forcing Innocent Man to Strip Naked in Public
After the department claimed to have punished the officer, he was promoted and given one of the department's highest honors.
Laurel City, MD -- On the evening of March 9th 2014, Allan Sergeant pulled into the parking lot of his local pharmacy to purchase Tylenol for a headache. Unfortunately on this fateful evening, his headache would be the least of his concerns.
Upon Mr. Sergeants arrival at the CVS on Baltimore Avenue, he was 'pulled over' in the parking lot by officer Alfie G. Acol, with the Laurel Police Department. Mr. Sergeant was never informed of the reason he was stopped, even though he asked.
Officer Acol proceeded to subject Mr. Sergeant to two illegal frisks without Mr. Sergeants consent and without any reasonable suspicion that he had committed a crime. When his illegal search turned up no contraband, Officer Acol, according to a federal lawsuit, 
"pulled Mr. Sergeant's pants and his underwear down to his knees, exposed his genitals and buttocks to public view and subjected him to a visual strip search. This terrifying, intrusive, substantial, and unwarranted invasion of privacy was a repulsive act by Laurel Police Officer Acol of profound humiliation and dehumanization. It was carried out by Officer Acol as a signal and means of subjugation and degradation without any lawful purpose whatsoever."
The suit also alleges that Officer Acol was assisted by another officer identified in the suit only as John Doe who,
"condoned, ratified and supported this manifestly illegal conduct and failed and refused to intervene to stop Officer Acol's illegal, unconstitutional and outrageous conduct."
When Mr. Sergeant justifiably complained about his treatment, and asked the officers for their identification he was threatened, further detained and given a warning citation for obstructing traffic which he was ordered to sign under threat of arrest.
After this hellish nightmare, Mr. Sergeant notified the Laurel PD of Officer Acol's abusive behavior the following day and was told it would take three months to complete an investigation. Mr. Sergeant received a letter on June 16, 2014 stating that
"LPD conducted a 'thorough investigation' of the incident and that 'Corporal Barry (one of the investigators) found Officer Acol in violation of the departmental policies and guidelines and found multiple charges sustained for the incident on 03-09-2014."
The letter further states,
"Officer Acol received multiple charges and was disciplined for the incident."
However, a further investigation revealed that not only was Officer Acol not reprimanded for his conduct, he was issued an award 2 months later for 'Meritorious service.' He was then elevated to be the face of the department's public relations campaign touting their use of body cameras.