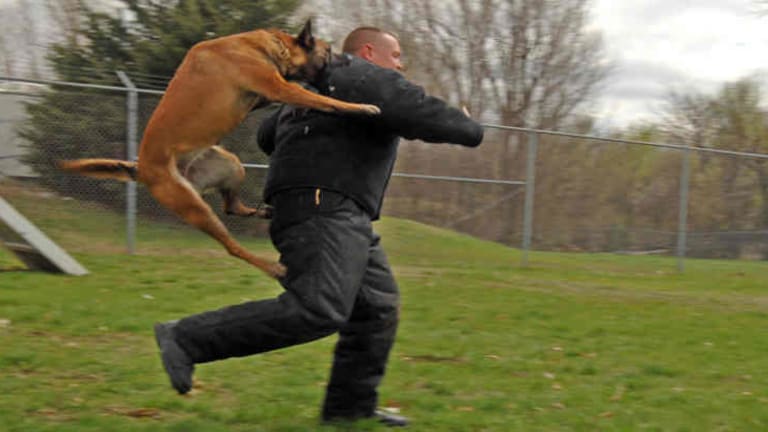 Cop Caught Training His K-9 To Be a Vicious Attack Dog Keeps His Job
Waco, Texas - A police officer in central Texas has been reprimanded after an investigation found that he trained his K-9 unit to be aggressive.
According to KSAT News, McLennan County police officer, Cpl. Joseph Ballew was recently accused of training his own K-9 unit "Ace" to be aggressive and vicious. After an internal investigation conducted by the McLennan County Sheriff's Department, Ballew was formally reprimanded, but was able to keep his job and faced no legal penalties.
Investigators reported that Ballew intentionally changed the good nature of the animal while it was in his care, turning it into even more of an attack dog than most police K-9 units are. Ballew's influence over the dog came under question after another officer was bit during an improper training exercise.
"Somehow, Ace developed some issues and they need to be fixed. At the current point, there is a very high possibility that Ace will injure someone. There were no issues with Ace when (Corporal) Joseph Ballew certified last January 2014. From many, many years of experience, our trainers can acknowledge that allowing people to pick on or constantly tease the dog causes traits such as these," trainer Debbie McLean wrote in a report to sheriff's office.
Despite the findings of the investigation, Ballew insists that this is all just a giant misunderstanding, and that he never did anything to make the dog aggressive. However, the reasoning behind his defense is actually very disturbing. Instead of considering the actual health and well-being of the animal, the officer basically said that he would never do anything to hurt something that the police department spent so much money on.
"The county paid an ungodly amount of money for that dog. Why would I intentionally do something to hurt that dog?" Ballew said in a statement.
Ballew admits that he made a mistake during the training exercise when the other officer was bit, but he denies actively training Ace to be vicious or aggressive.
Since the investigation began in September, Ace has been relocated to another police training facility.
"We had a problem with the dog, it was a bump in the road and we took care of it. The dog is not ruined. We got him tuned up and he is in good shape now. We would not tolerate anybody mistreating an animal," Sheriff Parnell McNamara said.
McNamara seemed to regret the fact that the story went public, saying that information about an internal investigation "should have never been released to the media."
Sadly, this type of training is commonplace, even when the dogs are trained according to the police department's standards. K-9 units are put through horrible stress, and are literally used as attack dogs in many situations. However, the process of training animals to attack for police is an inhumane practice that animal rights activists are surprisingly silent about.
John Vibes is an author, researcher and investigative journalist who takes a special interest in the counter culture and the drug war. In addition to his writing and activist work he is also the owner of a successful music promotion company. In 2013, he became one of the organizers of the Free Your Mind Conference, which features top caliber speakers and whistle-blowers from all over the world. You can contact him and stay connected to his work at his Facebook page. You can find his 65 chapter Book entitled "Alchemy of the Timeless Renaissance" at bookpatch.com.