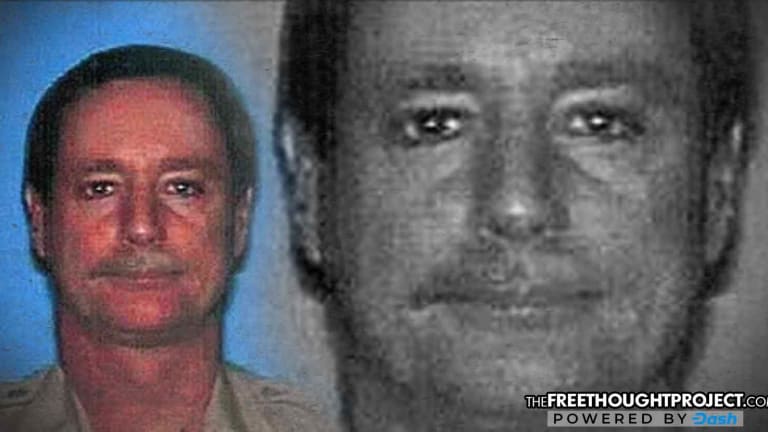 Cop Convicted of Trying to Have Sex with a Child, Gets Taxpayer Funded Retirement, NO JAIL
A police officer who was caught trying to seduce a 13-year-old girl in an undercover operation was the only one who was given probation instead of jail time.
Orange County, CA – A former police lieutenant could be facing a new trial after he was given probation for sending lewd messages and attempting to have sex with a child, and then allowed to quietly retire on taxpayer-funded medical disability.
Former California Highway Patrol lieutenant Stephen Robert Deck was given probation for attempting to have sex with a 13-year-old in 2006. The officer was caught in an undercover sting operation set up by police to catch pedophiles in the act of trying to have sex with kids. Unlike most of the other 12 defendants in the case, who were sentenced to at least one year in prison, Deck was afforded probation simply because he wore a badge.
His attorneys fought his conviction for years, losing twice in appeals, but Deck eventually was granted a mistrial on a technicality. Now, instead of simply allowing the years-old case to go by the wayside, the Orange County District Attorney's Office is preparing for a possible new trial with hearings scheduled on July 16th. The Orange County Weekly described how the officer was able to have his conviction overturned in 2014:
In 2014, however, the Ninth Circuit overturned the conviction for an attempted lewd act upon a child. A non-unanimous panel of judges ruled that Mestman (prosecutor) erred in his closing statement on a technicality about when Deck, who worked at CHP's San Clemente office, intended to commit a lewd act on Amy.
As The Free Thought Project has reported on numerous occasions, the very people who are sworn to uphold the law often find themselves on the wrong side of it when they, like Deck allegedly has done, act on their impulses. In Deck's case, he was chatting online with someone he thought was a 13-year-old girl—but who was actually an undercover police officer.
The OC Weekly described the nature of Deck's fantasies with the little girl:
Twelve years ago, after using an online chat to tell "Amy," a 13-year-old girl, he wanted "to eat her beautiful, young c – – t," receive oral sex and "stuff daddy's c – – k" inside her, California Highway Patrol (CHP) lieutenant Stephen Robert Deck drove 45 minutes from his San Diego County home to Laguna Beach's oceanfront Heisler Park for a rendezvous.
While we, at TFTP, do not believe police should be in the business of arranging sting operations to cajole, encourage, and help a potential pedophile make arrangements to meet an adolescent, Deck's case highlights the hypocrisy and the legal double standard to which police officers are held.
Almost everyone else caught up in the sting was sentenced to time in prison, with at least one person receiving 18 months. For any court to conclude that a police officer deserves probation while all other defendants warrant jail time, taken as a whole, it serves to illustrate—with good reason—how grotesquely the judicial system is rigged against everyone EXCEPT officers of the law.
Over a decade has passed since a dozen individuals with pedophilic tendencies were caught in the undercover operation. Keep in mind that there was no actual victim in any of the court cases stemming from the sting, only a scenario fit for a pedophile to be able to indulge in sex with a fictitious minor.
Whether or not those same individuals had engaged in sex with minors before was irrelevant. The intention was there, the motive was clear, and even Deck allegedly brought condoms with him as he was promised the girl's parents would not be home. Years later, and backed by the same attorney who represented LAPD cops charged during the near-fatal beating of Rodney King, there is very little chance Deck will now be tried again.
Adding insult to injustice, Deck was allowed to retire on medical disability and has since been drawing disability checks. Not only was he given a slap on the wrist—which was later overturned—but he has also been able to profit from the sweetheart deal he received.
The 12 others who were caught up in the sting were granted no such mercies. They had their freedom taken away, were branded for life as sex offenders, and have likely suffered great financial hardships as a result—but not Deck. He was protected by his badge, a member of a "good ole boy" network, which very rarely convicts police officers even in cases where the victim is not fictitious.
As The Free Thought Project reported last year, Jacob Ryan Delgadillo, 30, a school resource officer in Houston, was given probation for having sex with a 14-year-old girl at her Middle School. If a teacher had committed such a crime, he or she would have certainly gotten jail time. The legal double standard for cops must come to an end before the public will trust the judicial system. No more slaps on the wrist. No more saying prison would be too difficult for them. No more protecting the badge-wearer while victimizing the teenage victims all over again. If justice is only for those who don't wear badges, chaos will reign in the streets.
Deck has also reportedly attempted to seduce two other non-decoy minors. If you'd like to contact the Orange County District Attorney's Office and ask for a new trial for Stephen Robert Deck, contact their office by clicking here.