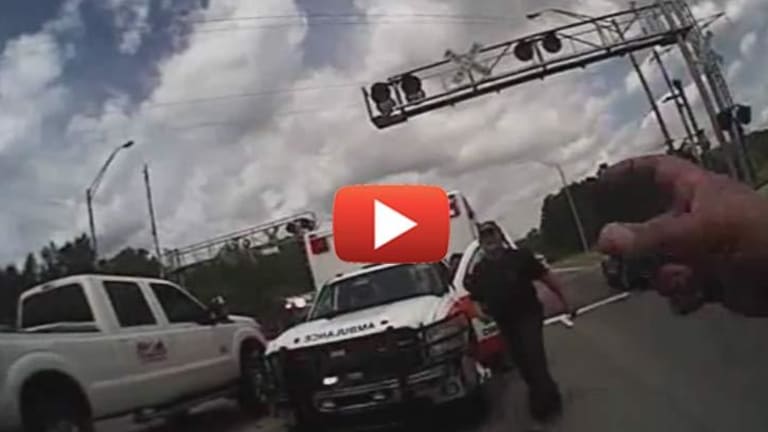 Arrogant Cop Recklessly Pursues Fire Chief to Ticket Him for Responding to an Actual Emergency
An officer's body cam captures him attempting to ticket the fire chief for speeding to a dangerous emergency.
Port Wentworth, GA-- Rincon Fire Chief Corey Rahn was on his way to an actual emergency on April 10 when he was aggressively pursued by police. Naturally, he believed they were en route to the same incident. A series of videos have been released documenting the absurd actions of the officer.
" width="790" height="444" frameborder="0" allowfullscreen="allowfullscreen">
The chief was out running errands when he was alerted that a garbage truck had rear-ended a gas truck that was carrying 9,000 gallons of gas, 15 miles away from where he was. Understanding the severity of the situation, Rahn jumped in his personal vehicle and put a mini row of red emergency lights up so that he could rush to the scene and help.
As the fire chief was rushing to the scene, he became an unknowing suspect in a car chase. Despite his emergency lights, an officer began recklessly attempting to pull him over. However, as there was an extraordinarily dangerous situation, with a person trapped, Rahn assumed the officer was just on his way to the scene as well.
According to SavannahNow, the Central Dispatch was reportedly "too busy" to check if it was someone who was responding to an incident. So, the chase continued until eventually the officer used his PA system to demand that the fire chief stop. Rahn heroically ignored the orders and continued to where he was needed, only then learning that he was being chased.
In the video below, the officer's dangerous pursuit is shown on his dashcam.
Upon arriving at the crash, a second officer who had been involved in the pursuit is heard yelling, "He's going to jail." Clearly having no concern for the wreck that had a person who was in critical condition trapped inside- only his ego and revenue generation.
"I thought you were a Rincon officer behind me and we were going to the same place until I got between McCall and Chimney Road," Rahn is heard explaining.
Once the Chief explained to the officers who he was and why he was there, the officers proceeded to "let him" do his actually heroic job.
"What we do know is that a major accident involving a tanker carrying approximately 9,000 gallons of gas was rear-ended by a trash truck at approximately 45 mph," Rincon City Manager Wesley Corbitt told SavannahNow. "The trucks were fused together and an individual was trapped in the trash truck in critical condition. There was tremendous potential for escalation of damage to person and property. I have no doubt of the importance of his presence at the scene and that his leadership was vital to safely diffuse a potentially explosive and life threatening accident."
In typical police fashion however, instead of admitting that they were wrong and apologizing, the officers issued Rahn three citations. He was given tickets for reckless driving, failure to exercise due care and failure to yield to an emergency vehicle.
Here is the video of this reckless officer explaining to the less than enthused fire chief, why he is issuing a ticket.