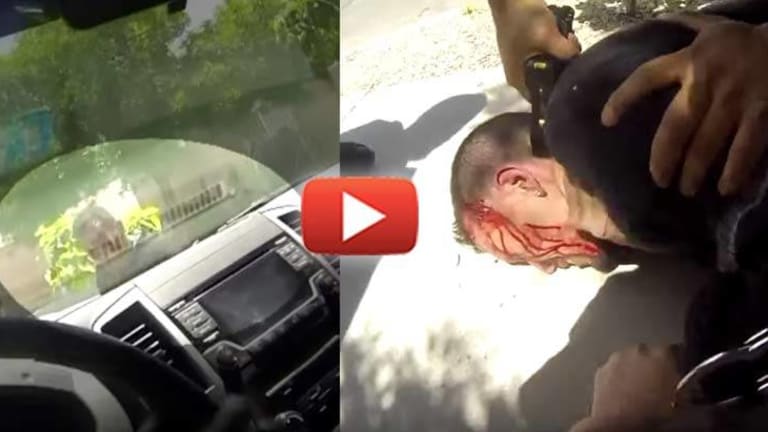 Cop Runs Down Suspect with Truck, Beats & Tasers him in the Head, Dept Says it was an Accident
The detective's body camera and a cellphone video captured the incident. What do you think? Does it look like an accident?
Albuquerque, NM -- Albuquerque can be a tough town name to spell. However, many people with their finger on the pulse of police brutality and corruption can spell it forward and backward as the Albuquerque police department is one of the most corrupt and violent departments in the country.
From 2010 through 2014, there were four fatal police shootings in England, which has a population of about 52 million. By contrast, Albuquerque, with a population 1 percent the size of England's, had 26 fatal police shootings in that same period.
In their most recent attempt to garner the national police state spotlight, video was released showing the APD's downright insane tactics. In the latest incident, the suspect wasn't killed, but it was not for lack of effort on behalf of Albuquerque's finest.
Danan Gabaldon did not like the thought of jail, so he became particularly well-skilled at evading the police. On Memorial Day of this year, police attempted to apprehend Gabaldon, but he was able to flee, in what police say was a stolen SUV.
For ten days, Gabaldon successfully evaded the authorities until they tracked him to an intersection in southwest Albuquerque. Upon, immobilizing Gabaldon's vehicle, police immediately tried to kill him as they fired multiple shots at the unarmed suspect.
However, being the escape artist that he is, Gabaldon managed to run from the scene without being hurt -- but not for long. Two disturbing videos were released this week showing what happened next.
As Gabaldon ran, an APD detective hopped into his unmarked pickup truck, closed the distance to Gabaldon in six seconds, cranked the wheel to the right, drove up onto the curb - and plowed into Gabaldon.
The detective's body camera and a citizen's cellphone captured the attempted murder from two different angles. As if running a man down with a truck wasn't enough, the detective gets out of the vehicle, gets on top of Gabaldon and begins to taser the back of his head. As he tasers the bloody and incapacitated Gabaldon, the detective begins pummelling his face and head with the butt of the weapon.
The officer is so deep into his feeding frenzy that he had no idea he was also tasering a fellow cop.
It took four months for the APD to release the videos below, and when you hear their justification for the detectives actions, you'll know why.
According to KMOV:
APD's spokeswoman said it was an accident, that detective was not trying to run Gabaldon down, but to cut him off. Gabaldon was resisting and that the department's use-of-force policy speaks for itself.

That policy says, "Officers shall use only that force which is reasonably necessary," and says officers shouldn't expect suspects to comply without being tased.

Gabaldon is now in jail, charged with crimes from the Memorial Day incident, but not the day he was hit.
Whether or not Gabaldon is an upstanding citizen of the town or not, is irrelevant in this situation. He was unarmed and fleeing, not posing a threat to officers when he was run over by a raging cop. Regardless of what some people may say to justify this officer's actions, the facts remain.
Cops are not the judge, jury, and executioner. Acting as if they are is a telling sign that America has slipped into a police state in which cops can dole out "street justice" with impunity. This precedent must be resisted and exposed.