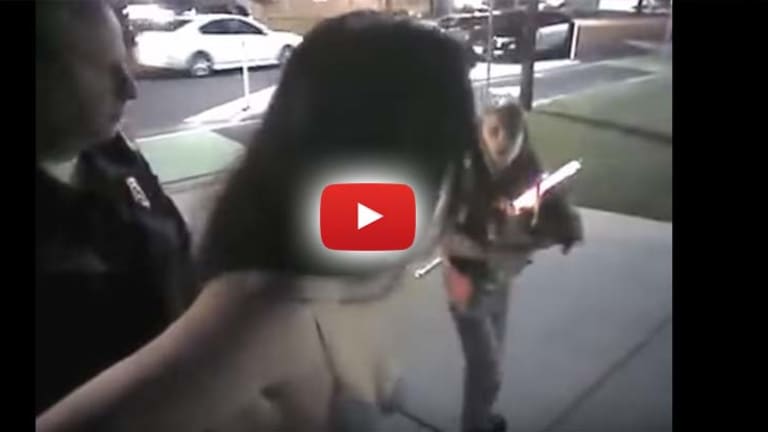 EXCLUSIVE: Video Shows Cop Beat Handcuffed Woman in Her Underwear in Front of 9yo Daughter
Cops showed up to this woman's home as she slept -- she was taken outside, placed in cuffs and savagely beaten in a glaring case of police brutality.
Salt Lake City, UT -- A body camera video was submitted to the Free Thought Project this week showing a horrifying case of police brutality. In the video, Michelle Siguenza is brutally attacked by an unnamed officer as her 9-year-old daughter screams in terror.
The Free Thought Project spoke to Siguenza's oldest daughter, Jasmine Anderson, 22, who tells us the police were arresting her mother for public intoxication -- at her own house. The incident happened on October 24, 2014, however, police refused to release the body camera footage until this week, according to Anderson.
"I received a phone call from the neighbor at my mother's the night this happened that my mom had been drinking and could be heard yelling on the phone from their apartment," Anderson explains. "I called 911 because I didn't live near her at the time and was worried about my younger sister."
After she called police, Anderson would leave and arrive at her mother's home far before the cops, in spite of the fact that she had to drive across town.
"The police did not show up until hours later when my mother had calmed down and was asleep with my little sister in the house," explains Anderson.
But when police arrived, instead of simply asking if everyone was okay and leaving, all hell would break loose.
As the video begins, the entirely compliant, non-violent Siguenza is talking to police in her underwear. All of the sudden they place her under arrest and Siguenza does not protest.
After police placed cuffs on Siguenza, she peacefully stands by waiting for them to tell her what to do. As the officer wearing the body camera is grabbing the little girl's toys from the hood of the car, his focus then quickly shifts to Siguenza who apparently spit on him.
The next sound we hear is the officer's fist smashing into the handcuffed woman's face. As Siguenza falls to the ground the officer smashes her face to the ground while apparently delivering knee strikes.
"You little bitch! You fucking spit on me, you bitch!" the officer yells at Siguenza as her 9-year-old daughter watches in absolute horror as a public servant beats her mommy.
A few moments pass as the officer apparently continues to dig his knees into the back of the handcuffed Siguenza as she begins to lose her breath.
"You go spitting on somebody, you deserve to have your ass kicked. It's what you deserved," the cop is heard saying.
The woman responds a few seconds later by saying through sobs, "Please don't. I can't breathe."
"Shut your hole," the officer responds.
The other officer then brings over a spit mask and places it over Siguenza's head and they pick her up off the ground.
"My mother had her nose broken and several lumps on the back of her head from the officer hitting her repeatedly," Anderson said.
"That's not what I asked for," Anderson said, referring to when she called the police. "I asked them to make sure she was safe."
Anderson said that her mother had run-ins with the police before so when this incident originally happened, she did not believe her mother.
"I really thought my mom was exaggerating," she said, but now, "it's honestly very scary."
After they became aware of the video on Tuesday, Salt Lake Police Chief Mike Brown said it is "concerning" and "not what we expect" from police officers.
Anderson tells us that these cops had an apparent history with Siguenza and could be the reason for the brutality as well as the department claiming they didn't know about it until Tuesday.
"I have had several ongoing issues with the SLCPD and now that I have seen this video and realize what the officer did to my mother- the connection between my previous incidences and now this one it is obvious that they didn't just find out about this incident (Tuesday). If that is the case, then there is a massive cover-up that took place to get that video unseen for two years," Anderson told the Free Thought Project.
According to Brown, the officer who did the pummelling retired from the force a year after the incident and the officer who watched him is still a cop.
"That's not what we teach, that's not what we train, (and) that's not what we expect from our officers," he said. "The actions and the words — we don't condone either of them."
Brown declined to give up the names of the officers involved in the beating, but he does promise that the department will "look into it."
Below is an example of how police in America can savagely beat a handcuffed woman, on video, and never see so much as a slap on the wrist.
According to Anderson, her mother was never charged with a crime.
"Until we solve the root of this problem which lies within our central government, acts of brutality like this will continue to happen, whether cops are charged and held accountable for their actions or not," Anderson said.