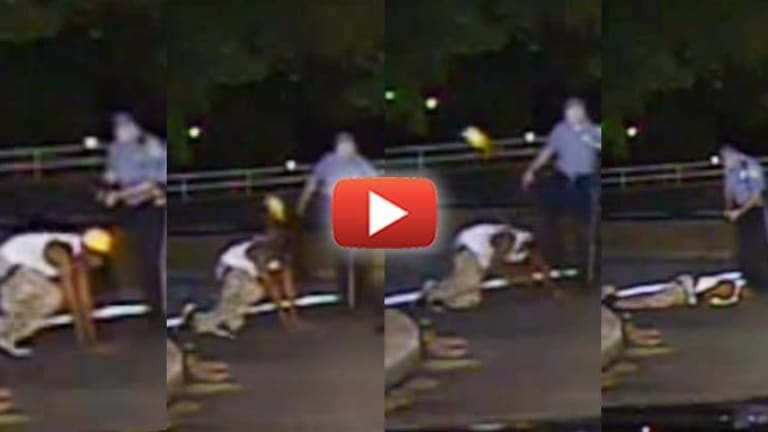 Cop Gets Off Scot-Free After Punting an Innocent, Compliant Man's Head Like a Football on Video
In a sickening case of injustice, a vicious cop has been acquitted for mistaking an innocent man as a suspect and brutally attacking him.
Dover, DE - Officer Thomas Webster of the Dover Police Department was finally indicted last May for kicking a man in the face during a despicable act of police incompetence in August of 2013. The attack was captured on the dash camera on another officer's car, which showed the victim, Latif Dickerson getting kicked in the face by Webster as he was complying with the officer's orders.
Dover Police Lt. Jason Pires said that the department chose to release the video immediately after the indictment to "control the narrative," after keeping it secret for nearly two years.
"We released the video because the judge considered it no longer to be confidential. We're a very transparent police department, and we feel that we handled this situation properly," Pires said.
In the attack, Dickerson was knocked out and had his jaw broken despite never being guilty of committing any crime. Dickerson just happened to be in the wrong place at the wrong time. He was on his knees with his hands on the ground when Webster delivered the jaw-shattering kick, leaving him unconscious.
The case was taken before a grand jury in 2014, but Webster was not indicted. The case was reopened, however, when the Delaware Attorney General's office took it before a second grand jury, who charged him with assault.
"We believe that the video demonstrates the need for large-scale reform of the Dover Police Department, specifically improvements to their use of force and internal affairs practices, and supervision of their officers. The people of Dover have a right to know about this incident and deserve a dialogue with law enforcement about how they can create a safe and equitable Dover community for all." Kathleen MacRae, executive director of the ACLU of Delaware, said.
Webster's defense during the trial was nothing short of laughable, yet, somehow, it worked.
"I wasn't intending to kick him in the head. I was intending to kick him in the body," Webster testified to the grand jury. He then claimed that he was in "fear for his life," because they were looking for an armed black man with a yellow shirt and their incompetence led them to an innocent unarmed black man with a yellow hat instead.
The jury bought this ridiculous excuse for severely injuring an innocent man, whose only fault was to cross paths with this abusive tyrant. After a deliberation that lasted over three days, on Tuesday, the jury found Webster not guilty on both felony and misdemeanor charges of assault.
"This obviously was a thoughtful verdict. I hope we can all move on from this," James Liguori, Webster's lawyer, told reporters before hugging his client.
Although the department hasn't made a public statement about whether or not Webster will be allowed back on the force, this acquittal essentially guarantees that he will.
The federal civil rights lawsuit filed for Dickerson has been resolved, but no details were forthcoming from Richard Morse, an American Civil Liberties Union lawyer who spoke with AP.
The video below is hard to watch as it shows how armed agents of the state can brutally assault an innocent man and do so with impunity. Notice at the end of the video how they realize, only after severely injuring Dickerson, that their other officers had located the actual suspect in a yellow shirt.