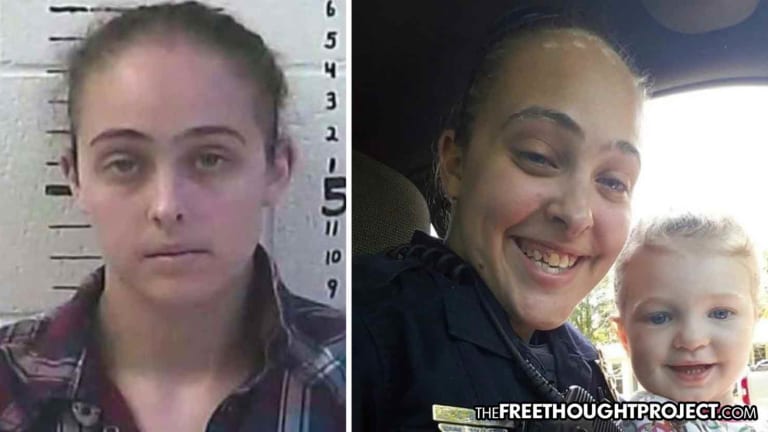 Cop Gets 20 Years for Having Sex with Fellow Cop as Her Child Died in Hot Patrol Car
A former Mississippi cop will spend the next 20 years behind bars for having sex with her supervisor as her three-year-old over-heated to death in her patrol car.
Long Beach, MS — Leaving a child in a hot car until they die is a tragic mistake that roughly three dozen parents make every year in this country. This nightmarish negligence comes with a punishment no prison sentence could ever trump. A former cop from Mississippi learned her fate after she pleaded guilty to this very same horrifying blunder of leaving her three-year-old daughter strapped in her hot patrol car until she died—as this cop had sex with her supervisor inside his home.
Former Long Beach police officer Cassie Barker is spending the next 20 years behind bars for the death of her three-year-old daughter. Her sentence was handed down on Monday by Judge Lawrence Bourgeois, who told Barker that she failed in her responsibility to "protect and serve" as a mother and as a police officer.
"You left your own flesh and blood in that car while you were in an air conditioned house to have sexual relations," he said.
On September 30, 2016, Barker strapped her three-year-old daughter into a car seat in the back of her patrol car and entered her supervisor's home for a mid-day romp. Barker knew the air conditioner did not work, but nevertheless turned on the vent and went inside.
As her daughter sat strapped in her death bed, Barker had sex with officer Clark Ladner inside the home. After the deed had been done, Barker and Ladner then fell asleep.
Authorities said Cheyenne Barker's body temperature reached 107 degrees before she died.
For this gross act of negligence, Barker was charged with second-degree murder. However, as TFTP reported, last month, she pleaded guilty to a reduced charge of manslaughter in a plea deal.
Prosecutors recommended a sentence of no less than 20 years and they got it.
"I don't know what I could ever do to you that could be worse than what you've already experienced," Bourgeois told her at the time. "You will forever be entombed in a prison of your own mind."
What makes the case of former police officer Cassie Barker so terrible is that she is a repeat offender. Barker had previously lost custody of Cheyenne for doing the exact same thing a year earlier.
According to the AP, Barker went into a store in nearby Gulfport, and a concerned passerby called police. Child protective services took temporary custody of her, and Baker was suspended for a week without pay.
Because of her blue privilege, Cheyenne's father, Ryan Hyer was never notified and was helpless to prevent the future event.
"Every time I close my eyes, I picture her suffering, and then I picture her laying in this coffin," Hyer said Monday, the AP reported. "I still see her smiling and laughing in my head, and I would assume that smile and laughter turned to pain and suffering in that instance."
Hyer has since filed a wrongful-death lawsuit against both the Long Beach Police Department and the Mississippi Department of Child Protection Services for failing to notify him.
"You lose your child, I don't think there's no amount of sentencing or time that could make up for that," Hyer said after the sentencing. "But this is how the justice system works. With what the judge had to work with, I'm happy that he gave her the max that was allowed by law."
While Barker's guilty plea landed her in jail for the next 20 years, as TFTP has reported, not all cops who leave their babies in hot cars until they die get charged.
Officer Mark Fanfarillo left his 4 ½-month-old baby, Michael, in his car during the summer of 2016 — for nearly nine hours — but Oneida County District Attorney Scott McNamara refused to press charges.
According to McNamara, the officer placed Michael in the back seat to drop his elder child at daycare — though he typically didn't bring the youngest along for the ride. After returning home, Fanfarillo simply forgot the baby was strapped into his carseat, did a few chores, and, like Barker did, he fell asleep — while Michael suffered in oppressive summer heat, eventually dying of hyperthermia, over 8 ½ hours later.
Unlike Barker, officer Mark Fanfarillo is still a cop.