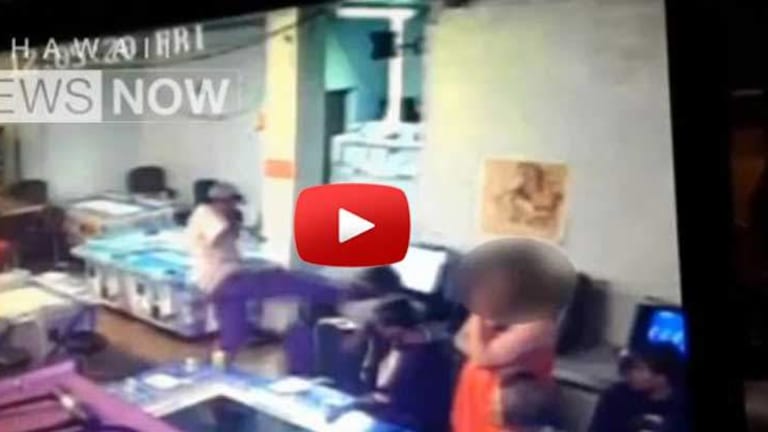 Hidden Camera Gets Justice, Cop Sentenced to Prison for Beating & Terrorizing Innocent People
A Hawaii cop was sent to prison after a surveillance video showed he'd lied about beating a suspect.
" width="790" height="444" frameborder="0" allowfullscreen="allowfullscreen">
Honolulu, HI — A former police officer was sentenced to prison on Friday after a surveillance video caught him brutally beating two innocent men and hospitalizing one of them. The two officers who witnessed the assault have also been charged with trying to conceal the crime and lying to FBI investigators.
On September 5, 2014, officers Vincent Morre, Nelson Tamayori, and former reserve officer Joseph Becera arrived at a Honolulu game room to serve a warrant. In an unprovoked attack, Morre suddenly kicked Jordan Topinio in the head while the innocent man was sitting on a stool. After failing to locate their target, Morre is seen on surveillance video losing his temper and attacking patrons.
Sitting next to Topinio, Francisco Franson remains on his stool and not resisting when Morre begins punching him in the face and kicking him in the chest. After viciously beating Franson, Morre kicks Topinio in the face causing him to fall off his chair. As Morre walks away, he throws a metal stool that hits Topinio in the head, requiring stitches.
Before Morre exits the room, he shoves a woman near the door for no apparent reason while officers Tamayori and Becera make no attempt to stop him. Five days later, Morre filed a false police report omitting the fact that he had assaulted Topinio and Franson. Officers Tamayori and Becera went along with the cover-up while remaining completely unaware of the surveillance camera that captured them on video.
On May 19, Morre admitted to losing his temper and pleaded guilty to two counts of depriving the two men's right to be free from the use of unreasonable force by a law enforcement officer. Former officers Tamayori and Becera were charged with failing to report the assaults. On June 29, Becera pleaded guilty to attempting to conceal the crime and making a false statement to the FBI.
Although Morre was sentenced to 30 months in prison on Friday, no federal prosecutor would have believed Topinio and Franson without the footage from the game room's security camera. Even if these innocent men won a civil lawsuit against the department, the taxpayers would be the ones paying for the actions of these corrupt and craven officers. With promises of time off for good behavior, does our justice system truly deter other cops from abusing their authority?