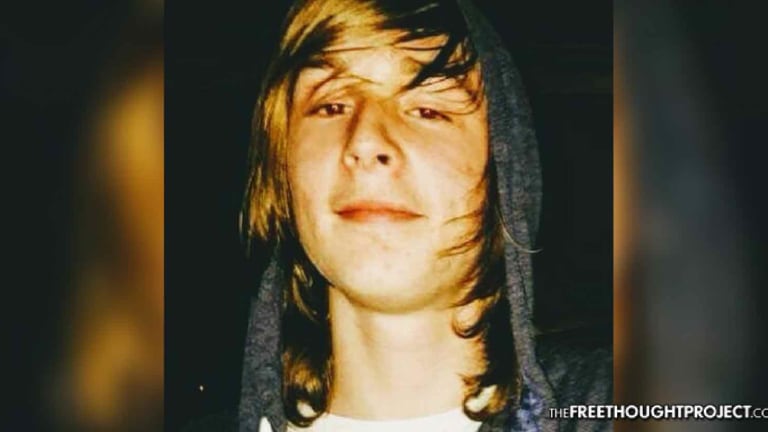 Unarmed 16yo Boy Shot and Killed as He Tried to Stop a Cop from Hurting His Mom
A child was killed in a courtroom this week as he tried to stop a deputy from allegedly hurting his mom. His name was Joseph Haynes and he was unarmed.
Franklin County, OH — In juvenile court this week, a 16-year-old boy intervened after a police officer allegedly pushed his mother against the wall—so the police officer shot and killed him. The boy's name was Joseph Haynes and he was unarmed.
The single shot which killed Haynes was fired, police say, in self-defense but family members are disputing that claim. The boy's grandmother Geraldine Haynes said she witnessed the entire incident. In an interview with the Columbus Dispatch, the grandmother recounted the incident.
They had an altercation in the courtroom. The judge gave us another court date and we were leaving. The cop told Karen (boy's mother) to get out of the courthouse and wouldn't let her get her stuff or nothing. And then he (cop) started going over and pushing her against the wall.
That's when she says her grandson, Joseph, stepped in to defend his mother from the officer's manhandling.
Joey told him to leave his mom alone, leave his mom alone, so Joey ran over there and grabbed ahold of his (cop) shoulder. The cop let loose of Karen and slung Joey onto the ground. And when he slung Joey onto the ground...he just quit (fighting with the cop). All of a sudden the cop reaches for his gun and shoots him.
The grandmother went on to tell reporters she was mere inches away from her grandson when she saw him get shot and killed by the only man in the courtroom with a gun, the cop. She said she can still recall smelling the gunpowder and being in a state of shock.
And I just said, "You shot my grandson! You shot my grandson!"
When asked if Joseph attempted to reach for the officer's gun the grandmother emphatically stated the boy had his hands raised in a surrender position. "No," he did not reach for the officer's gun she said. She said she witnessed the entire incident and said police ushered them out of the courtroom and wouldn't let them be with their son and grandson as he lay dying on the floor.
Tragically, first responders and emergency room personnel were unable to save the boy's life, who was shot once in the abdomen.
Following the shooting, the Fraternal Order of Police issued a statement in support of their police officer. At a press conference Wednesday Executive Vice President Keith Ferrell said:
Whenever somebody attacks an officer, there's always a weapon involved, always because the officer is always armed...There's always likelihood, the probability, that that person could get your weapon, incapacitate you with a non-lethal weapon, and then get your sidearm. We're trained, absolutely that you can't allow that to happen...It was very clear to me, and in my experiences, that he was attacked and this was a fight for his life at some point.
Not only was Ferrell not present, but the only person giving an eyewitness account of the shooting, the boy's grandmother, stands by her version of events which led to her grandbaby's death.
Various news reports have made it a point to mention Hanyes' prior run-ins with the law, stating the teenager had already been charged with various crimes. But the fact remains. An unarmed boy was killed in a courtroom defending his mother from an armed man who was reportedly running roughshod over her.
Joseph Haynes was the 55th American to be killed by police in America so far in 2018.