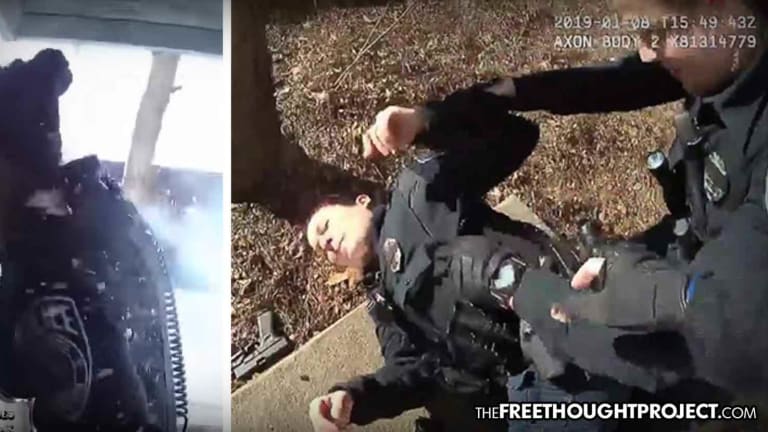 WATCH: Cop Shoots Fellow Cop in the Back—Dept Says He 'Will NOT Face Discipline'
A cop shot a fellow cop in the back—on video—leaving her in critical condition, and the department says he will not face discipline.
Lafayette, IN — It is no secret that police officers are unafraid to put the lives of innocent people in danger and pull their guns out to shoot at dogs. The Free Thought Project has reported on multiple instances in which cops have attempted to shoot dogs and shot men, women, and children instead. As the video below illustrates, even their fellow officers aren't safe from cops trying to kill dogs.
Officer Lane Butler is currently in serious but stable condition in an Indiana hospital because one of her fellow officers pulled his gun on a dog and shot her instead.
According to police, officers were responding to a complaint of criminal mischief last Tuesday morning when the shooting happened. Police were at a woman's apartment to see if a person wanted on a warrant was inside. Police noted that the woman was cooperative and let officers search her home.
Before the officers entered the home, the woman warned them that her large dog was inside and in a cage. Butler and two other officers, LaFrene Butler and Aaron Wright, then entered the home and began searching it. As they searched the home, however, the dog reportedly escaped from the cage and the officers then fled the residence.
As the officers fled, Wright pulled out his pistol in a futile attempt to defend himself from the dog. Instead of shooting the dog, however, the officer shot Butler in the back as they walked out the door. Butler was wearing a bulletproof vest, but the round went in just above the protected area in her upper back.
Police noted last week that once the investigation was completed, they would release all of the body camera footage. Over the weekend, it was released and so was their irresponsible conclusion.
"Our conclusion in this incident was this was not a result of an act of negligence, carelessness or otherwise reckless behavior," Lafayette Police Chief Patrick Flannelly said at a press conference Friday. "It was accidental."
Simply calling the shooting "accidental" and writing it off as such is irresponsible. Wright is tasked with carrying a deadly weapon and because he failed to carry it properly, not maintaining muzzle awareness, and keeping his finger on the trigger while failing to do so, he shot an innocent person. While Wright likely did not mean to pull the trigger, the end result is the same due to his careless actions and clearly negligent behavior.
After noting that the incident was an accident, the department stated that Wright is not expected to face disciplinary action. That's correct. Officer Wright fired his weapon into the back of his fellow officer and he will not so much as be suspended for a single day.
Had Wright been a civilian and not a police officer, rest assured that this situation would have played out much differently. Accident or not, shooting someone with a firearm is a crime.
As attorney George Khoury explains, in addition to the numerous specific state and local laws that regulate improper and accidental discharges of guns, criminal negligence charges are likely appropriate in an accidental shooting case. Unless the defendant is a repeat offender, or there are additional criminal charges, which could include other firearms charges, or assault, generally, criminal negligence, and other charges for accidentally shooting, but not killing, will be misdemeanor charges, punishable by not more than one year in jail.
But because Wright wears a badge, he gets a pass. What would've happened had Wright shot Butler in the head? Or shot an innocent bystander? Would police still claim this was an "accident," and do nothing to hold the officer accountable?
Below is this most disturbing footage. As you watch it, ask yourself the question of had a regular citizen done this exact same thing, would police still be apologizing for them?
Aside from the above the law treatment of officer Wright, the excuse of the weapon accidentally discharging is nothing short of asinine.
Guns do not fire themselves.
Weapons companies spend a significant amount of time and money making sure their guns don't simply 'go off.' While it is entirely possible for older single action revolvers, which required the hammer to be cocked, to go off when dropped, the idea of a modern pistol accidentally firing without someone pulling the trigger is simply absurd.
There are more guns than people in the United States. It is estimated that Americans own around 357 million firearms. If these weapons were so prone to accidentally firing, there would be a lot of dead Americans. However, that is clearly not the case.
The reality is that these cases of guns "accidentally firing" most always involve police, who are entrusted by the public to responsibly carry weapons, failing miserably at their jobs. You could rest assured that if a mere citizen were to shoot their fellow citizen in the back 'accidentally' they would be cast out by the anti-gun crowd and plastered across the mainstream media. They would also be in jail.
However, if your job is to carry a firearm for a living to ostensibly protect society and you cause injury to others by shooting them in the back — you are immediately presumed innocent and given special treatment.
Just over a year ago, TFTP reported on several instances in a single week in which officers accidentally fired their weapons. Some of the unintended victims were shot as well.
At a Halloween party in October 2016, a cop in North Carolina shot and severely injured her own daughter as she showed off her service weapon. Like Wright, she was not charged.
Prior to that shooting, a cop in Ohio fired his weapon into a daycare center — while it was fully occupied. He was also not charged.