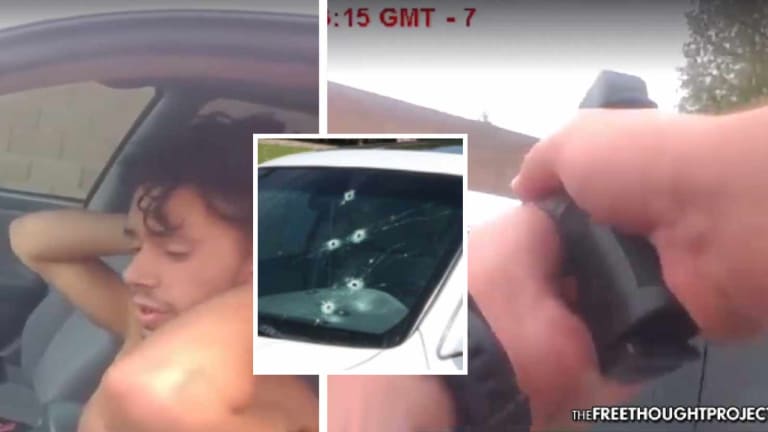 WATCH: Parents Ask Police for Help Finding Missing Son, Cops Find Him, Try to Kill Him
A Maricopa County Sheriff's Deputy nearly kills a fleeing motorist after unloading six shots into his vehicle for no reason.
Phoenix, AZ — When Antonio Garcia-Goff went missing in July, the family turned to the only ones they could think of for help, the Phoenix Police Department. They claim to have attempted to file a missing persons police report but when police found Goff, instead of returning him to his family, one officer attempted to kill him.
Officer George Davis, 45, a 17-year veteran of the department, made contact with Goff who was reportedly asleep at the wheel of his white Toyota Camry in the Moon Valley neighborhood of Phoenix. After waking Goff, Davis' body camera began recording.
Davis asked Goff for his identification who said he didn't have any, but then the officer noticed Goff had a stun gun and a knife on the passenger front seat of his vehicle. Both weapons arguably posed little threat to the officer, were probably there for personal protection, and Goff promptly apologized saying, "I'm sorry."
Davis then demanded Goff exit the vehicle, but Goff chose to disobey the officer's orders. For unknown reasons, Goff rolled up his tinted windows and began to drive away. Davis can be seen in the body camera, positioning himself in front of Goff's vehicle, and at an angle so that he was not directly in front of the fleeing car.
As Goff was speeding away, Davis opened fire, sending four rounds into the front windshield, and two into the rear of the car. The rounds were misplaced and the young man was not hit but was in fear for his life. After driving away from the scene, he abandoned his vehicle and hid in the backyard of a nearby residence.
Police set up a perimeter and began to go house to house, searching for the fugitive. After they located him, they sicced their attack dog on him, subduing him in the process but injuring him as well.
After they took him into custody and learned his identity, they charged him with felonious aggravated assault with a dangerous weapon or instrument (his vehicle) and one count of trespassing (a misdemeanor). Goff did not hit Davis during his escape, and did not hit any other officer, he only clipped a police SUV in his attempt to get away from the man pointing a gun and firing his weapon at him as he tried to end the young man's life, what Davis would likely call a "threat."
As TFTP has consistently reported, police will often jump in front of vehicles in an attempt to stop a fleeing suspect. Then, they can claim in court that they "feared for their lives" and had to open fire on the individual. However, many juries are simply not accepting that rationale as an excuse for taking someone's life in the line of duty. They are now handing out guilty verdicts to police officers who make such claims and proceed to kill people who pose no real threats to their safety.
Davis may have known he had acted impulsively. While the body camera was still recording, Davis yelled an expletive and asked himself, "What did I do?" Possibly as a means to keep his fellow police officers from executing the young man when they located him, he made sure to radio in to dispatch with the fact that no police officer was injured in Goff's attempt to flee the scene.
During Goff's arraignment, he was given a bond of $15,000 but he has not yet bonded out. His mother, Audra Goff Wardle, started a Change.org petition, demanding police be held accountable for what she perceived to be the attempted murder of her son. She says her son was racially profiled, by a department with a history of doing so.
She says she knows this because the officer asked Goff for his "ID Card" instead of his license and registration. Even though she says her son may look like an illegal immigrant, he is a U.S. citizen, formerly a resident of Maryland.
At the time of the petition's creation, she believed her son to be unarmed, something the body camera footage revealed to be inaccurate. In a TFTP exclusive, Wardle explained her son's side of the story. She wrote:
He did get grazed in the neck on the first shot. The news media really doesn't have his injuries straight. He was afraid the officer was going to kill him. Antonio is very non confrontational. He rolled up the window and the officer was pointing his gun and told him he was going to shoot his (ass) ... Antonio says the officer shot before he moved his car. The first shot he was hit in the neck, he said everything went white and he he could feel the blood dripping down his neck into his belly button. He believed what the officer said that he was going to shoot him.
Although he was in possession of self protection, both weapons were not being held by Goff at the time Davis shot at him. He was not a suspect of any crime before police arrived on scene and allegedly startled him awake. His only mistake was that he was not 100 percent compliant with Davis' commands, something rational individuals may conclude should not carry a death sentence. To date, there have been 49 officer-involved shootings in Arizona, with the majority of those occurring in the Phoenix area.