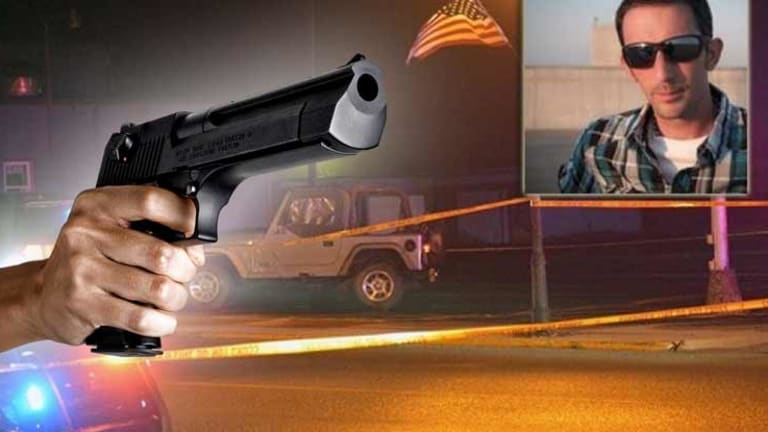 Fearful Cop Mistakes Reporter's Camera for a Gun—Opens Fire, Shoots the Innocent Man
A reporter for a local newspaper is recovering in a hospital after a fearful trigger happy deputy opened fire on him for holding a camera.
New Carlisle, OH — A local reporter in New Carlise, just north of Dayton, Ohio, found out the hard way just how dangerous a fearful trigger happy cop can be. While setting up his camera to cover the news, a Clark County Sheriff's deputy opened fire on Andy Grimm after he mistook the man's camera for a gun.
Grimm was out doing his job for New Carlisle News Monday night when he came across a traffic stop on the way back to the office and decided to take some photos. Grimm was tasked with taking photos of a nearby lightning storm but when he saw the traffic stop, he saw an opportunity for more pictures. However, that decision almost killed him.
"I was going out to take pictures and I saw the traffic stop and I thought, 'Hey, cool. I'll get some pictures here.'" he told the newspaper, according to New Carlise News. He said he pulled into a parking lot in full view of the deputy, got out of his Jeep and started setting up his tripod and camera. "I turned around toward the cars and then 'pop, pop."
He "had his camera in his hand" when the Clark County Deputy Jake Shaw feared for his life and opened fire. Grimm was shot in his side and was rushed to the hospital Monday night where he underwent surgery to save his life. He is expected to make a recovery.
As New Carlise News reports, Andy said the deputy gave him no warning. "I was just doing my job," he said.
Oddly enough, Grimm is standing up for the officer and told the paper that he doesn't want the trigger happy danger to the public who shot him for holding a camera to lose his job.
"I just talked to Andy and he said that he is very sore, but in good spirits," Dale Grimm, the photographer's father and publisher of the New Carlisle News, told Fox News. "He said the hospital expects to be releasing him Tuesday. He also stressed that he does not want the deputy to lose his job over this."
"I know Jake. I like Jake. I don't want him to lose his job over this," Andy Grimm said.
"This is a small town. Everybody knows everybody. It was just a terrible misunderstanding," his father said.
We disagree with the Grimms. This officer should, without a doubt, be fired, charged and never allowed to possess a gun or a badge ever again. Sadly, however, that will not likely happen.
Would the elder Grimm feel the same way if Andy was killed from the gunshots? Sure, it was a misunderstanding but mistake or not, the use of deadly force was employed and a person was severely wounded and almost killed for it.
Clark County Sheriff Deb Burchett took to Facebook in the aftermath of the shooting to quash the criticism of the deputy by saying he needs prayers.
"As sheriff of this county, I would truly appreciate if the community would just send prayers for Andy Grimm and my deputy," she says on Facebook.
State Rep. Kyle Koehler, R-Springfield, reiterated Grimm's wishes in a Facebook post of his own.
"Let's support Andy with our prayers and by doing what he asks by not tearing down law enforcement," Koehler's post says.
The sheer inability to be critical of the deputy by the sheriff, the representative, and even the victim speaks to the nature of blind support for police in this country. Yes, many officers are heroes and do amazing things. However—this one did not.
His fear, willingness to escalate to deadly force, and his poor judgment almost killed a man. He should be criticised. He should be held accountable. He is a danger and a menace to society and people should not be afraid of saying this.