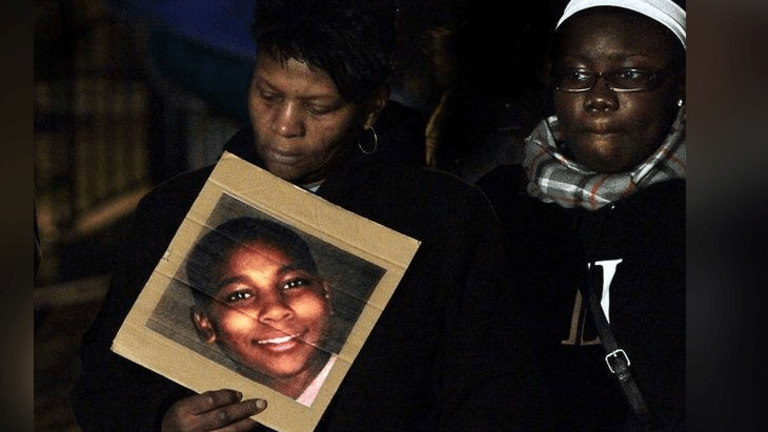 Cop Who Shot 12 Year Old Was Fired From Previous Job as a Cop For Being Emotionally Unstable
Cleveland police said on Wednesday that conveniently, they never reviewed the Independence file and changed their policies to include checking publicly available records for potential hires.
Cleveland, Ohio – Last month, we reported that a police officer shot a young boy for playing in a park with a toy gun just seconds after exiting his vehicle.
The video footage to surface after the incident showed absolutely no restraint on the part of Cleveland patrol officer Timothy Loehmann, who fired the shot that killed young Tamir Rice.
In the weeks following the murder, a number of disturbing details have surfaced showing that this tragedy could have been prevented.
A quick look into the history of officer Timothy Loehmann, shows that he has a short and troubled past with police work. In fact, Loemann was actually terminated from his last job as a police officer, because they did not think that he was mentally capable, or mature enough for the job. He was let go by the City of Independence Police Department in December of 2012, and then was quickly rehired with the Cleveland Police Department in March of this year.
Cleveland police said on Wednesday that conveniently, they never reviewed the Independence file and changed their policies to include checking publicly available records for potential hires.
The termination from his previous job was tied to an emotional breakdown that he had at the firing range during training. The police memo filed after his termination describes the emotional breakdown that Loemann had on the firing range that day.
According to the police memo, which was obtained by The Guardian:
"During a state range qualification course, Ptl Loehmann was distracted and weepy. [Loehmann] could not follow simple directions, could not communicate clear thoughts nor recollections, and his handgun performance was dismal. Sgt Tinnirello tried to work through this with Ptl Loehmann by giving him some time. But, after some talking it was clear to Sgt Tinnirello that the recruit was just not mentally prepared to be doing firearm training ...Ptl Loehmann continued with his emotional meltdown to a point where Sgt Tinnirello could not take him into the store, so they went to get something to eat and he continued to try and calm Ptl Loehmann. Sgt Tinnirello describes the recruit as being very downtrodden, melancholy with some light crying. Sgt Tinnirello later found this emotional perplexity was due to a personal issue with Ptl Loehmann's on and off again girlfriend whom he was dealing with till 0400 hrs the night before. (Pti Loehmann was scheduled for 0800 the morning in question)."
The memo concluded that:
"Due to this dangerous loss of composure during live range training and his inability to manage this personal stress, I do not believe Ptl Loehmann shows the maturity needed to work in our employment. For these reasons, I am recommending he be released from the employment of the city of Independence. I do not believe time, nor training, will be able to change or correct these deficiencies."
In addition to this breakdown, Loehmann's supervisor, deputy chief Jim Polak said that Loemann had left his gun unlocked, lied to superiors and failed to follow orders on various occasions.
This lack of emotional maturity and critical thinking capabilities could explain why the officer waited over 4 minutes to provide first-aid to the innocent child.
The police officers involved are claiming that the boy, who they allegedly thought was "about 20,″ pointed the toy gun at them, which put them in fear for their lives, giving them justification to fire the shot.
However, when a young child is walking around in a park with what appears to be a gun, the probability is overwhelming that the "gun" is likely a toy. Any reasonable person would take steps to examine the situation before firing a real weapon at the child.
Surveillance footage of the shooting can be viewed below:
John Vibes is an author, researcher and investigative journalist who takes a special interest in the counter culture and the drug war. In addition to his writing and activist work he is also the owner of a successful music promotion company. In 2013, he became one of the organizers of the Free Your Mind Conference, which features top caliber speakers and whistle-blowers from all over the world. You can contact him and stay connected to his work at his Facebook page. You can find his 65 chapter Book entitled "Alchemy of the Timeless Renaissance" at bookpatch.com.